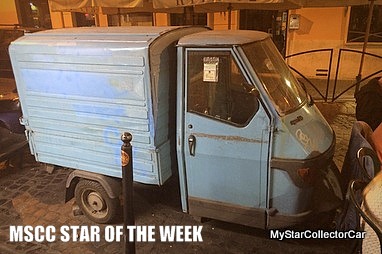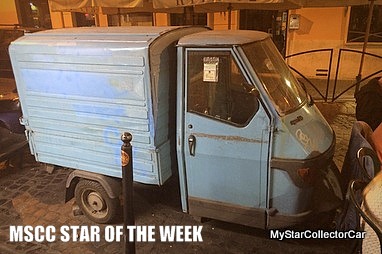 MSCC OCTOBER 5 STAR OF THE WEEK: PIAGGIO APE 50-THIS IS HOW YOU SAY WORKHORSE IN ITALIAN
North Americans tend to think in terms of massive, diesel-powered pickup trucks when the term "workhorse" comes up.
This is reality because most jobs over here are big jobs that require the brute force of a Cummins, Power Stroke or Duramax engine.
The situation is different in Italy because there's no way you could squeeze a 1-ton 4×4 down most streets in Rome so you resort to a different type of workhorse.
This MSCC Star of the Day Piaggio Ape 50 is a classic example of the Italian version of a workhorse.
Piaggio Apes have been applying brute force when needed since 1948.
MSCC OCTOBER 4 STAR OF THE DAY: '39 FORD – ADD A LITTLE JOY TO A DAY IN TRAFFIC
We are all subjected to some intense experiences in modern traffic because the cars are mercilessly generic and the drivers are looking at their phones instead of the road.
Those things don't add up to an American Graffiti cool experience-it's more like a survival of the fittest experience where moments of sheer monotony are interrupted by moments of sheer terror.
That's life in 2014 traffic.
Every now and then you catch a real break from reality and you see something like this MSCC Star of the Day '39 Ford on the road and it adds a little joy to your day.
MSCC OCTOBER 3 STAR OF THE DAY: '38 FIAT LEGNO FURGONE—STRAIGHT FROM THE STREETS OF ROME
You can find cool old rides on any part of the planet-rumor has it there's a treasure trove of 1930-60 classics tucked away in the freeze-dried confines of Antarctica because one day they wouldn't start.
There's vintage military equipment spread across every continent because wars don't know boundaries so a jungle, mountain range or desert was the final resting place for a lot of Jeeps.
Most of the time, you'll find these old rides in more populous areas like a major city.
This MSCC Star of the Day 1938 Fiat was spotted on the streets of Rome a few days ago not far from the heart of the city.
MSCC OCTOBER 2 STAR OF THE DAY: CHEVY COOL EXTENDS ACROSS THE DECADES
There's no doubt Chevy guys focus on the 50s and 60s because some incredible cars came out of those decades.
Chevy Bel Airs, Vettes and Impalas came out of the 50s and Novas, Camaros and Chevelles came out of the 60s.
That list reads like a who's who of muscle car history.
Fewer people focus on the 1930s.
This MSCC Star of the Day scene came from last summer when a 1st Gen Camaro and a '39 Chev were on the street on a great summer evening.
The Cool Factor does extend across the decades.
MSCC OCTOBER 1 STAR OF THE DAY: ANOTHER MERC LEAD SLED—CLASSIC EQUALS STYLE
The Merc lead sled is a hot rod legend.
They were built to cruise in style and they accomplished that feat with ease.
Merc lead sleds were lean, mean driving machines because that's what car guys wanted out of these rides and Ford was happy to give them an incredible platform.
This MSCC Star of the Day Merc lead sled was at a September 2013 car show.
Classic style…
MSCC SEPTEMBER 30 STAR OF THE DAY: FIVE WINDOW CHEVY TRUCK—BEAUTY IS ONLY SKIN DEEP
There's a trend in 2014 car world to celebrate distressed-looking vehicles.
The idea is to preserve the well-worn paint of a bush or field car or truck and have it handle like a Vette.
The key to these rides is to look make them like a beater but maintain the stealth of a street monster.
It's like a combination of camouflage and brute force.
This MSCC Star of the Day Chevy 5-window pickup was on the street last summer and one thing is certain-it wasn't running a Blue Flame six under the hood.
MSCC SEPT 29 STAR OF THE DAY: '68 CHRYSLER 300 CONVERTIBLE-GO TOPLESS IN COMFORT
We're into Autumn 2014 but that doesn't mean the convertibles get parked just yet.
There are still some top down days left on the calendar even in the northern latitudes.
This '68 Chrysler 300 convertible was at an auction a week ago where it attracted a fair amount of attention .
It was a classic case of topless and comfortable.
For past MSCC Stars of the Day please follow this link.
CLICK HERE to Like us on Facebook
CLICK HERE to Follow us on Twitter
CLICK HERE to Follow us on Pinterest
Star of the Day page sponsored by Southside Dodge