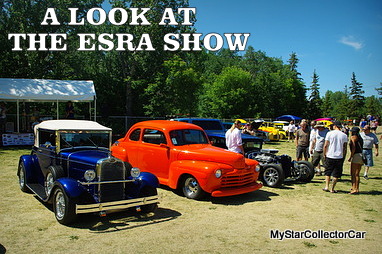 We can draw a few conclusions from the Edmonton Street Rod Association's 31st annual car show.
One: these guys know how to throw a great event.
Two: there are a lot of very cool rides and an 87-year-old hot rod legend in Alberta's capital city.
We were first-timers at the Edmonton show and we found plenty of interesting rides and people at the ESRA show. The first ride we discovered was a 1928 Model A Sedan Delivery hot rod that was a very authentic tribute to old school hot rods.
MyStarCollectorCar readers will be able to enjoy the story behind this retro rod in a future MSCC article and learn about one of the more unusual bonds between the former and current owner.
We spotted a wild-looking 1956 Dodge station wagon and wanted to track down its owner so we asked some of the local car guys.
The initial description of a bald guy in his early 50s wearing a white T shirt fit at least a couple of hundred guys at the show, but one of the locals pointed me toward the actual owner in that crowd.
The wagon is a testimony to the owner's sizable mechanical abilities and you will find out why his project took eight years to hit the streets in a future MSCC article.
A 1966 International Harvester Travelette crew cab also stood out in the crowd and we found out why its owner was an IHC fanatic. You will discover his sentimental reasons in a pending MyStar story.
Clearly, a red 1967 Ford convertible is a welcome addition to any show. A survivor Ford convertible in immaculate condition with 40,000 original miles, a numbers-matching 428, and its factory paint is a story worth telling MSCC readers.We will indeed tell its story in an upcoming MSCC article.
There was a 1963 GMC pickup hooked up to a 1963 Shasta travel trailer that really caught our eye at the ESRA show and we had to find out how these two 51-year-olds got hitched to each other. The answer will be found in a future MSCC article.
We have a basic rule at MyStarCollectorCar: when you see a 1955 De Soto at a car show, you get the story. Particularly when it has an early generation Hemi under the hood. We got the story behind this Mopar orphan and it will be told in a future MSCC piece.
This 1947 Ford two-door coupe was a real eye catcher because it was restored to its original glory-with a few extras like a gated exhaust and Continental kit thrown in for good effect. This level of excellence does not come easy and you will see why in a future MSCC story.
The highlight of the show had to be a 1939 Ford custom rod first built back in 1951-52 by its 87-year-old owner, Duke Foster. The man is a local racing/hot rod legend who is one of the early pioneers in the post-war hot rod hobby.
Duke and his Ford will be a showcase moment for us when we unveil their story in an upcoming MSCC feature. Duke is a living legend and is the only guy we know who has earned the same nickname as John Wayne.
The Edmonton Street Rod Association was a home run for us and it got even better when we left the show and followed two first generation military Jeeps down the city streets.
The only way those two Jeeps could have been cooler would be gaining Rat Patrol air time over a sand dune.
Jim Sutherland
CLICK HERE to Like us on Facebook
CLICK HERE to Follow us on Twitter
CLICK HERE to Follow us on Pinterest
Please re-post this if you like this article