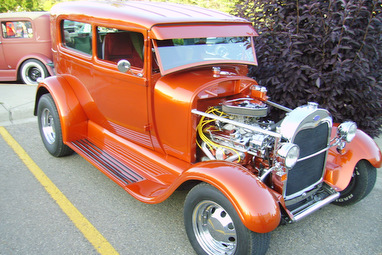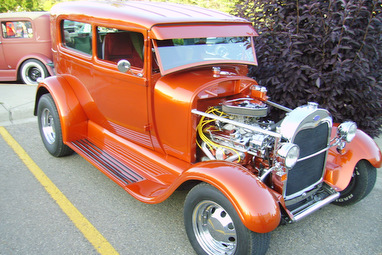 John Spencer knew what he wanted for a retirement gift, so he built his own retirement present.
He took a 1929 Ford and put his own hot rod stamp on the project.
John happened to be a very good body man when he was a working man, so he took on the job before his last day on the job.
The entire project took 21 months from start to finish as John added a 350 Chevy small block to move his rod down the road. The Ford has a few custom cosmetic touches that give it a look that suited John's hot rod dreams. The running boards are a sleek custom design straight out of John's imagination and vision for his ride.
The beauty of a career like John's was his ability to fabricate and install all of his personal concepts for the perfect custom rod-John Spencer style. There was no middleman necessary to complete the vision in John's concept. The communication went straight from the picture in John's mind to the tools in his hands.
We should all be this lucky to have this kind of ability.
The clock was winding down on John's long career as a body man, and the dream retirement rod was close to completion. John's town was host to a major car show that came every three years to his community, and the stage was set for John's last day on the job, and first day of retirement, with his new rod and the road in front of him.
The timing couldn't have been more perfect for John as he hit the road for the first real run in his Ford rod. It was the Friday night after his last day at work and his rod was ready to roll-for a little while. John blew up the rear end about three blocks from home that Friday night. He didn't make it to the Friday night segment of the weekend show.
But you can't keep a good man down, because an old hot-rodder will always have an answer. He found a replacement rear end the next morning and was ready to roll by Saturday afternoon. He and his Ford had finally arrived in his new world of fun and shows. Plus he already had his first adventure with his car.
It doesn't get any better than that in retirement.
Jim Sutherland