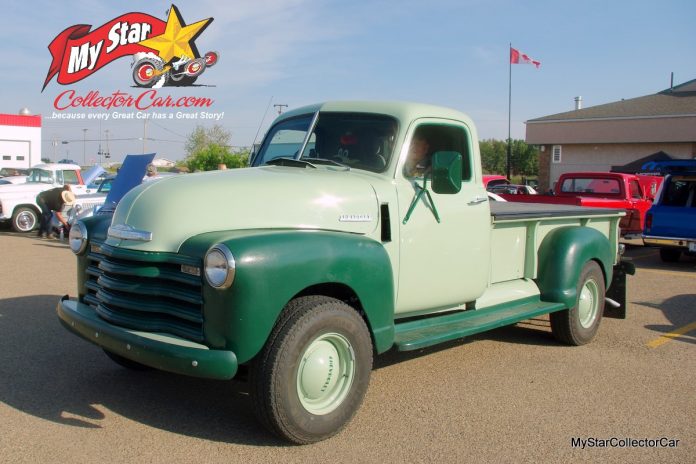 Resto mods are a hot item in the car hobby because car guys want the classic look of old iron, but they prefer the performance of new technology.
Maurice Debryne is the proud owner and builder of this classic post-war Chevy. He's a retired farmer so he knows how to get his hands dirty plus he knows how to improvise and make things work. Those skills came in handy during this project.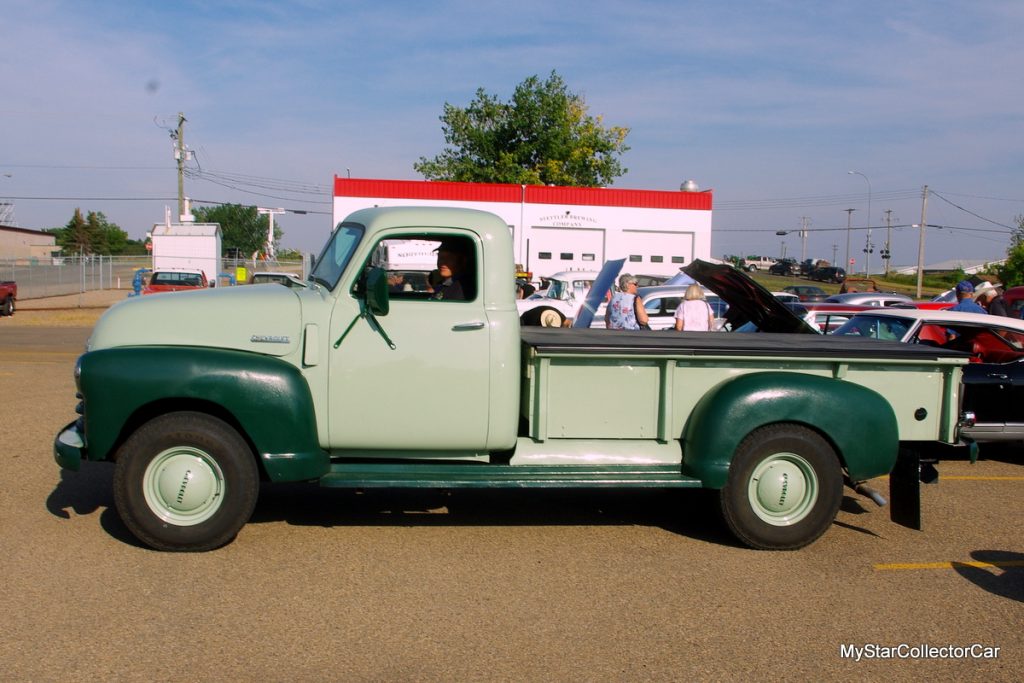 Maurice wanted to recreate the five-window Chevy pickup his dad used to own with this three-window as a base–and take it on the Coasters 2022 tour. That's a trip across Canada and back from west to east or—in this case—east to west. He knew he could make the trip in a stock '49 Chevy, but he wanted a truck that could handle the demands of today's roads.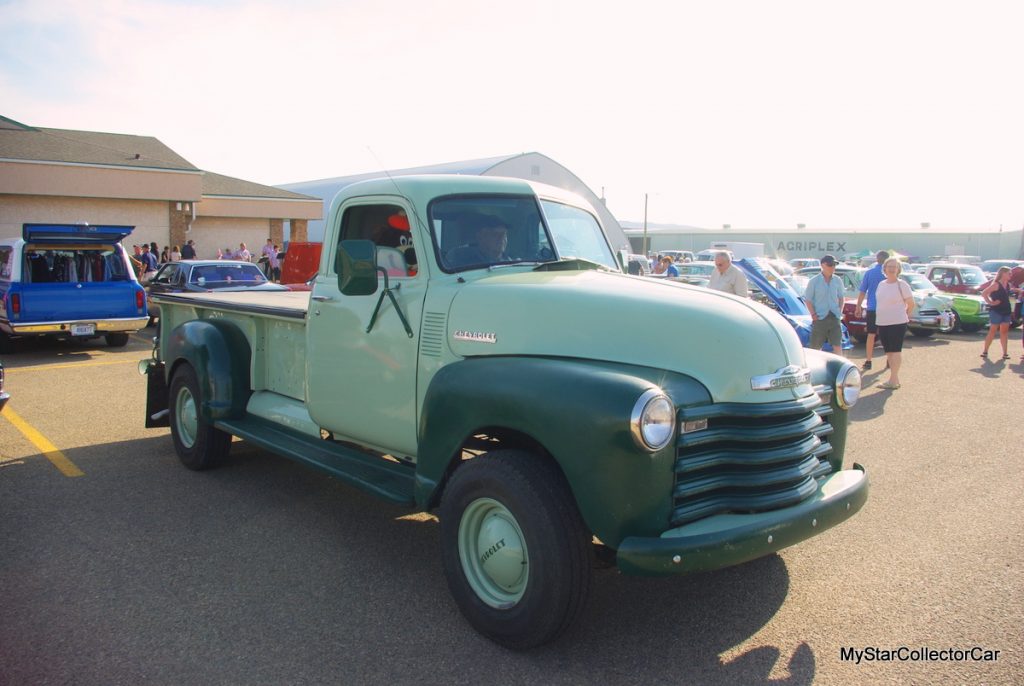 He said it "took five trucks to build it", so there are various pieces of various trucks scattered throughout this '49 Chevy. The biggest change is under the truck because this old pickup is sitting on a 1974 Chevrolet Heavy Half, so it gained 25 years in technology with the transition.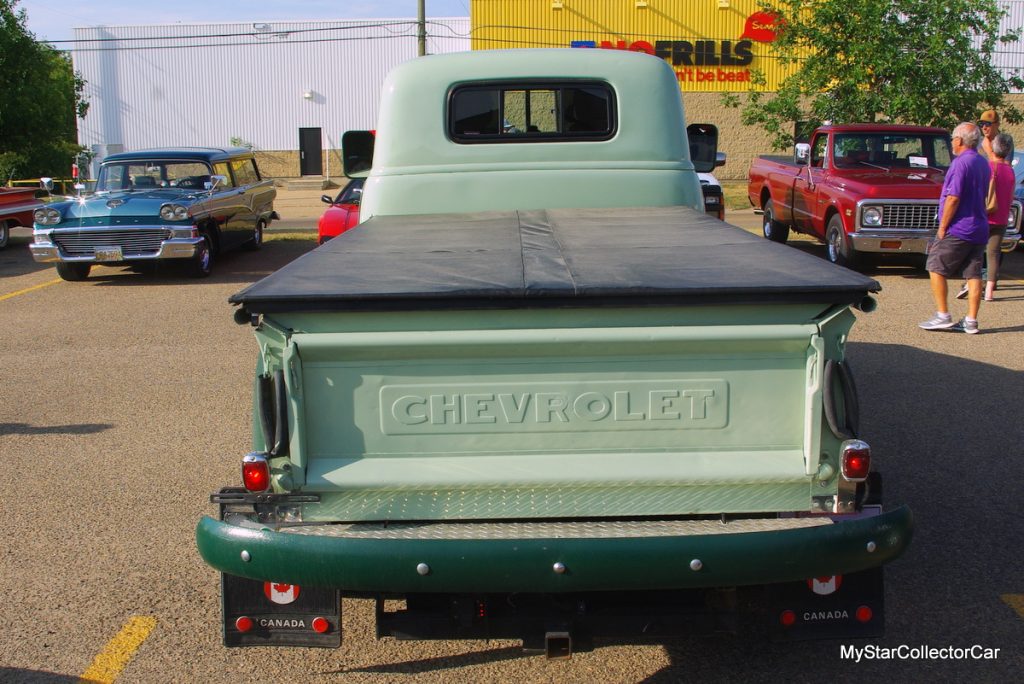 The engine is out of a 70s era motor home—Maurice wanted more power so the RV cam in the 350 small block answered his question about how to get it. He needed the extra punch because he was hauling an R-Pod trailer behind the pickup for the Coasters run.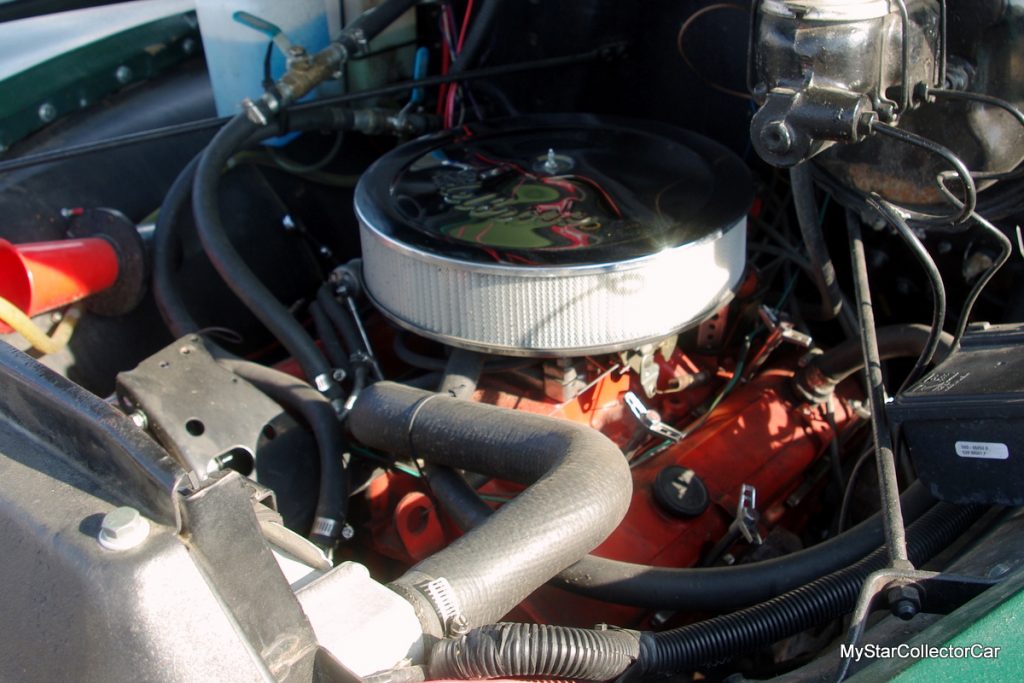 Maurice is a detail guy, so he redid every nut, bold and part under the truck because he wanted safety and reliability on the Coasters tour.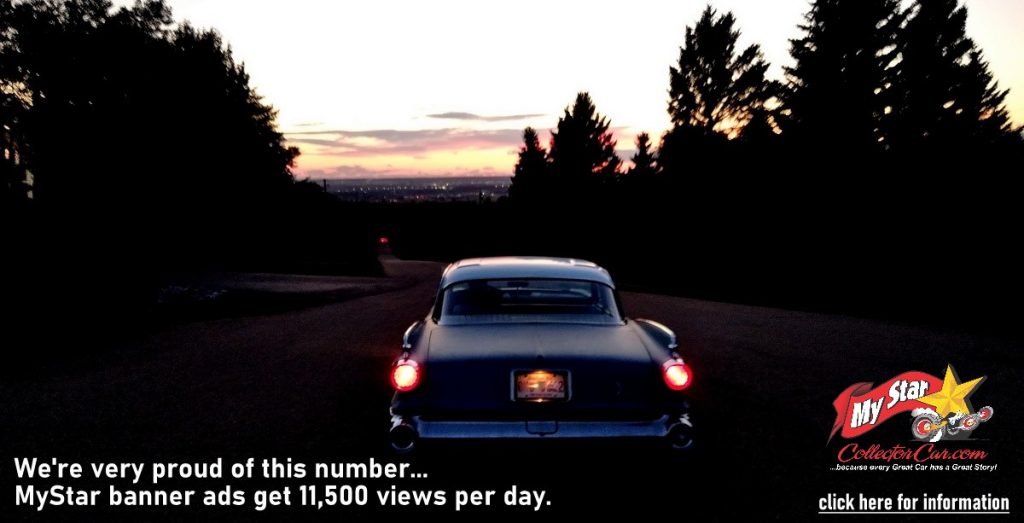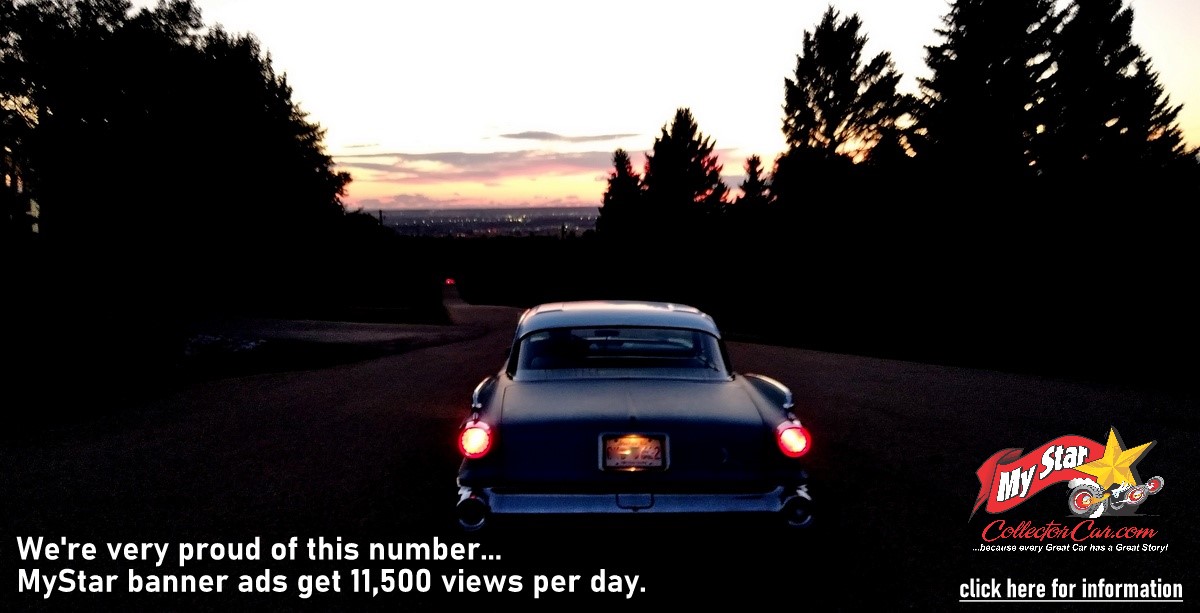 The steering column is from the '74 donor truck, but the seats are straight out of a full-sized Ford van—Maurice said, "they're perfect". Maurice wanted the old-school emergency brake, so he engineered the donor truck's e-brake to fit the old brake. He said it was a massive engineering job that took four days, but the functional brake looks like it was done at the factory.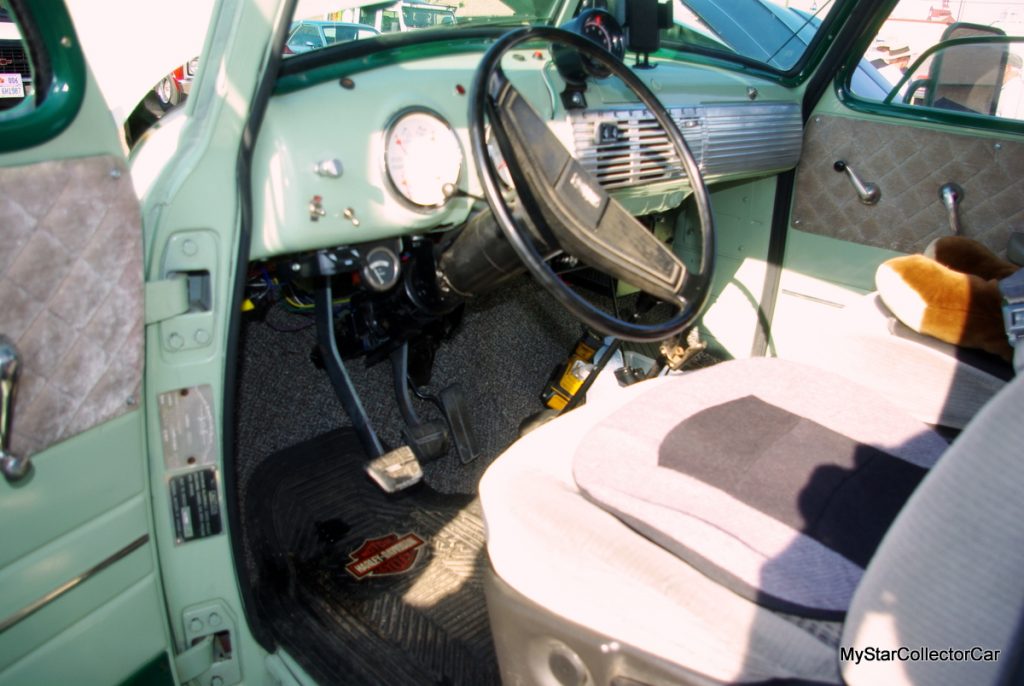 The truck bed cover was another feat of engineering. The truck's box is 9' 2", so there are no off the rack covers available for this pickup. Maurice tried a major truck cover company that specializes in semis, but they do offer some options for old Chevy trucks. Maurice bought several of their standard covers and had his niece sew up a custom cover that's longer and wider.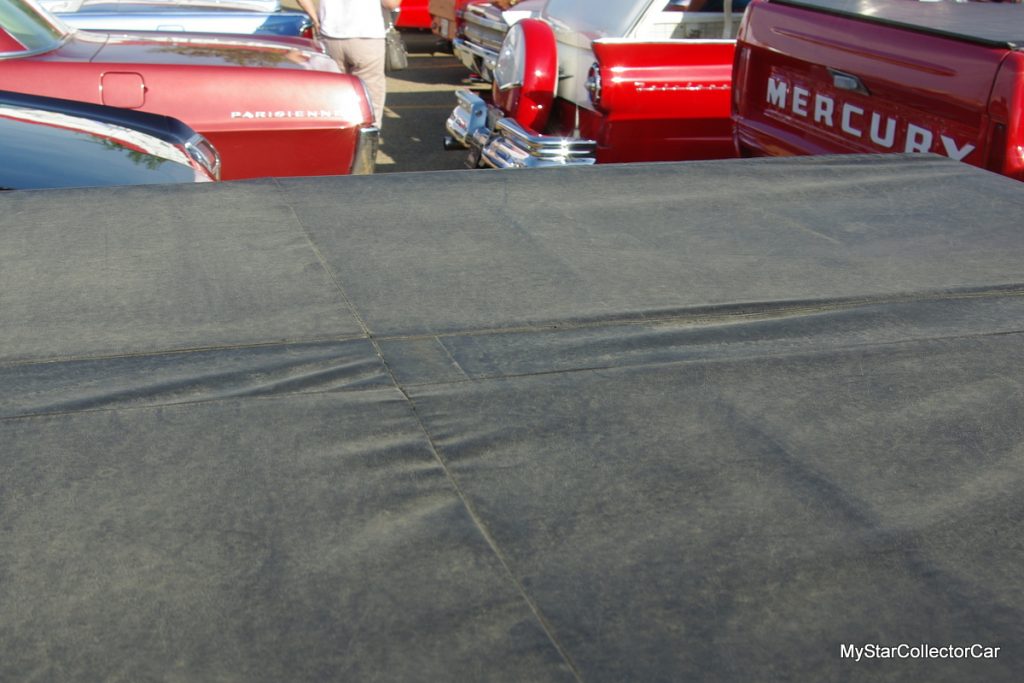 The trip was a perfect test for Maurice's resto-mod '49 Chevy. The truck gets 10 miles per gallon no matter whether it's pulling a trailer or running without it. The 4-speed keeps the truck at an honest 2500 rpm at 60 miles per hour and it's a very comfortable ride.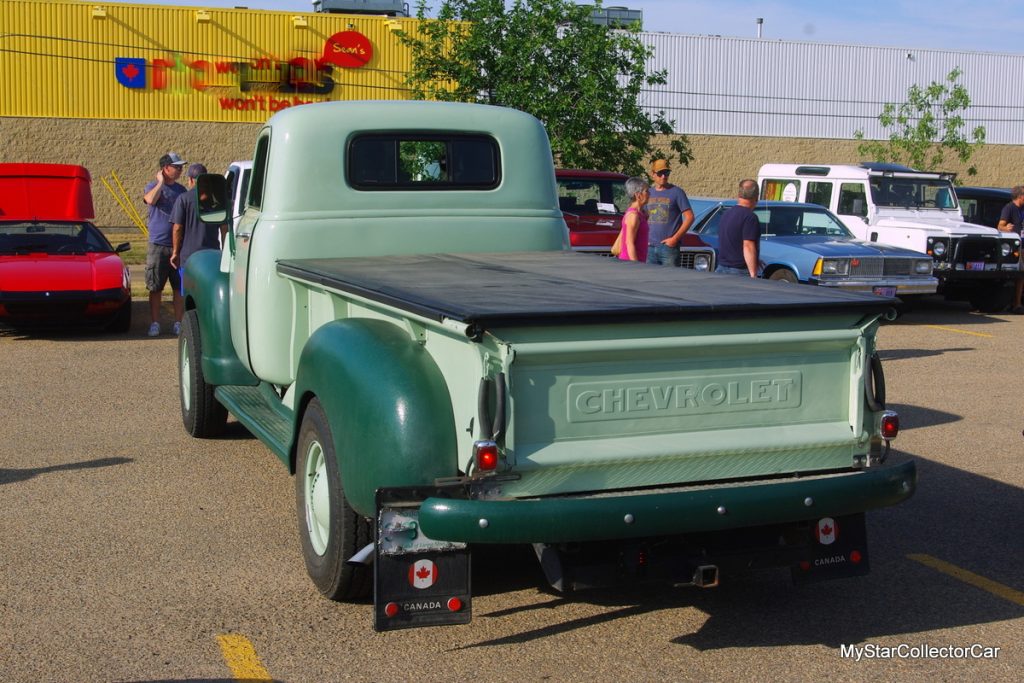 Maurice had a great passenger riding shotgun with him. It's a giant stuffed bear and he said it's perfect because "it doesn't keep talking and giving bad directions". He has a new radio and sound system, but he never turned it on because he just wanted to "watch the scenery go by" on the Coasters tour.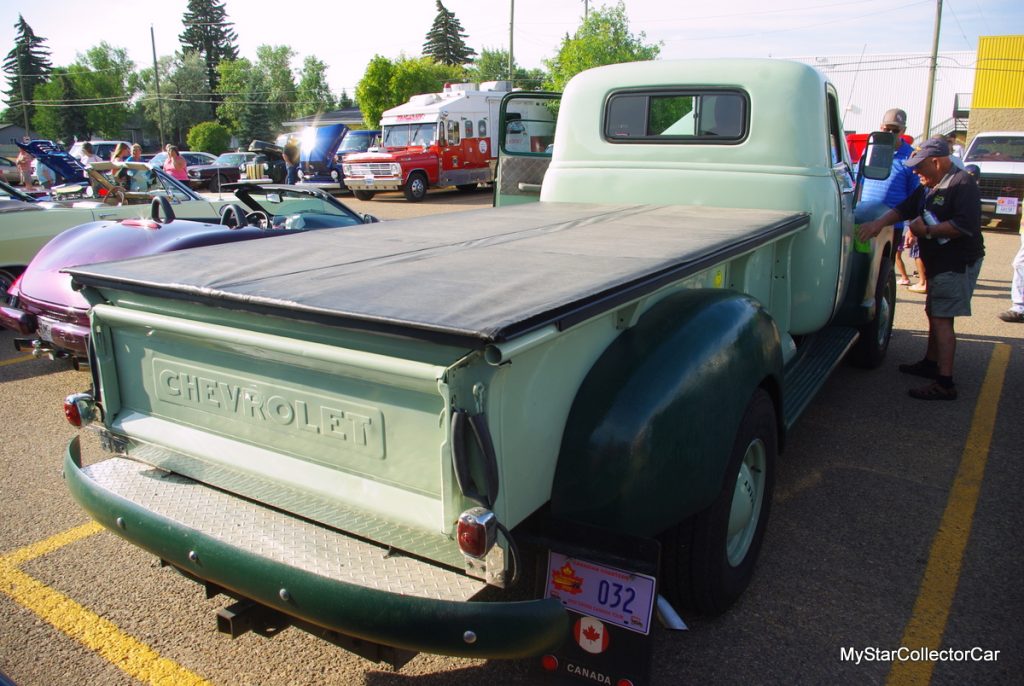 The biggest thing Maurice took out the trip was the people factor. He loved it when kids jumped behind the wheel and sat beside the bear because this truck was built for fun—not car shows. The biggest compliment came when a woman came out of her house and told him the words that summed his tour.
"You're living the dream".
By: Jerry Sutherland
Jerry Sutherland is a veteran automotive writer with a primary focus on the collector car hobby. His work has been published in many outlets and publications, including the National Post, Calgary Herald, Edmonton Journal, Ottawa Citizen, Montreal Gazette, Saskatoon StarPhoenix, Regina Leader-Post, Vancouver Sun and The Truth About Cars. He is also a regular contributor to Auto Roundup Publications.
Please re-post this if you like this article.