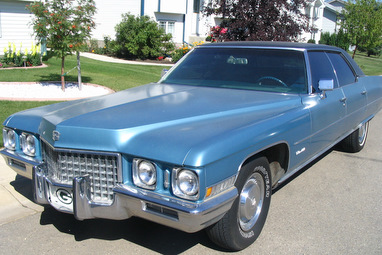 Cadillacs have a long association with a mature audience.
'The average guy who bought a Cadillac was usually in his golden years and he wanted an upscale comfortable ride for the back nine of life.'
This philosophy may have changed over the past few years due to Cadillac's flirtation with high-performance cars and truck-like sport utility vehicles.Today's Cadillacs appeal to a younger buyer.
 Those drivers want comfort, style and massive performance under bad-ass sheet metal.When you see an Escalade in your rear-view mirror there's a chance that the driver's blinker is always on to inevitably pass you and many others-at high speed.
Actually, the chances are really good that the signal light won't be on when he rockets by you at warp speed in his new-age Caddy.Other drivers are very disposable in modern Cadillac world-they just don't know it.Such was not the case in 1971 for Cadillac buyers.
They were still old-school guys who only needed style and comfort to get to their destination. Back then Cadillacs came with giant engines that were roughly the size of the newly introduced Chevy Vega. Didn't matter. In 1971 a Cadillac buyer wasn't looking for a stoplight Grand Prix-he just liked the smoothness of a 500 cubic inch monster V-8.
Luke Tweedale was not your typical Cadillac Deville owner-then or now. He became a 71 Caddy owner a few years ago simply because he and this car were born the same year. He enjoyed some great years with the Nixon era giant car and despite his youth he loved the sheer dimensions of the Caddy-it was an unmistakable symbol of his birth date.
Like many car guys with an older car, the real, practical world intrudes. Luke and his wife had another family member on the way so he reluctantly sold the car to a serious collector.
Luke made sure that his birthday buddy went to a great new home.
Jim Sutherland @mystarcollectorcar.com
For more car stories please follow this link–https://www.mystarcollectorcar.com/2-features/stories.html