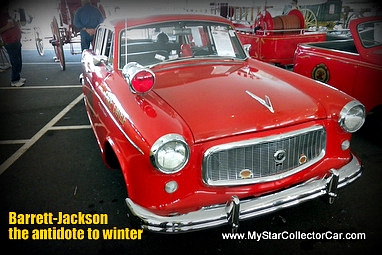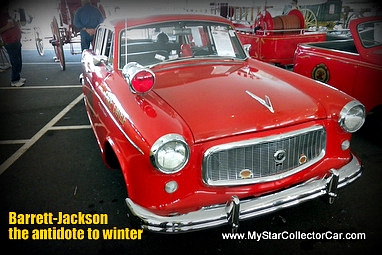 I live in an area where two things are really clear – the winter is like a jail sentence (with all due respect to global warming) and there is one of the highest car guy per capita ratios on the planet.
These guys love to buy old iron.
That's why there's a mass exodus from here to Scottsdale Arizona every January and a subsequent big spike in the number of vintage rides in Alberta a few weeks later.
In fact, nearly 200 examples of Barrett-Jackson listings showed up in a 90-mile central Alberta radius within days of last year's Scottsdale auction.
That makes this event a big deal every year.
The Barrett-Jackson Scottsdale auction is one of life's guilty pleasures because on the one hand you poke fun at the stratospheric bidding that goes on during the prime time weekend TV slots. On the other hand, you love the face-to-face competition for a coveted ride.
Who among us hasn't popped out of his chair when the bidding reaches a fever pitch, the auctioneer is excited, the crowd is jazzed and some guy in a loud Hawaiian shirt pushes the bid into the stratosphere for a one-off Shelby? That's real TV my friend – you could add the last three seasons of any reality TV program and not match the intensity in this high stakes 5-minute shootout on live TV.
Sure they run a few too many Vettes, Camaros and Mustangs through the sale but that's where the money is and you have to follow the money. Personally, I'm a huge 1963-67 Sting Ray fan but after 25 in a row it's like a beauty contest where every contestant looks like Angelina Jolie.
Despite that, the biggest attribute at Barrett-Jackson is the show – they assemble the world's best car show every January. Where else would you find a car show where the Beverly Hillbillies' ride is next to a documented 300-mile survivor car or JFK's hearse sits beside a NASCAR ride?
They plunk this show down at the perfect time of year because where I live, winter is an 8-month reality and car shows dodge bad weather like punches from Mike Tyson all summer.
You have a truly compelling car guy experience anytime you get 6 days of live TV from a sunny place where flashy cars and trucks can be driven outside, the hobby is hyped the max and the show is a big highlight on the vast wasteland known as 'Housewives of Jersey Shore' prime time TV.
Best of all, winter gets a little shorter in Alberta…
Jerry Sutherland