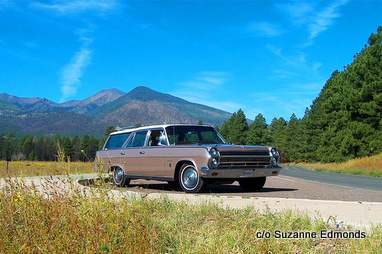 MyStarCollectorCar has an ongoing mission to study the connection between the car and the owner.
This could involve a look back to a time and a place when a similar car was the first car for a young owner or it's often based on a simple premise-my Dad drove one just like it.
Or it could be a car like this 1965 Rambler Ambassador 990 Cross Country station wagon that is the actual car that Dad drove and the actual first car for a young owner.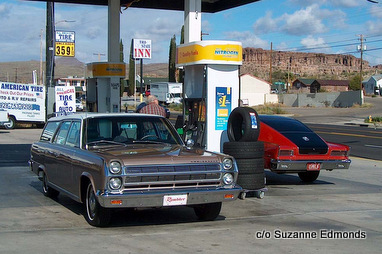 Suzanne Edmonds is the proud owner of this very unique AMC wagon and she knows the history of this long roof from the day it was new, "My car is a 1965 Rambler Ambassador 990 Cross Country. My parents bought it new (they took possession on April 1, 1965, in Bishop, CA)".
This is the kind of car that took Baby Boomers to school, baseball practice, Drive-In movies, Drive-In restaurants and memorable family vacations where comic books were the equivalent of a Blu-ray movie on a road trip. Suzanne literally grew up with this classic Rambler wagon.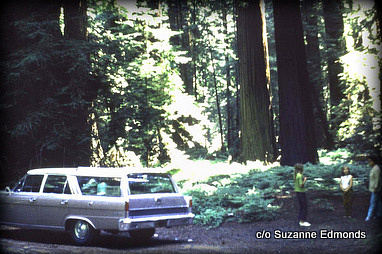 Cars don't last forever as the starting quarterback on the family team and this Cross Country was no exception as Suzanne explained; "It was passed down to me in 1976 when I was 16. It was my first car, and a daily driver all through high school and college".
The old Rambler was a reliable ride for Suzanne but again there's a point where life moves on for family wagons from the mid-60s and this was no exception, "When I went to the east for graduate school, it was left at home, and driven less and less until it was parked in 1990".
Suzanne clearly had an attachment to the old family friend so this old Rambler had a future that didn't include a date with a shredder, "The plan was always to get it going again, but that didn't happen until 2009, when my husband and I trailered it to Flagstaff AZ".
Restorations are a daunting task because of the time, money and complexity in a project and the Rambler was no exception.
"The engine was seized (a leaky head gasket), and it needed a complete restoration".
Those are chilling words, but Suzanne and her husband were not intimidated, so they took the hands-on approach; "We endeavored to do as much ourselves as we could.
We did not do the engine, the upholstery or the paint (although we stripped it ourselves)".
 One of the biggest roadblocks with "off the beaten path" cars is the lack of parts as Suzanne added, "As reproductions don't exist for many parts of this car, we had to rebuild or repair many of the parts ourselves, including completely rewiring the car as the rats had done so much damage. We even had a dead rat in the exhaust manifold".
The car was clearly done to a high standard as Suzanne explained; "We completed the car just in time for the AMO (American Motors Owners Association) annual convention, which was a short drive from home. We didn't go with the intention of showing the car, but were talked into it after we arrived. In Concours judging, it was awarded a Junior Gold. We hadn't intended on building a show car, but somehow did along the way. The car won the station wagon class at the AMCRC National Convention in 2012, and was also in the Participants' Top 20 at the 2012 Flagstaff Route 66 show".
Veterans of car shows know that cars like 1969 Camaros are not an extremely unusual sight at a car show but a 1965 Rambler Ambassador 990 Cross Country stirs up more interest than an Elvis sighting. Suzanne revels in the celebrity status, "My car is definitely one of the oddballs in car circles, although, since completing the restoration, she's become a bit of a celebrity (which was unexpected and still amazes me)".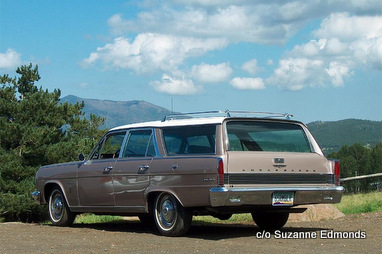 Suzanne is justifiably proud of the Rambler and the effort that brought it back to its glory back in 1965 when her parents took delivery, "It is definitely a testimony that first time car restorers like us, who really had no idea what we were doing when we started, can come out with a nice car".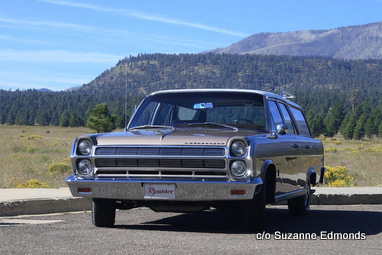 The net result of a restoration is a priceless artifact because a car like this is a piece of cultural history that taps into the personal biography of Baby Boomers across North America, "We drive the car (named Lovely Rita) to the shows, and fairly often around town. Every place we go, we have people come up to tell us about the Rambler their families had back in the day. I hope she represents well all those Ramblers that did not survive beyond the memories".
The ability of the car to make other people happy is a bonus from a project that started with a simple premise.
Suzanne summed it up this way,"I really just wanted my car back, and I have a husband who loves me and helped me get my car running again".
Jerry Sutherland