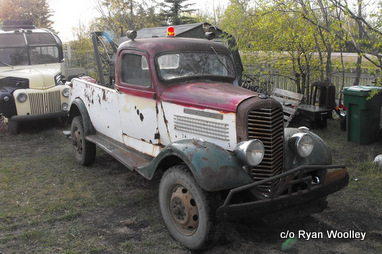 This vintage GMC tow truck was at a major show a few years ago hauling an old Chevy around as a non-static display.
The truck was clearly capable of doing the same job it was built for back in the 1940s.
Ryan Woolley owns this classic piece of automotive history and he (more accurately, his truck) surfaced on a social network back in December.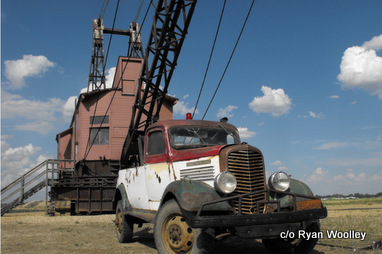 The old car hobby is a small world and fortunately the Internet made it even smaller because this is a classic story of "young guy meets older ride and forms a lifetime bond".
This truck is a typical example of how they improvised back in the 1930s as Ryan explained, " This truck started life as a 1936 GMC 1 ton long body panel truck, and for whatever reason it was cut off above the belt line and behind the rear wheel-wells, the wood framed GM cab was removed and an all steel 1937 Dodge truck cab was put in its place, the GMC dash is used in the cab still".
The details on the truck's history get into the gray area but Ryan has pieced together a reasonably accurate biography of the old GMC. "This truck is rumored to have been built around the early 1940s, but there is no solid information on it yet. It was used as an AMA (AAA in the US) tow truck in Bruderheim, Alberta Canada for a period in its life, the decals are still semi-visible through the thick paint".
The old GMC had deteriorated nearly to the point of no return but Ryan's father is a man of vision with old iron, "My Dad acquired this truck in very, very bad shape in 1994 from a wrecking yard, it had no front hubs, no drive-line, and the rad shell was missing, it had not been on the road in decades".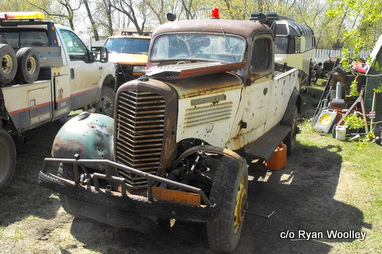 Real projects aren't like TV shows where the magic happens overnight and this GMC was no exception, "It was a project that was on the back-burner for a long time, meanwhile it was used as a prop on the TV series "Jake and the Kid" (Nelvana 1996-97)".
Vehicles are mere props in TV shows and movies and there's no attachment to these tools of the trade as Ryan added, "Later the Autocrane Weaver tow truck deck was installed in a 1950 Chevrolet on a 1986 GMC Jimmy 4×4 chassis for use on the series (set in 1952-53 Saskatchewan) after the series abused it, the truck sat partially disassembled in my back yard till the summer of 2005, when I picked up a very strong running 1977 GMC ¾ ton with a bad body but a built 350 with 4 bolt mains".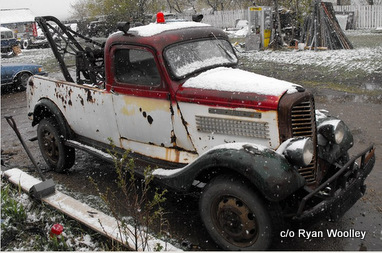 The natural tendency of every car guy is simple–make it work, " My Dad then took the truck from its running mock-up stage and finished the body mounts, steering, and all safety and systems, we also fabricated a mounting system for the Weaver tow deck and re-installed it. We proceeded to put the tow truck's body on the newer chassis, it fits like a glove! The new chassis was only ¼ an inch longer in the wheelbase and was the exact same width for the vintage body".
Improvisation is the theme with these custom builds and Ryan had the answer, "A big problem with putting vintage bodies on newer chassis is not the length or the chassis width, it's the wheel offset, they are usually too far out board and tend to look stupid (IMHO) so I found a set of special inset wheels from a rail line service truck, and they brought the tires inside the fenders perfectly! And it is now running 19.5's instead of 16's for wheels, so it looks even bigger now!".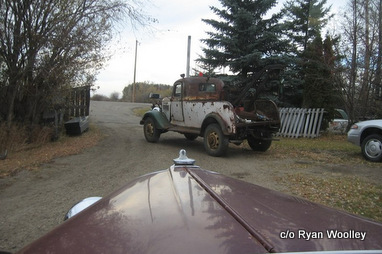 The parts department for projects like this '36 GMC isn't found online or in a catalog, "The GMC rad shell was missing when we got the truck, and they are basically impossible to replace now, so we used a Canadian Railways 1936 Chevrolet rad shell in it's place plus I found a rare vintage aftermarket grill for it that give it a whole new look! And instead of the boring 8 inch 1936 GM headlights that were mounted fairly high, we are running a pair of 10½ inch 1934 Buick units mounted on 1933 Plymouth stanchions flipped from left to right, a pair of 1932 Pontiac park lights live on top of the fenders now! I will be installing 1940 Chevrolet park lights as taillights soon with red LED "bulbs" in them, super bright, and compact and vintage looking. A vintage (possibly Signal-stat) red roof light was found to replace the broken original, and freestanding visored arrow turn lights are installed on the roof in holes that were already there from a previous less cool looking set of lights".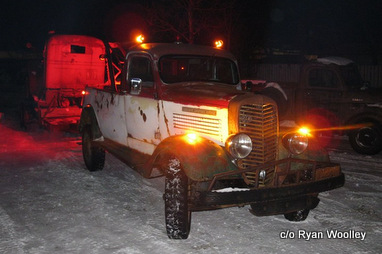 Veterans of old trucks know that these brutes were far from the spacious cabs found in today's brutes, "Right now the truck is as it looks on the left, but the cab is very tight for me (I'm 6 foot 2 and 250 pounds) so I would like to extend the cab like on the right, then when I am road tripping with it my passenger can tilt back and relax a bit more easily".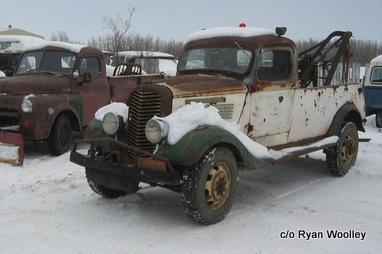 The goal of any project is the fun factor and Ryan summed it up well…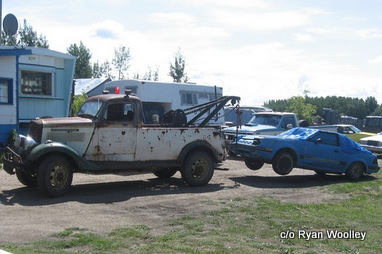 "I have been driving this truck daily, it's 100% legal and working great and I have been enjoying the hell out of it".
Jerry Sutherland
* For a more detailed look at this truck please follow this link.