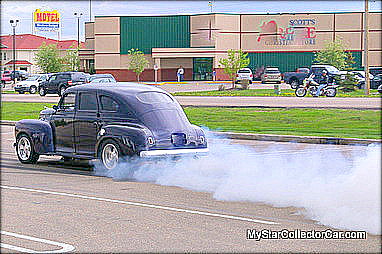 Tim Anderson is a hands-on guy.
He is one of those rare naturally talented guys that most of us aren't.
'About 12 years ago Tim decided that he wanted to take on a street and strip car project. It came with two conditions: one, it had to be 100% Mopar.'
That was Tim's condition.
The second was his wife's condition…
The car had to be able to comfortably haul the kids so Tim was faced with the daunting prospect of building a 12 second soccer mom car. Try building a car to haul around the Walton family in comfort and still make it incredibly fast.
One more thing-the car had to be built on a strict budget that gave priority to things like schoolbooks over a new big block motor.
Tim found the perfect car-a 1940 Dodge 4 door sedan. Lots of rear seat room for the kids and lots of room under the hood for a giant 458 cubic inch Mopar monster motor. He kept it fairly sedate looking to sell his wife on the functional suburban family hauler idea.
That plus the thousands and thousands of dollars Tim saved by doing virtually all of the work on the car convinced his wife that the car was a pretty good idea. He caved in on the paint job-sometimes you have to call a pro to get that perfect look.But overall Tim pulled this classic project off simply because he was patient, talented and willing to wait until he could afford a part here and a part there.
The family came first but a few years ago Tim debuted the car at a show and then the drag strip.You might wonder how the car did after years of building.
Simple answer? Tim does a 12 second 109 mph quarter mile and hauls the family to as many shows as he can. In fact the car is such a part of the family it was the wedding car for his son and his new bride-no; they weren't late for any of the ceremonies.Tim still works within that automotive budget.
Consequently, he drove it less in the summer of 2008 simply because a tank of gas cost the equivalent of a mortgage payment. The hi-test stuff that Tim runs cost three mortgage payments per tank.
That just goes to prove that car guys with families are always sticking to a budget-even after the car is done.
Jerry Sutherland