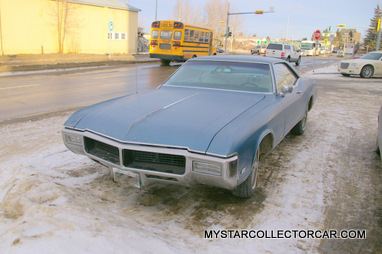 Back in 1968 when this Riviera was born a typical owner was most likely to be a white collar professional.
Something like an Engineer. Fast-forward four decades and enter Nick Leshchyshyn – Professional Structural Engineer.
Nick is a younger guy so the closest he's come to the year 1968 is when he was 5 and he heard Jeannie C. Riley singing Harper Valley PTA on his dad's golden oldie AM radio.
That changed when he bought the 68 Riviera…
He's a practical guy so the Buick became his daily driver… including lengthy work-related trips. Most guys that own 60s automotive icons worry about dust at a car show. Not Nick. His Riviera was a working machine so it saw thousands of miles in the real world full of dust, rain, snow, gravel and ice.
Nick is also 100% an Engineer so it's always about the nuts and bolts in a machine-function over form. That's why this old Buick is showing its age cosmetically but underneath the surface beats a constantly evolving mechanical heart.Nick likes power, ground-pounding power.
Right now he's getting power the old fashioned way with carb upgrades, exhaust headers and a few other old fashioned tweaks.
His biggest nod to 'new-tech' is a switch to an electric fan system. Sure Nick could retro-fit the Riviera to the point where a laptop computer entry could give him a 50 horsepower jump but there's something compelling about old tech that stops him.
He's thought about fuel injection, superchargers, jet packs, etc. etc but it always comes back to his passion for basic engineering-a "455 cubic inch-air machine". Nick loves the way he can hear that giant motor sucking in the fuel-air mix. He even likes the way the fuel gauge visibly drops on long trips-that tells him that the monster engine is alive and well.
This is a technical science guy who really puts his money where his mouth is.Nick thrives on the stealth look of this 60s rocket.
It's completely stock except for the exhaust dumps just ahead of the rear wheels. That's only because the back end of the Buick was way too cluttered for exhaust engineering changes. Regardless the Buick bush-whacks and spits out 5.0 Mustangs like used gum thanks to that unassuming and disarmingly sedate stock look.
With this 68 Riviera it's not just the engineering behind the car-it's the engineer behind the wheel.
Jerry Sutherland