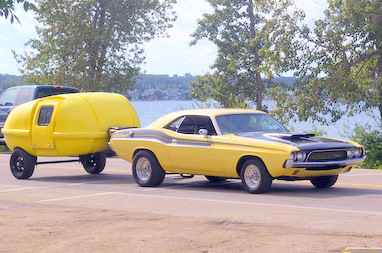 The backbone of mystarcollectorcar is the average guy – Challenger Dave is the truest example of the average guy… He bought the '74 after a long search.
'Dave was working within a budget and he found this Challenger just before the Mopar pony car prices went through the stupid barrier.'
Even then he came up a little short on the price…
There was a typo in the ad so Dave showed up 400 bucks light on the agreed price.The seller was on a wife-ordered clearance sale due to the eternal struggle between enthusiastic car guy and not so enthusiastic bride but he wouldn't budge on the 400 dollars.
Thanks to a kind brother in law who lived in the big city Dave took the car home.That's the kind of brother in law who deserves a birthday card for the next 50 years. Dave had a very strict budget so he scrounged around to save valuable currency on the car. That's familiar territory for 90% of car guys. He found a 4-barrel carb that was originally on a 69 Dart 340 motor so the sensible, thrifty 2-barrel that came with the 318 was dumped.
But the 318 stayed.
Yup, Dave kept the original smog-era 318 as part of his realistic budget plan and this car can do a smoke show second to none at a near stock level. His buddies still don't know how he wrings that kind of power out of such an unassuming motor but that fact is he does.
Plus he has one of the world's most functional collector cars-he puts so many miles on the yellow Gerald Ford era Challenger that he hand built a trailer to tow behind it.
It's a low 2-person unit designed for next to no drag so Dave can get the best gas mileage and save on accommodations at shows.
The little trailer has all the toys-Hi-Def TV, sound system, beer fridge and a full size bed.Who needs a Super 8 Motel when you can haul your home behind you and still get 20 miles per gallon?
'That's how guys like Dave roll- in a great car world that doesn't hammer his wallet.'
Jerry Sutherland