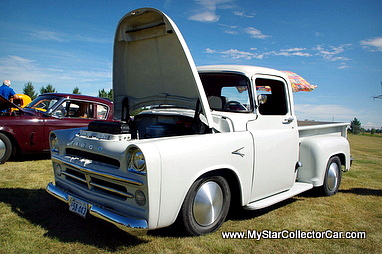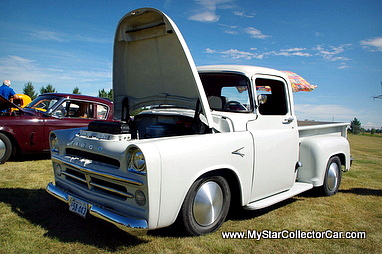 There are a few basic rules to every one of our stories here at MSCC.
The first question is typically "are you the owner?" and then we ask why the people chose their particular vehicle.
Then we fill in the blanks with relevant details and we get their contact information.
High on the list of contact information is the name (or names) of the owners because we need to know who owns the vehicle when we tell their story. It is rule number one in our game.

I encountered the owners of this 1957 Fargo early in the 2012 car show season in a little town about 50 miles from my home.
They were really nice people and I found them easy to interview, so easy that I found myself on a first name basis with Andrew and Janice, the de facto owners of the truck. Officially, it was actually Janice's truck because Andrew had a hot looking Studie resto-mod to drive to shows, but any lawyer will tell you a marriage is a 50-50 proposition when it comes to community property and successful relationships.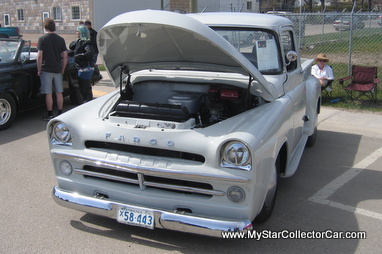 I got the story behind the truck in 2012 when it was a very recent addition to the road. Andrew purchased the truck and drove it home from its former owner's home, a not-so-sizable distance made longer by a worn-out front end and very tired flathead six in the Fargo.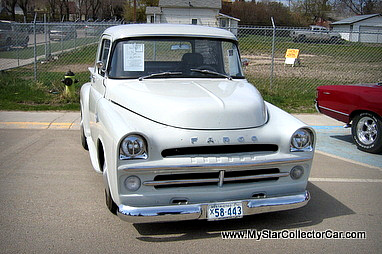 Andrew is a mechanic with enough skills to turn a vintage vehicle into anything he wanted with his talents. He is a guy who wanted Janice to own a truck that would keep up with him on their summer car show tour and a stock flathead six (even with a rebuild) was not the answer for Andrew and Janice.
Andrew also told us that Janice loved fast vehicles and he wanted to keep peace in the family, so he took a brand new direction with the project. The shaky and worn-out front end was completely cut off the Fargo and replaced by a Monte Carlo clip transplant welded in its place.
The Monte front end was an easy fit for a Chevy 283 small block that guaranteed Janice would be able to keep up with her husband on the road. Andrew added power steering, power brakes and a four speed tranny to his resto-mod truck so Janice would enjoy the drive to shows even more.
People really liked the truck and it was tough to get a few clear shots of it during the 2012 show because of the interest in it. 1957 Fargo trucks are not common in the 21st century because these Canadian-built lookalike cousins to Dodge trucks were sold only under the Plymouth dealership banner in Canada.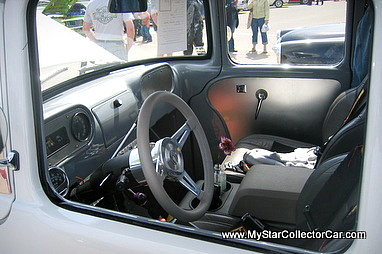 I liked this Fargo's owners when I first met them in the spring of 2012. I guess I was so comfortable that I stayed on a first name basis with them and failed to get their last name, so this story stayed in limbo until I could get their last name.
Surprisingly, I was certain we would cross paths again because Andrew and Janice love to drive their vehicles to shows and the vintage car hobby is a small world in its own way. Our second meeting took place in August when I caught up to them at a small car show about 25 miles from my home.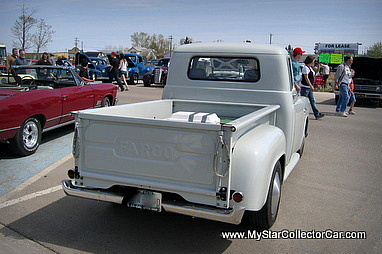 Janice and Andrew had logged thousands of miles behind the wheel of their vehicles since our last meeting in 2012 and I was glad to run into them again. Their last name is Brown and I was glad to get their surname so I could tell the story of their Fargo.
The truck is still very cool and the Browns are still very nice people.
Jim Sutherland