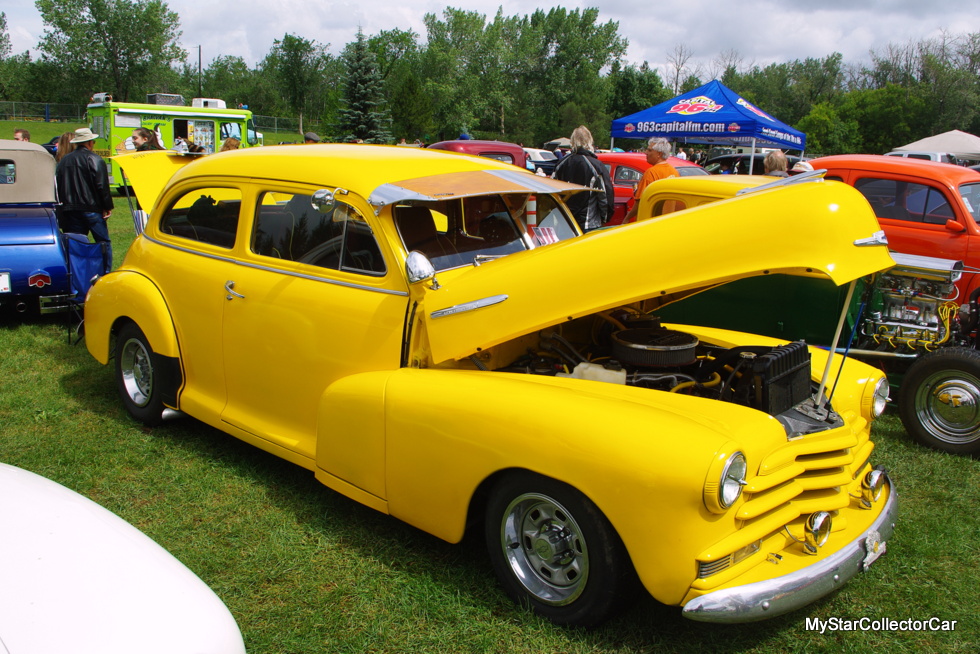 Frank Sinatra had many signature songs but one of his biggest was 'My Way'.
'That song summed up the Chairman of the Board in two words because Frank definitely did everything his way in life.'
Larry Barkley applied the same philosophy to his '48 Chevrolet Stylemaster 2-door sedan.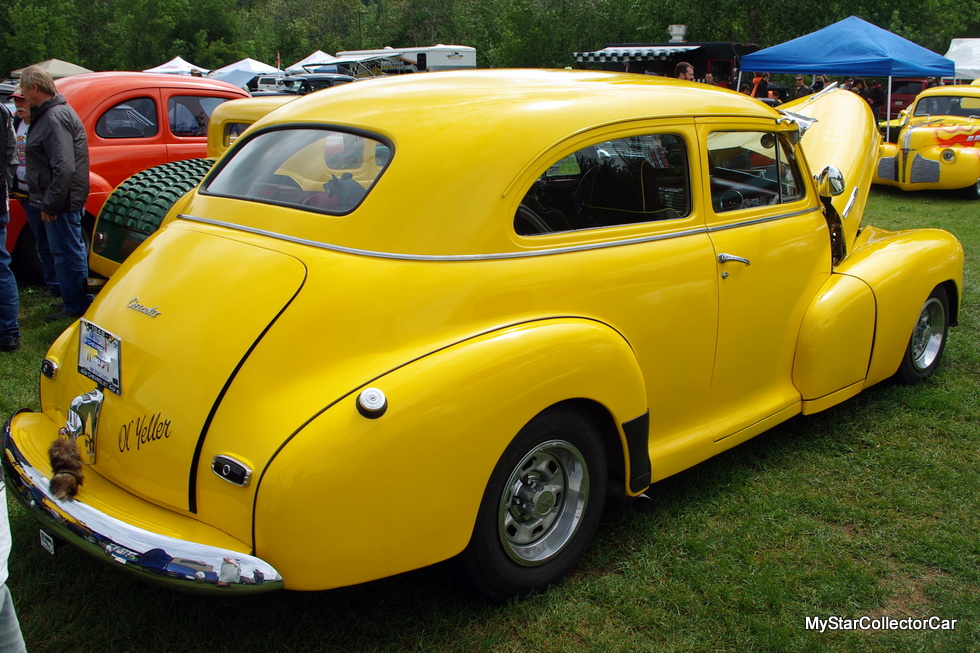 Larry found his '48 Chevy nine years ago and he described it accurately as a "field car". Despite the shortcomings of outdoor storage Larry's project only had "a little rust on the lower quarters" so he had a solid platform for his dream machine.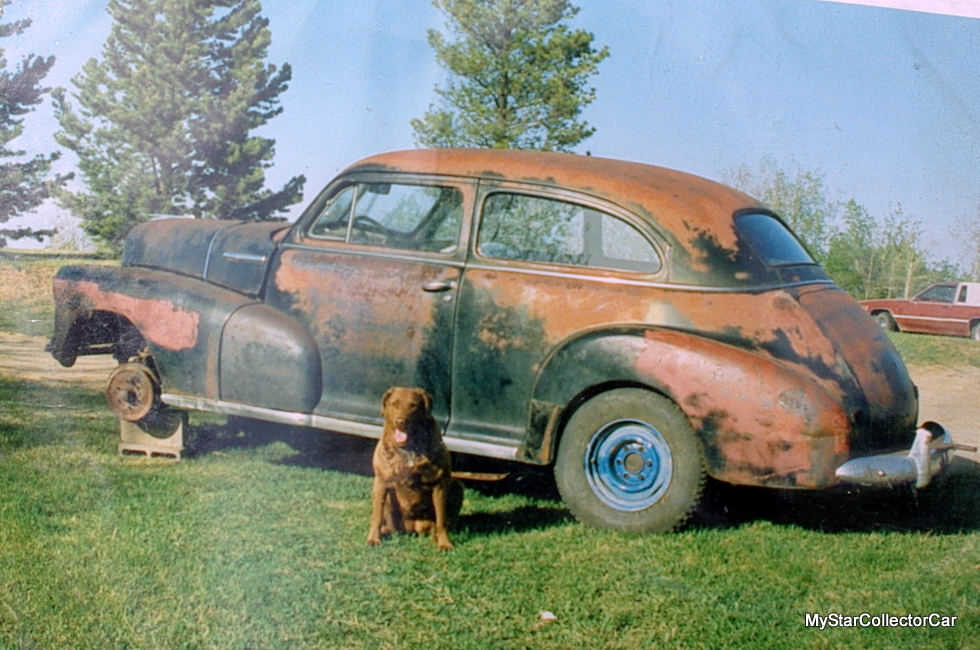 Larry owes his car guy status to his older brother because he was a "hot-rodder for years so we hot-rodded everything we had—it was like Tim Allen".  The key to the project was the old school attitude for the build, so Larry started with a lot of different used pieces and made one car.
He picked up a '74 Nova front clip and bolted it to the front end of the '48 Chevy then he built up a 350 out of a '69 Chevy truck (30 over with a 400 RV cam). Larry did all the work with the exception of the block work so he has a lot of inside knowledge on his small block Chevy.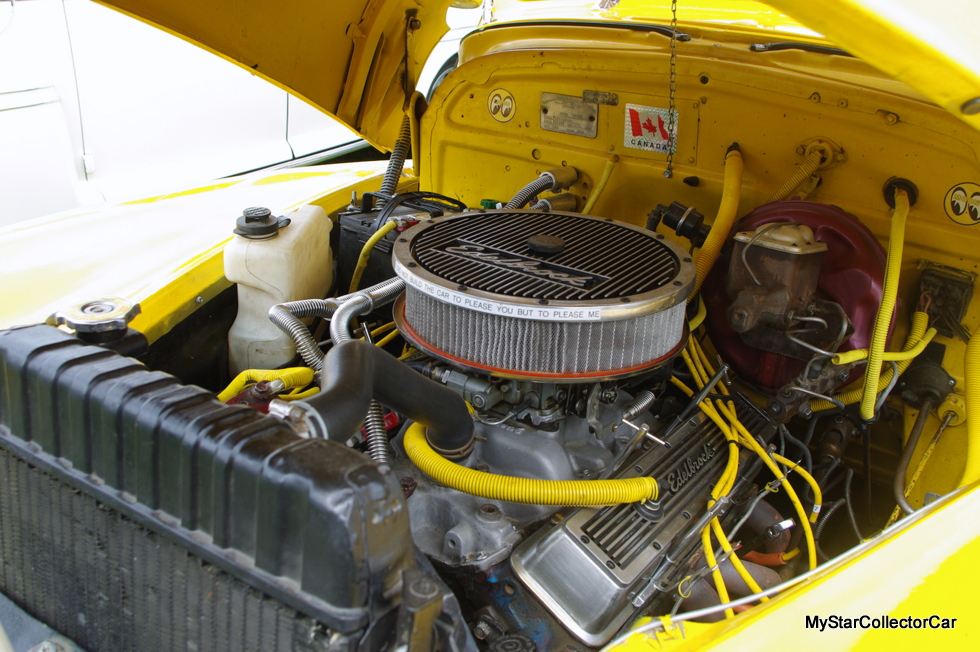 Larry added a 5-speed Borg-Warner gearbox to his Chevy to offset the 3:42 rear end and he's happy with the results because his '48 runs 2100 rpm at around 70 miles per hour. The biggest headache was the clutch linkage and Larry admitted "it took awhile—trial and error and lots of advice".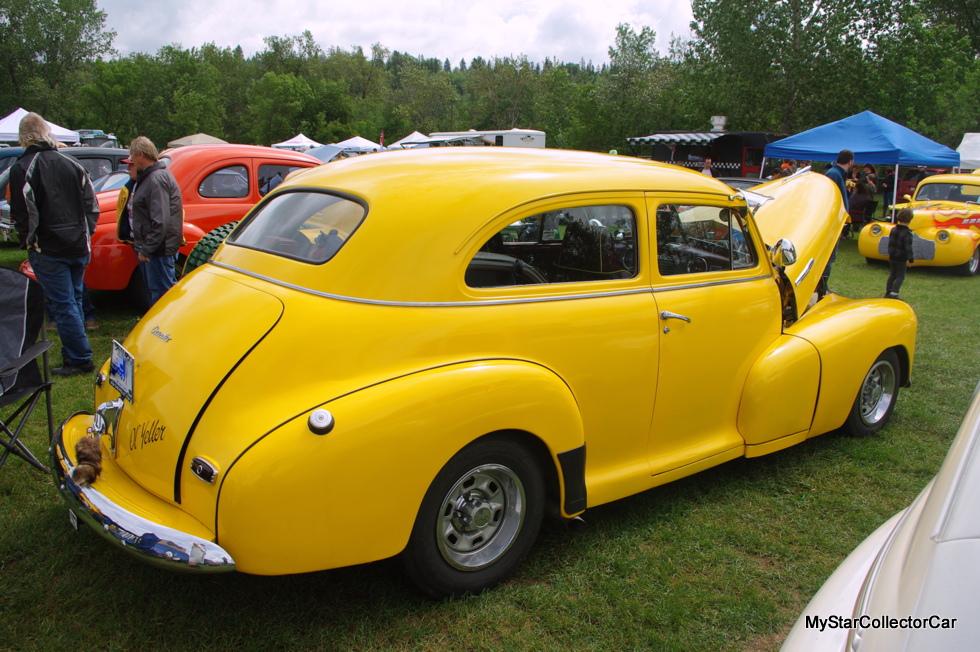 Larry picked up a new talent when he decided to a take on the headliner. He had an 87-year-old teacher who told him she is really attracted to "men who can sew". He picked up some material for the headliner: "It cost 32 bucks—they had this leopard skin stuff and I said that's me".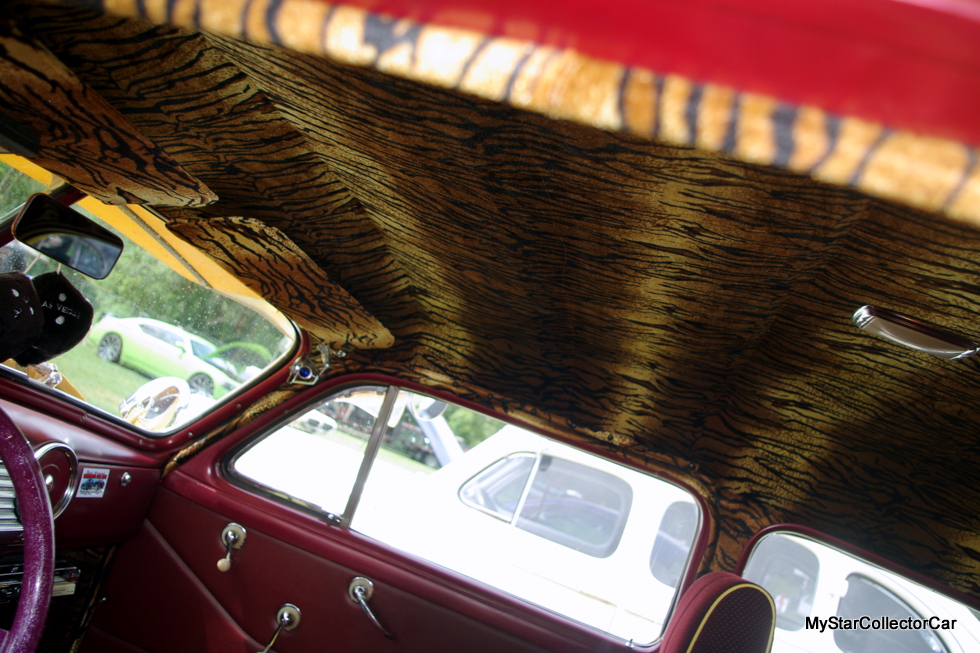 The Chevy has a long list of borrowed parts. The fan shroud is from a '76 Plymouth, the wheels are from a '76-77 Camaro and the seats are from a Dodge Caravan.
This is a junkyard build in the truest sense plus it has more period correct add-ons. Larry keeps a late 40s doctor's bag (bought from the widow of a hoarder) in the trunk and every tool in the bag is 40s vintage or designed to work on vintage iron.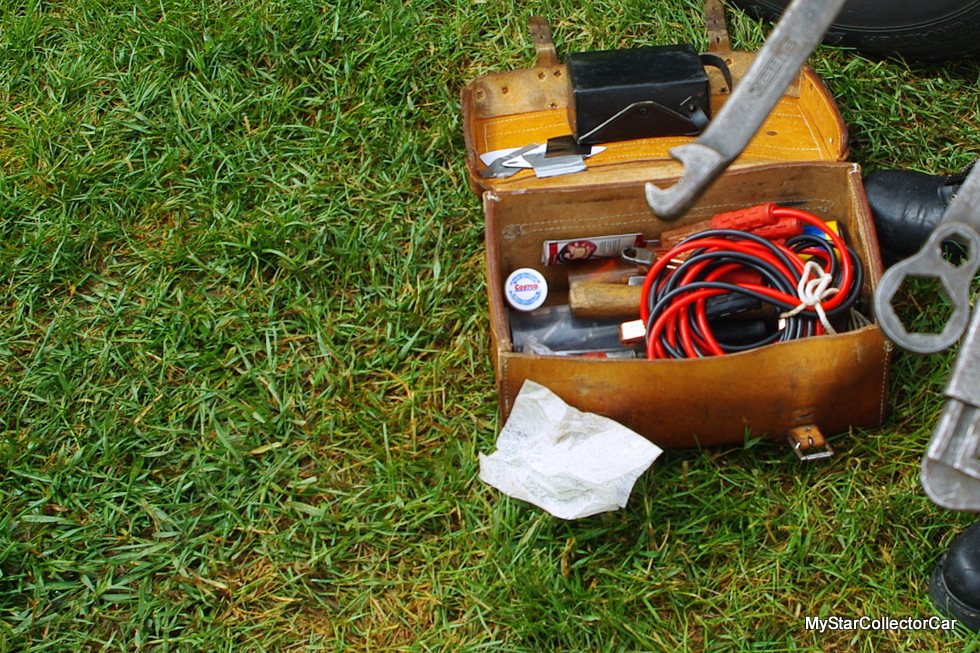 Larry has a period correct '48 Chevy visor but he replaced the chip board under the plastic with marine wood for a more permanent repair. The working 8-track is less period correct but it's also not something you'd see on a car in 2016.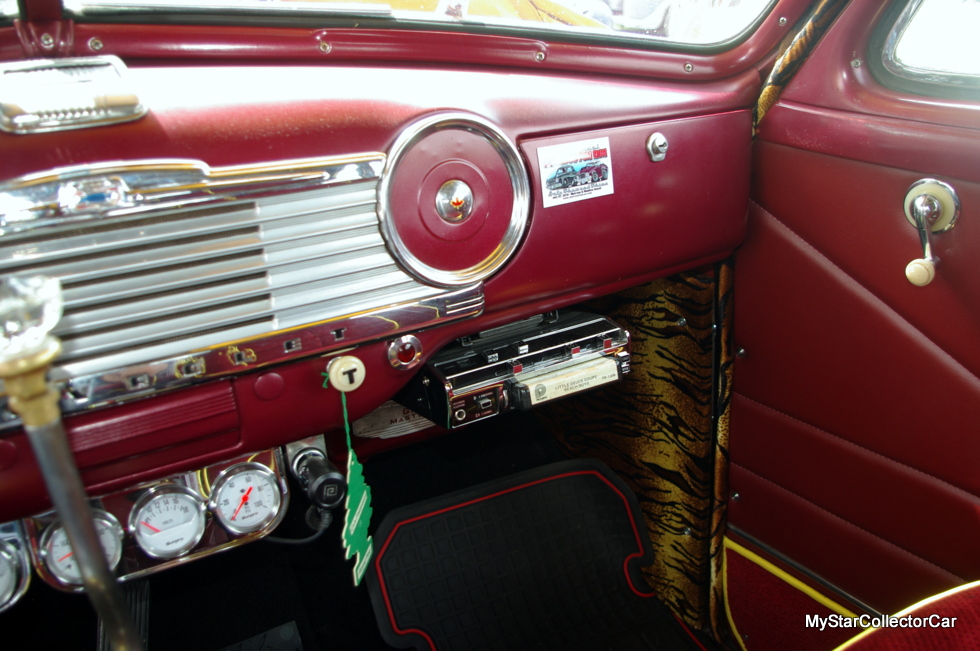 The Chevy is adorned with other things you would have seen if this car was customized in the 50s so it has a Canadian National Park medallion from 1955 plus spotlights, coon tails and a purple "sex light" from the era.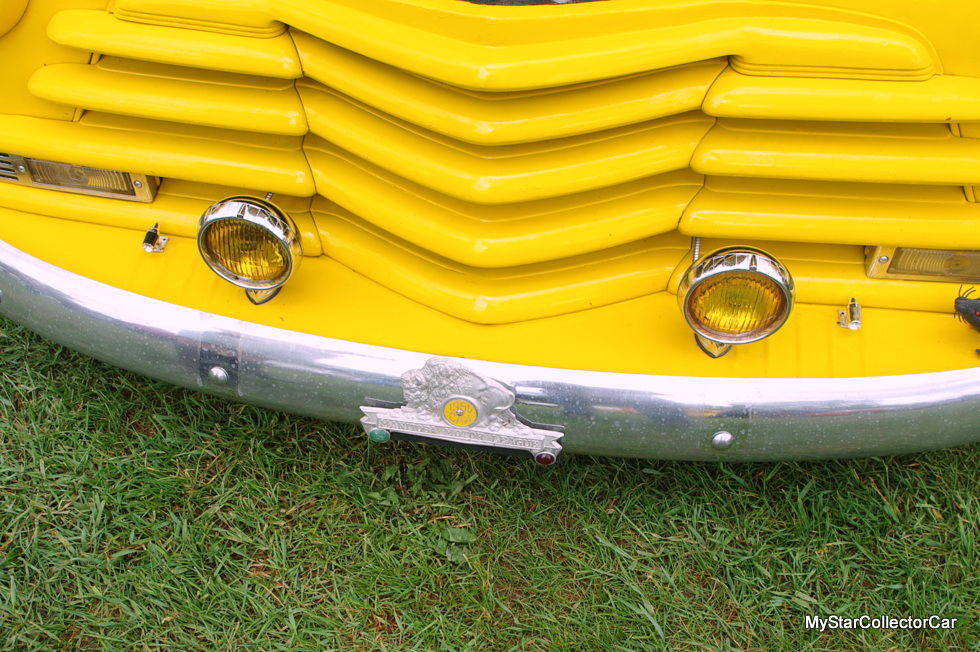 He's also added 50s "pasties" for the headlights and the fog lights are period correct and he lowered the Chevy the old fashioned way without airbags—by cutting springs and modifying suspension parts.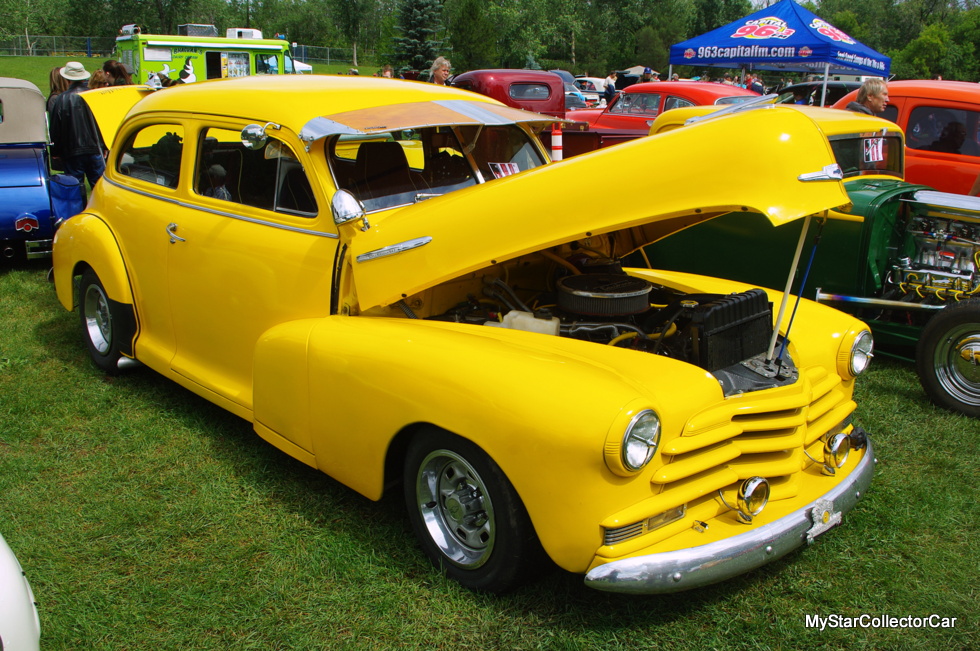 The theme behind Larry's '48 Chevy is the fun factor. He says if "you can't blow up a gearbox now and then you're not doing it right". This is a hardcore driver and Larry admits he can get "rubber in three gears" plus he says his crate engine equipped friends' cars, "can't dance with this old girl".
Larry's going to be retired soon and he knows he's "going to put on a lot more miles" per year because this car is so solid on the road he can "take his hands off the wheel at 70 miles per hour" and he'd "drive it across Canada tomorrow".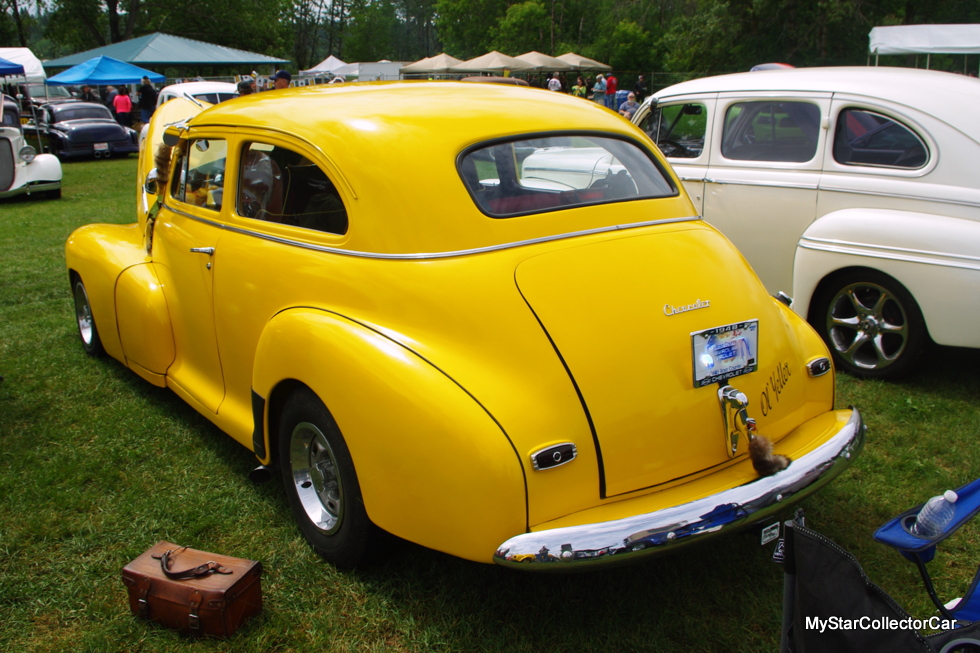 The biggest factor is the hands-on concept. Larry hand painted the car for "84 bucks" and he knows it's not a show winner but he, "doesn't get off the trophy stuff". He built the car for himself so if there's any question he did it "his way" you can find the answer written on the air cleaner.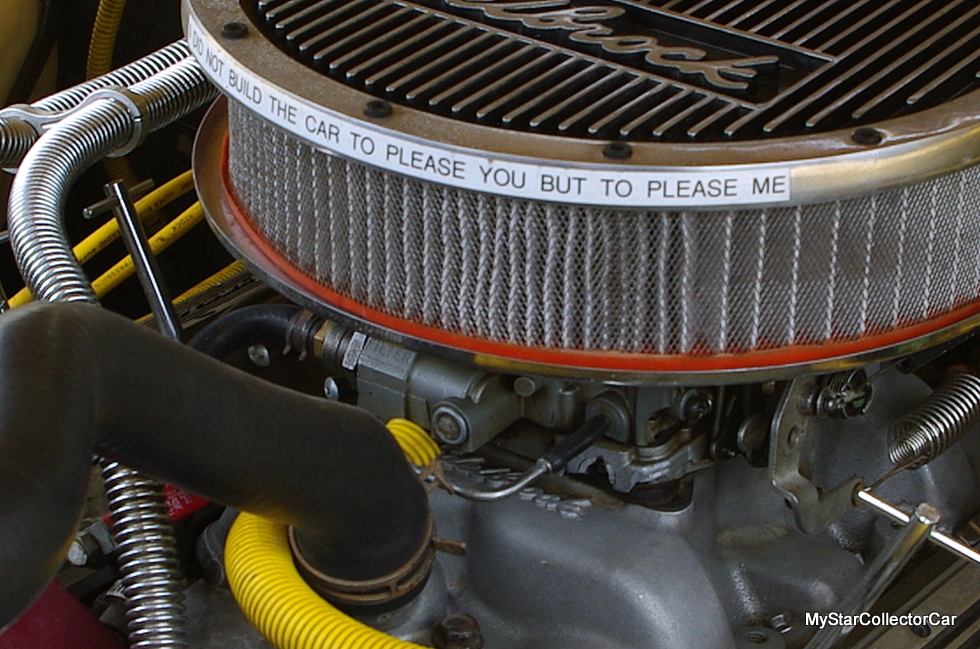 "I did not build it to please you but to please me".
Jerry Sutherland
CLICK HERE to Like us on Facebook
CLICK HERE to Follow us on Twitter
CLICK HERE to Follow us on Pinterest
Please re-post this if you like this article.