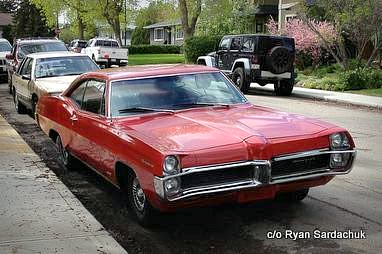 The Pontiac Parisienne is a car that was rarely seen south of the Canadian border because it was built for the Canuck market.
They were upscale Ponchos with a heavy dose of Chevy parts so they attract major doses of attention from Pontiac guys in the United States.
Ryan Sardachuk was in the market for an entry level vehicle and this 1967 Pontiac Parisienne two-door hardtop was the perfect fit for many reasons.
Ryan is a young guy with a huge affinity for old iron but most 19-year-olds can't swing the cost of a fully-restored Hemi Cuda so he was very realistic about his options.
He recalled,"I had been saving up for a classic car for years, and I had heard a local auction had some pretty reasonably priced vehicles that would roll across the auction block. So I checked their website, and the '67 Parisienne caught my eye because it was also one of the only ones that a young 19 year old with shallow pockets could really afford especially when compared to some of the rare well optioned Chevelles, Corvettes, Belairs, and GTO's that were sold that day".
Ryan explained his cost-effective search, "I chose this car for a number of reasons. One, a Pontiac Parisienne seemed like a pretty viable option".
The backbone of the car hobby is nostalgia and this Poncho is a classic example as Ryan added,"Another factor that inspired the purchase of this vehicle is its sentimental value. My mother's first car was a blue 1967 Pontiac Parisienne almost identical to the one I bought besides its color scheme".
The family connection didn't end there,"Also, my dad's family had a station wagon variant of the 1967 Parisienne when he was a kid, so he has some memories of the '67 Pontiac as well".
Retro style is another huge facet of old iron and Ryan was extremely happy with his car, "The final factor was the overall style and theme of the car. The Parisienne (Particularly in fire engine red) has stylistic traits of both a muscle car and a cruiser, and the blend of those two sensibilities that exists within the Parisienne is what really drew me to that car".
The Canuck Pontiac is not a muscle car but Ryan is already planning for the future, " Under the hood it's just a basic 283, but I'm considering upgrading it with a 327 or similar.
Auctions can be the biggest gamble this side of Las Vegas and the '67 Poncho was no exception, "The car overall was pretty solid, and well taken care of by its two previous owners. However there was a multitude of small problems that existed in the car. There were many issues relating to the brake lines, steering linkages. the center link, and so on".
There were other issues that veterans of the car hobby would find all too familiar,"But one major problem that I encountered was the frame rail. It was rusted 3/4 of the way around right where the transmission crossmember attaches to the frame. So that transmission was dangling by a thread ready to pop out at an intersection at any moment. Shops that did extensive frame repair were about as scarce as bird crap on a koo koo clock, and was turned away by many shops until I finally found one. They redid the frame rail, and re-enforced it by inserting an industrial grade rod of steel into it before closing it back up again. aside from those issues, the tranny and engine were both incredibly solid when I purchased it".
Ryan is firm about his plans for the '67 Parisienne, "I may be a member of the big rims and rice burner generation, but I'm not the kind of guy who would put 22-inch rims on with "elastic bands" for tires. nor would I make the thing an ugly mess of mods. I'm a sucker for stock/mild custom on most vintage cars, and I intend to keep it that way for the most part. I may however want to drop a 327 or maybe even a 409 in at some point".
He is limited to fairly short trips but Ryan does have a goal, "Right now, my insurance only allows for very limited driving (to and from car shows with the occasional pleasure drive), but eventually I'd love to travel the Route 66 with my car.
Ryan's long-term commitment to the Poncho is clear, "There's a lot of things I would sell before this car, but if I were in dire need of cash, I'd have no choice but to sell it".
Until and if that happens, Ryan knew he was part of the fraternity from the first day he turned the key…
"My first night out with my car, a guy in a new Dodge Challenger tried to race me".
Jerry Sutherland
For another MSCC '67 Pontiac Parisienne story follow this link.