I spotted this wild 1961 Ford station wagon outside a local restaurant earlier in the spring.
Truth be told, I would have tracked down the owners even it had been a stock wagon because a classic old station wagon is a good story any time I see one on the street.
That's why I wandered into the restaurant and started to ask customers if they owned the custom Ford wagon outside in the parking lot. I finally found the owner at the back end of the place before I drew too much attention for harassing customers.
Craig Phillips and his wife were friendly people but I did not want to interrupt their meal, so I got enough information to assure me our paths would cross again this summer. We did indeed meet again about two months later and I got the story.
Craig used to own a 1957 Nomad and has always liked the long roofs. He recognized the rise in popularity for old wagons and decided he wanted to jump back into the game and buy one.
He lives in western Canada and found the 1961 custom Ford wagon in the Nashville Tennessee area in October of 2012. October weather is a crap shoot in western Canada but Craig and his wife decided to fly down to Nashville and drive back to Canada in their new set of wheels.
They actually picked up the car right in the Nashville airport parking lot and headed back to Canada via Detroit and then through Kansas City. The car gave them no trouble until they hit an autumn snowstorm north of the border in Saskatchewan.
The low profile summer tires were no match for the incredibly icy roads and the enjoyable trip back home became a full-blown Indiana Jones adventure for the Phillips. Craig had never driven though more dangerous conditions in his entire life and he was behind the wheel of a custom car he had never driven before its very recent purchase.
One thing about fall storms in western Canada: you drive out of them and suddenly it's a bright sunny day on the road. They hit better weather shortly after they crossed into Alberta and the drive home became fun again.
The wagon is Craig's first Ford and first four door purchase and it is pure Blue Oval from its 302 engine to its iconic 1961 Ford looks. Craig added a very cool and authentic 1960 long skateboard on the roof rack to set the mood for the time.
The wide whites and baby moon hubcaps on the skateboard are also a nice touch for the overall cool factor of the Ford wagon.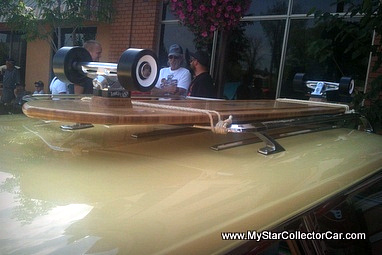 I was happy to learn the Phillips planned to drive the car-a lot. They were headed down to the States for a few shows after I interviewed and were certain they would be able to avoid any blizzards during the summer months. The car was actually a very comfortable highway car and they looked forward to their long trip on the road with their first Ford.
That's why I am always happy when I run into owners who want to drive their cars instead of throwing them on a trailer.
It even makes their stories better.
Jim Sutherland