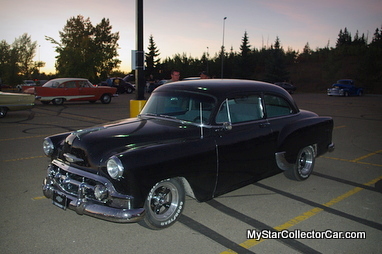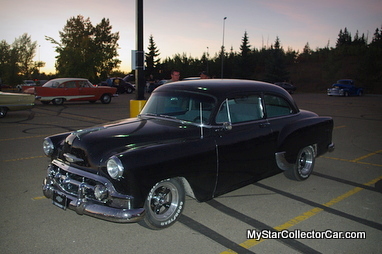 The Chevrolet name distilled down to three years in the 1950s.
They're affectionately known as the tri-five Chevys from 1955-57.
The tri-fives became icons but there's a fair amount of interest in the pre-55 era Chevys and that translates into cars like this '53 Chevrolet.
This is a car that didn't get built on an artificial TV-docudrama deadline-instead it was built right.
The project took far more time than a one-hour fake Hollywood project would because Tony Klessens had a definite game plan for this car. He recalled, "Lots of guys build tri-fives but I wanted something different. I bought it twenty years ago for 1000 bucks and drove it home. At the time the idea was to take on a project with my kids but by the time it was done they were a lot older".
Tony faced some typical car-guy mountains with this '53 Chevy, "There was a lot more rust on it than car or so it seemed". The complications within the project and the stark reality of raising and supporting a young family shoved the Chevy down the list of priorities in the Klessens family.
Despite the obstacles, Tony did move ahead on the old Chevy over the years and learned the intricacies of sheet metal repair.The lower half of the car was a disaster zone but Tony was undaunted but he did have reservations about the panels, "You can buy these panels but I like to build them myself".
Panel building is an art form that requires enormous amounts of patience and skill and Tony wanted to put a personal touch on the old Chev but there was a more practical reason as he explained, "I wanted a heavier panel so I did everything in 20 gauge metal. I did it all, I don't know if that was smart or stupid but it worked".
He treated the floor pans to the same detail, "I did the whole floor in my shop and that took awhile too".
The bodywork was one mountain to climb but the paint was another huge hill to climb because Tony was in the middle of a learning curve," I spent 300 hours sanding it down.The paint looks a lot better than what it came out with but it was lot of work.I didn't trust myself with a power sander so it was all sanded by hand from Day One".
The problem was in the process as Tony recalled, "I was spraying clear coat and not letting it dry long enough and a body man told me I couldn't do that so that added to the work".
This '53 Chevy was built for show and go, "It's got a 383 stroker in it with a Turbo 700R4 transmission, Ford 9″ rear end with 3:50 gears. It puts out 470 horsepower so my driveway is all rubber now".
Performance in 2013 is a much broader concept because it's not just straight-ahead power.Tony wanted the Chevy to stop and turn, "It's got a Mustang II front end with a 2″ drop and disc brakes all around".
Patience is the cornerstone of a real car project in the real world despite the TV show hype and this 1953 Chevrolet is a textbook example of that theory.
Tony is enjoying the ride even if his kids grew up during the process.
Jerry Sutherland