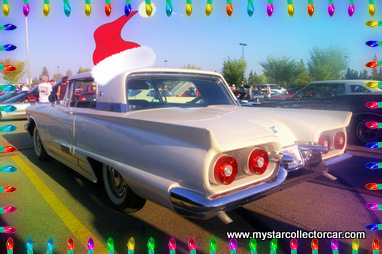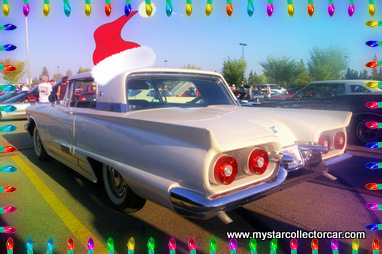 What kind of cars or trucks would you like to see under your Christmas tree?
At MyStarCollectorCar.com we lean towards the odd and sometimes unloved vehicles of yesteryear and this is no exception.
Don't look for state of the art hi-tech iron or classic Ferraris under this tree.
Look for cars like this-the 1958-1960 era of the Thunderbird.
Many Ford Thunderbird fans look at the 1958 model as a sell-out. It was too bloated plus it seated 4 people. In short, it was light years away from the original 2-seater "Corvette fighter" sports car concept.
I don't agree-the "Squarebird", as the car came to be known, was a great example of late 50s styling. It was low and wide, full of gadgets and topped off with a ton of stainless steel and chrome.
These T-birds came with buckets and a 352 V-8 upgraded in '59 to the giant 430 Lincoln V-8.
The car actually sold far more copies than the 5-6-7 era T-Bird despite the backlash because it was more comfortable and it had that great T-bird roof line. This car could run with no effort at 75-80 on the turnpikes and did so in complete comfort.
The Squarebird was a true late 50s classic-it looked great, it had a low and wide stance and that's why it easily makes the 24 Cars and Trucks of Christmas list.
Jerry Sutherland @mystarcollectorcar.com
COMMENTS
ANGUS: "I've got Porsche on the brain this Christmas. Winter makes me think about that yellow 911 (68-70) that Robert Redford drove around in Downhill Racer. Something about a car on a mountain with a ski rack on top that has no business being on a mountain or with a ski rack gets me going. Always have to have a few "somedays" floating around."
BERNIE: "Great article, guys – 70-80 mph, and made of steel…"