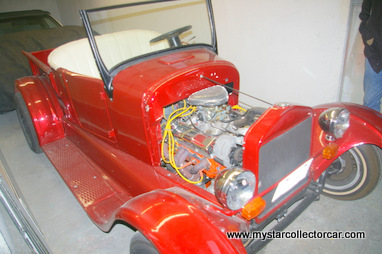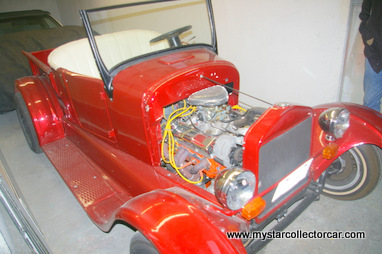 Bill Laidman is a classic car guy with a classic ride-a 1927 T Bucket pickup.
Vehicle and car should match in any old car story and this is a great example.
Bill uses this car as a summer driver in his hometown-a resort area-it's hard to imagine a more intriguing ride for a retired drag racer.
"T- buckets" are the stuff of rock and roll legends.
That's probably why Bill makes this truck a big part of his summer driving program.
Bill's car roots go back to his drag racing days against legendary drivers like Dick Landy in B Stock. He did that until he realized that he couldn't compete against the Chrysler Corp juggernaut.
After that he focused on building fast street rides.
Vintage vehicles are an ongoing process-every car guy knows that and Bill is no exception. He has a game plan for this T because, as he says "it's more of a rat rod". The bucket is actually from a car so the box is actually shorter. Bill plans to clean up the box area and replace the fuel tank with a beer keg.
He has other upgrades planned for the T but one will not be the power train. Bill is really happy with the classic 327 Chevy heart in this classic rod. He can't envision an improvement over the legendary V-8 from General Motors. It's already breathing better with 350 heads so as Bill says, "Why mess with success?"
Bill has to plan around the fun factor with this car-he lives in a resort area with a great climate so the topless T gets a big workout. His biggest problem is keeping it under control, " the motor's a bit of a mismatch but it works, I can't keep it on the road it's almost stupid if you punch it".
The car is a classic hot rod and it's about as much as an old drag racer like Bill can handle.
That's the essence of the classic car guy experience.
Jerry Sutherland @mystarcollectorcar.com