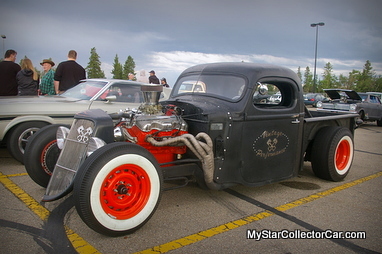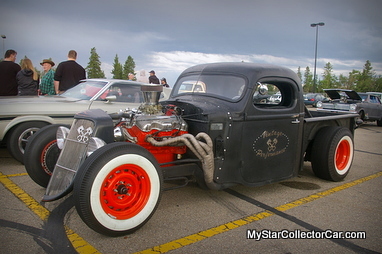 Most old car or truck projects hinge on a group decision for family guys.
You simply cannot commit the time and money needed for a project without serious buy-in from the family unit.
This 1939 International Harvester rat rod is a classic example of how to do things right at the domestic diplomatic table.
Garth Storms ran a textbook game plan when he took on this truck a few years ago. He explained the basic strategy, "It took three years from scratch and it was a father-son build". He clearly had his offspring onside during this project.
There is clear evidence Garth also put a solid case forward for the build to his wife because it rests in the engine bay. Garth admitted, "It's a 409 Turbo 400 and I borrowed it from my wife's '63 Impala. It's got 340 horse at this point but it's kind of a place-holder for the next motor. I'm still building that one up".
The term "from scratch" is highly accurate in this case as Garth explained, " I built the chassis, everything was done in my shop. It was laser-cut out and I pounded on it for five months".
This IHC is a tribute to an old school build because Garth wanted it to "look like a 60s drag rod, something you'd see in 1960" but he does admit he's added some new tricks in a serious blend of old and new concepts.
Garth explained, "It's a ladder bar chassis with a 9″ Ford rear end and coil over shocks but those are finned Buick aluminum drums up front-they're the real deal not repros.That 409 is something you would have seen in the early 60s as a new motor. The cross-members are drilled out for weight.That's a Ford drop-axle there too".
There was another old-school theme throughout the build ,"I tried to stay with the era so we put together whatever would work when we were building this".
Garth put some serious thought into the look of this rat rod, "It's got flat glass and it's chopped 4 1/2 inches. I didn't fix the look of the welds and the box is a mid-60s Fargo".
Garth added one more unique touch to the '39 IHC, " I used an old Calgary Brewery keg for a gas tank. It was a little tough to weld on aluminum but the date stamp on the keg is 1939 so it seemed right to use it".
This '39 IHC rattie is the anti-trailer queen because it was built for the road and the track. Garth explained the track side, " It's certified to run IHRA or NHRA so it's got an 8-point cage. It runs a 12.50 with this motor but the next one should be around 10.98″.
The track side of this IHC is just part of the equation because Garth drives this rattie on a very regular basis. He explained, " I have to drive it. It's got bias-ply tires so it's little rough but it drives well. If the truck lane is rutted I move over to the fast lane because it does get caught up little but it's really good and it runs pretty cool".
This old IHC is clearly not built for comfort but surprisingly Garth admitted, "The seats are bomber style but they're remarkably comfortable".
The truck has attracted some serious celebrity attention as Garth recalled, "George Barris signed it-so did Chip Foose and Chip sat in the driver's seat".
Regardless of whether two well-known car guys like Foose and Barris approved the project, there is no doubt Garth got the most important approval from his family.
Jerry Sutherland