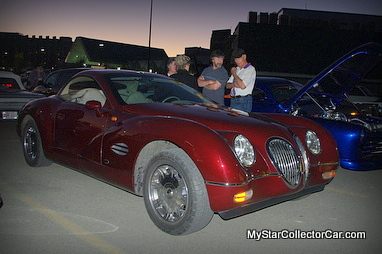 I was at a show in September 2013 when I spotted a 1957 Ford station wagon and wanted to get its story because these old long roofs are a very uncommon vehicle at any show.
I asked a couple of guys about the wagon and ran headlong into one of the most amazing car stories I have encountered at any show-and it had nothing to do with the '57 Ford station wagon.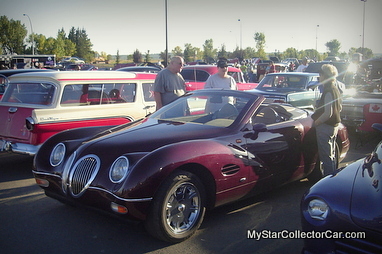 The boys aimed me at a Euro-flavored car beside the wagon and told me "that's your big story". They were right because the custom car built on a 1986 Mercury Marquis platform was beyond belief. It was a hand-built aluminum body car created and constructed by a retired engineer named Bob Miller, with plenty of help from Juanita, his high school sweetheart and wife for the past 59 years.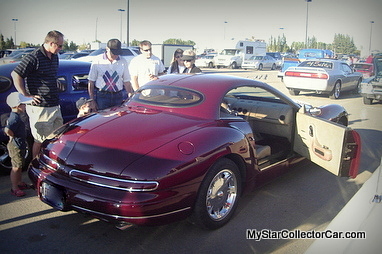 The Millers named the car 'Atlantis' and told me it was inspired by a Chrysler concept car that caught their eye in the mid-90s. Bob liked the overall design of the Chrysler concept car, but he wanted to put his own stamp on his creation and he knocked it right out of the park with his Atlantis concept car.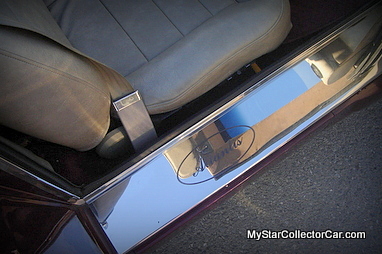 The car was hand-built via 11,000 hours of meticulous work by Bob and Juanita. He built his dream car from drawings that led to wooden molds that led to precision metal body panels painstakingly formed with a leather body hammer and an infinite amount of patience.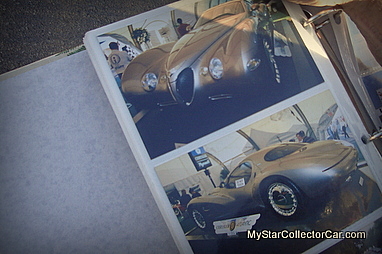 Bob designed and built a retractable roof that is the end result of a solid year of tinkering with his original design based upon the flap track of a Cessna airplane. His system is simple and very functional because Bob wanted a less complicated system than the old 50s Ford retractable roof or the new Mercedes retractable system.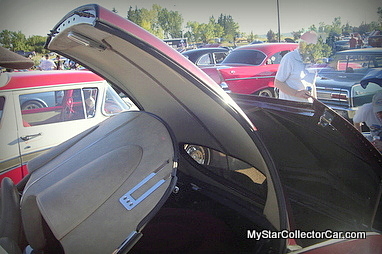 His roof glided smoothly and quietly into place where it fit like a glove in both the up or down position. Bob is a very accommodating kind of guy and he demonstrated his retractable roof many times at the show because so many people wanted to see it in action.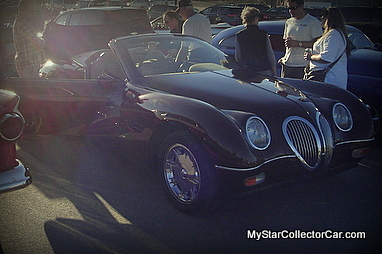 Bob has built 12 boats, 4 planes and 2 cars over the course of his lifetime and I can only assume every one of his projects was done at the same high level as this amazing car. Bob was quick to point out he did not paint the car or do the upholstery upgrade, but a man who put 5 years and 11,000 hours in his dream project deserves to get a little help along the way.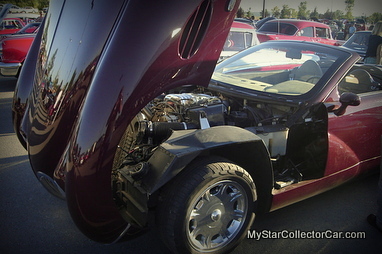 Juanita designed the unique front grille with a few modifications from Bob. The secret to the Millers' long and happy life together, as well as the success of this project, is clearly based on teamwork. Juanita also pointed out a subtle styling cue on the car: the flow and symmetry of their car is even found on the ridges they built into the body lines and even the mirrors.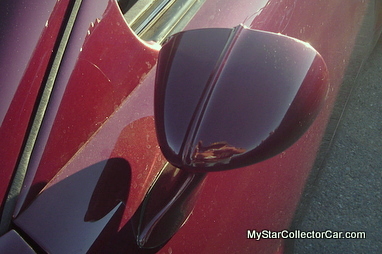 The unique rear tail lights are also a custom design built from the covers on their garage's fluorescent lights. They were heat-molded into shape and covered with a red plastic layer.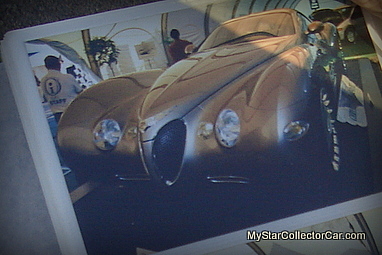 The Ford frame was modified to move the engine 18" back and 3" down so that the car has a perfect 50/50 weight balance to give it great handling on the road. Bob also chopped length off both the front and back ends of the frame and lowered its ride height to get the right dimensions for his custom body design.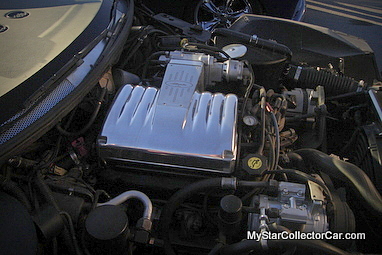 Bob shaved 1000 lbs off the car with the new aluminum skin so it is a much nimbler version of the original Mercury Marquis with all of its changes. Bob was very satisfied with the original Ford steering geometry and found his modifications played to the Ford steering system's strengths in overall performance.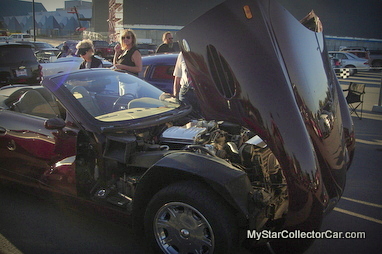 Obviously, a practical guy with a strong engineering background like Bob has also built in some other really clever ideas into his car if he needs to work on it. The entire dash will come out with the removal of four screws while the door panels can be removed with six screws. The entire front end also lifts so Bob has complete access to his engine.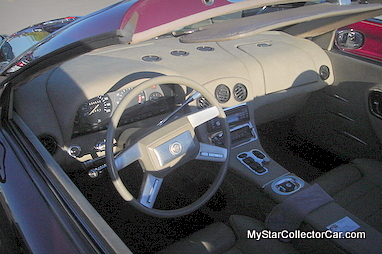 Bob summed it up pretty well; "Why make it difficult if you're the guy working on it?"
However, the car has been a virtually trouble-free performer since it first came on the road in 2005. I asked Juanita how many miles they have put on the car during the past 8 years and she said "zillions". The Millers drive it from April until September every year and enjoy every minute in the 'Atlantis'.
The only issue that put them on the side of the road in all of those years is an occasional encounter with the police when their exotic custom sports car comes up as a 1986 Mercury Marquis sedan, which is still its legal designation in the vehicle registry office. These are the moments when Bob gets to explain how he transformed an old sedan into an exotic sports car to a skeptical traffic cop.
My last comment on this car is a thank you to the car guys who steered me to Bob and Juanita's custom-built masterpiece.
This is one of my favorite stories because it had both a great car angle and some really nice owners as a bonus feature.
Jim Sutherland