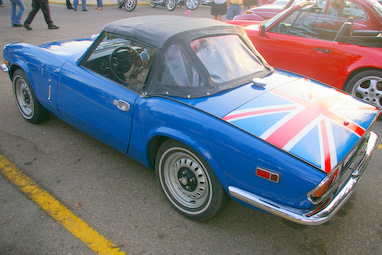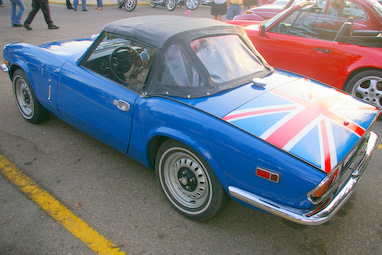 The name Triumph has always been associated with the British motoring tradition.
The choices ranged from two wheels to four wheels, depending upon the particular tastes of the owner.
'We spotted this four- wheeled sports car version of a Triumph and went to interview the owner.'
We're not exactly geniuses, but we caught a big clue about why the woman owned the car almost immediately when she first spoke: She sure sounded British.
In fact, Lorraine was British, and she has always been very fond of Triumph Spitfires.
March 2009 was a great month for Lorraine because she finally became the proud owner of a 1973 Triumph Spitfire. It was love at first sight for Lorraine and her Spitfire.   Lorraine seems like a practical person, so her new sports car was going to have to earn its keep. She uses it as a daily driver to go to work during the non-winter months. So the two of them will hit the road together, until the first snowfall parks the Triumph in hibernation mode.
That shows another side of Lorraine's practicality. She lives in a part of North America that has real bone-chilling winters. Her little Triumph Spitfire would be no match for sub-zero cold and deep snow.
So Lorraine will ride out the long winter months without her Spitfire.
'But it will only make the spring even better when the two of them hit the road together for the first time after a seasonal separation.'
Jim Sutherland