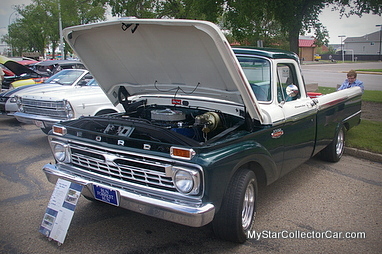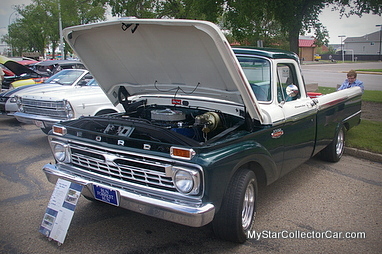 This is a very stock-looking 1966 Ford truck.
It's not slammed low, painted flat black or jacked up two stories high.
The trick was to keep this old Ford functional and factory correct on the outside.
Mission accomplished-this '66 Ford looks like it popped out of a time capsule from the Beatles era.
This story begins with a very unlikely plot twist because the owner's wife played a huge role in the purchase. Neila Krall explained how she orchestrated the transaction for her husband Brian, "I bought it for him on Father's Day. He looked at it earlier,liked it so I bought it. That opened up a can of worms".
Brian loved this Father's Day gift but his car-guy instincts kicked in so he started with an assessment of this special present. He began by evaluating the history of the old Ford, "The truck was original when I got it. It was an old farm truck and the guy bought it brand new so when he died it went to his estate".
The family ties disappeared pretty fast as Brian recalled, "The grandson bought it and put it up for sale and that's when I first saw it".
The truck was in good shape, " It was Wimbledon White and it had a topper. There was a protective coating in the truck bed but it was in pretty good shape. There was no bodywork on it".
This Ford truck was very solid for its age but Brian wanted to take it up to another level so he began the project with a clear vision for the survivor pickup, "It was a good buy.I had a friend with a body shop so he crawled underneath this thing and gave it a good look and he told me it was very solid".
Despite the passing grade for the '66 Ford pickup, Brian wanted to take it to another level as he explained, "My buddy told me if you don't do it right I don't want to put my name on it".
"Doing it right" is a complicated, tedious process and this truck was no exception, "We took it apart piece by piece. The cab, box and everything came off. It was frame-up all the way".
Experienced car guys know how detailed this frame-up process is and Brian's Ford was no exception, "Every nut and bolt came out and was replaced, this is like a new truck".
This '66 Ford is actually better than new because Brian introduced some new-tech to the project, " I wanted to drive this truck in today's world so I added disc brakes and power steering". No car guy on the planet would see any fault in that upgrade.
Overdrive was another much-needed upgrade as Brian recalled, "It had farm gears so I bought an adapter out of the States and put an overdrive unit out of '92 Mustang into it".
The results were immediate and positive, "It revs around 2300 rpm at 70 miles per hour now instead 3600 before so the engine works a lot less and the mileage goes up".
Brian is happy with the truck's feel on the road but he has another tweak in mind, "It goes down the highway really well but I'd like to put radials on it because it does wander a bit".
There's little doubt that Neila "opened up a can of worms" with this old Ford truck/ Father's Day present but this is truly a gift that keeps on giving every year.
Jerry Sutherland