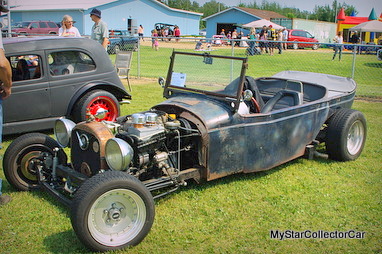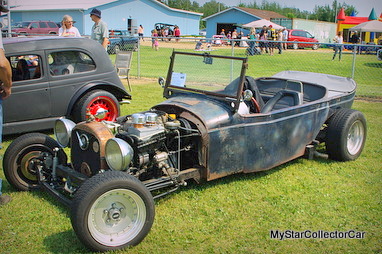 Studebaker will always be known as the little car company that produced tough, dependable cars and trucks for decades.
They faded away with little fanfare in the mid-60s.
Porsche, on the other hand, is alive and well in 2015 so there are very few connections between the two car builders.
Lorne Peet is the kind of car guy who believes anything is possible so he is very likely the only owner of a Porsche-powered 1925 Studebaker.
He has a pretty basic philosophy when it comes to projects and it's based on an old school/rat rod attitude: "I've always been a car guy but this kind of thing is everything right now because I can get in my little garage and escape the world.
Lorne believes in the age-old tradition "work with whatever you have" and that theme was tested to the tenth power with this Studebaker project, "It had a little bit of rust on it but that's as good as you get". The basis of the build was set but Lorne needed the rest of the plan to come together and it came in the form of a very unusual donor.
Most builders would think in terms of a standard 350 Chevy crate or a retro build with a 1st Gen Hemi as the heart of the project. In the unconventional world of old school rod building, a build like that is a fairly well-travelled road-some might even call it traditional.
Lorne doesn't see things in the traditional sense, so he examined what was available and the answer was found in a written-off low mileage Porsche. The German sports car was available for the right price and Lorne had a little spare time, so he spent the winter building the world's first Studebaker-Porsche roadster. He builds rat rods based on the most cost-effective strategy, not the road most travelled.
This Studebaker-Porsche marriage may not have been made in heaven but it produced one of the most unique ratties on the planet. Lorne is impressed with the road manners of this ride because it actually works well but it does have some typical rat rod limitations as he explained: "It's great, it runs at 120K no problem but it's too cold to ride in when the weather is bad".
Lorne's Studebaker won't carve a turn like a factory Porsche because it has a straight axle so "you're not going to lean into the turn", but that's also part of the built-in old school charm. This car really attracts a crowd because car guys are really curious about what's under the hood and the Porsche engine, buckets and shifter fires up some serious discussion.
There's a bit of a pause for the onlookers as they get by the strange combination- then the artistic side of this old Studebaker kicks in because this ride really defines the basic theme of hot rods—there are no rules.
Lorne is the kind of guy who doesn't ask "why?" Instead he asks "why not?" and this Porsche-powered Studebaker is the answer. He sums up this project in one simple sentence.
"Whatever you build, that's what you run".
Jerry Sutherland
CLICK HERE to Like us on Facebook
CLICK HERE to Follow us on Twitter
CLICK HERE to Follow us on Pinterest
Please re-post this if you like this article.