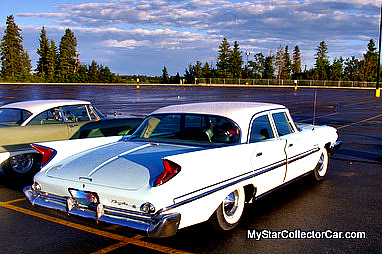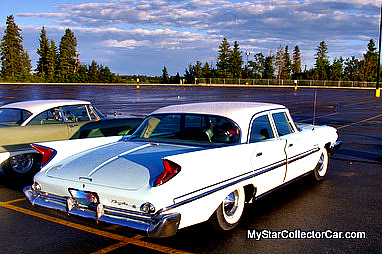 Marty Rissi grew up across the pond in Switzerland but he acquired a huge fondness for the Virgil Exner late 50s early era fin cars at Chrysler.
His first car was a 1957 Plymouth Savoy (assembled in Switzerland) and that clearly set the hook for a lifelong affinity towards all things finned and Mopar.
This Mopar beauty, a 1960 Chrysler Saratoga, was an inevitable conclusion to this lifetime infatuation.
A member of the British Columbia Legislature originally purchased the car in 1960. He lived in Ft. St. John and he was intimidated by the freight costs from Vancouver to northern B.C. consequently he picked it up on delivery.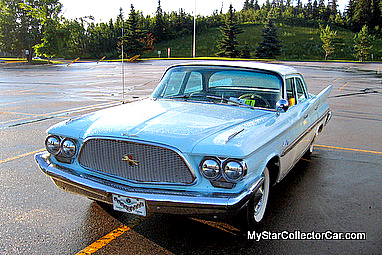 This was a large man so he was worried about headroom and comfort so this big Saratoga made a great deal of sense to a plus-sized guy. He drove the Chrysler for a relatively short period of time because he passed away and left the car to his wife. She drove the big classic until 1983 when she handed it over to her grandson. He never drove it.
Marty picked up the car last fall with 33,000 documented miles so this Saratoga is a true survivor-with the exception of the new paint scheme.
The 383 has never been rebuilt and Marty reports that "the engine is as smooth as glass, even when idling". He's equally thrilled with the ride and describes it as "riding like a dream" on the highway.
Marty loves to drive the car when he can fit it into his busy work schedule and the size of the big Chrysler is a huge advantage. He needs the room as he admits, " it'll take the whole family and luggage too, we have a lot of stuff to carry and it's very comfortable". The power steering and brakes also enhance the driving experience in a big way for Marty.
The issue of fuel economy often arises in conversations at car shows and Marty is happy to report, "it does 18-19 miles per gallon on the highway". Clearly the cost-conscious original owner ordered the 2.76 highway rear end option for a reason-it really cuts the workload on the big 383 engine.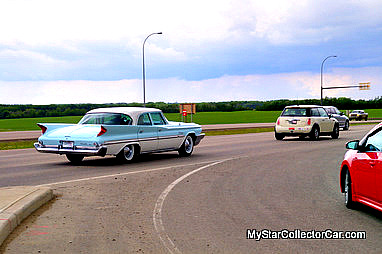 Marty envisions a long-term relationship with his North American ride so he was firm about its future, "it's not going anywhere, you get attached to them. I couldn't bear to see it go by and I don't own it".
Marty's wife is also attached to the car-she has an affinity for classic North American iron that's equal to his infatuation. That's why this 1960 Saratoga is going to be a long term family heirloom in the Rissi family.
That's how to end a Hollywood long distance romance…happily.
Jerry Sutherland
For more car romance stories click here-https://www.mystarcollectorcar.com/