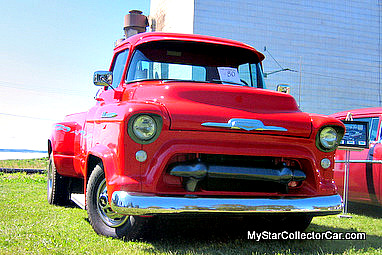 A stock 1956 Chevrolet 5700 3-ton truck will draw plenty of attention at a show, but this resto-mod 1-ton version is a people magnet.
Owner Dave Abrosa is clearly a man with both vision and talent.
His wild custom truck was a four year "off and on project" in his words.
Dave could have said the Chevy took him ten years and we would have believed the man, because it is done to that kind of level of quality.
Dave wanted to make the truck lines to flow properly-even though it sat on a 1979 Chevrolet 1 ton dually frame and had a 1990 Chevy 1-ton dually box.
For Dave it was very important to blend the old cab and new box into one well-sculpted truck-mission accomplished.
He had to move the cab ahead to make it "look proportional" in his words, and it "took forever"- also his words.
The red beauty travels very smoothly down the highway and it will "go with the flow" (Dave again) on highways. The blue-collar soul of a 50s Chevy working man's 3-ton truck is still evident in its looks, but Dave's truck has a comfortable modern ride under its skin. ..
A reliable 350 Chevy heart beats a solid number under the hood of the old working stiff and it gives a steady performance for Dave's needs. It may not be a ¼ mile rocket, but it sets new records in the style department every time it hits the road.
We can always measure public interest by the level of difficulty presented by photo shoots at car shows. The more people- the tougher it is to get that people- free shot.
We almost needed to rent an angry Rottweiler with serious self- control issues to clear them away from Dave's beautiful red 1956 Chevy resto-mod so we could take pictures.
As you can see, it would have been money well spent to photograph this ride.
Jim Sutherland
More stories of cars and trucks at-https://www.mystarcollectorcar.com/