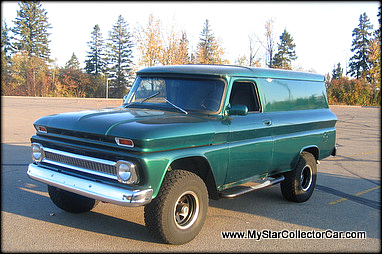 Stan Vandenbroek is a big fan of the iconic Chevy panel trucks from the 60s, so it is no surprise that he jumped at a chance to get one this year.
The surprise twist in the plot was that it turned out his 1965 Chevy panel was also a movie star.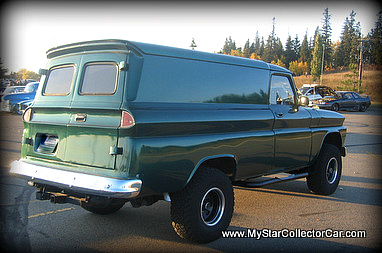 The truck was used in a children's Christmas movie called 'Santa Paws 2: The Santa Pups' as a dog-catcher's truck, presumably an evil dog-catcher in the spirit of most movies about lovable dogs on the loose. Stan has no plans to use it to catch stray dogs, but it is an excellent eye-catcher when he parks it outside of his hot tub business.
Stan's panel was painted to give it patina (the famous word used to describe worn paint) for the movie shoot and thus add to the notion that dog-catchers are so evil that they don't even look after their vehicles.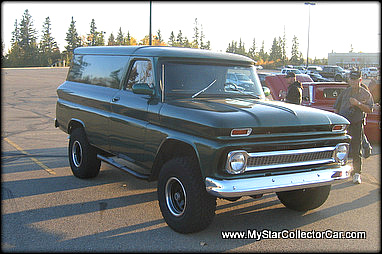 Stan purchased the panel from the guy who owned it during the movie shoot and was actually just interested in the truck and not its sudden movie fame. It is a resto-mod that sits on a 1979 Chevy 4×4 chassis and is ready to go anywhere on and off road, complete with enough solid power and towing ability to pull a trailer.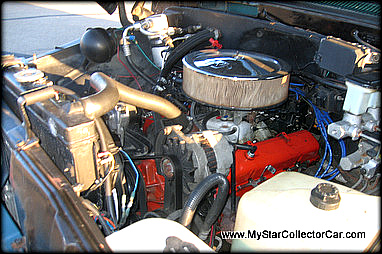 That's why Stan took the vehicle on an extended tour with his family and confidently proclaimed that he could "get in it and drive to Florida", and Stan's western Canadian home is a long way from the Sunshine State.
The truck was originally a working vehicle that was used as a service truck by a tradesman, a typical scenario for these blue collar brutes. It has now been upgraded to an ultra-cool family hauler that runs down the road with all of the creature comforts of a newer vehicle, including more comfortable rows of seats for his young family.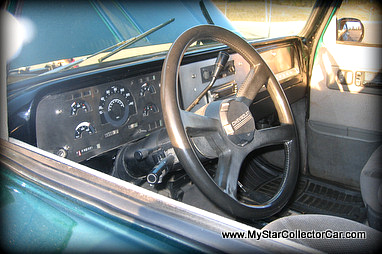 Stan has owned a few of these 60s Chevy panel trucks over the years because he likes their unusual style that was derived from a van/truck hybrid concept in a bygone era. The panels are not plentiful at any show, so they are stars whenever one of the unusual vehicles makes a rare appearance at an event.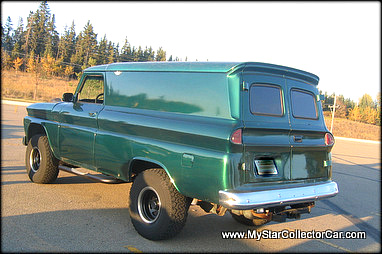 The big difference in Stan's case is that his 1965 custom Chevrolet panel truck is also a movie star.
Jim Sutherland
*Readers may also be interested in this MyStarCollectorcar article about a survivor 1966 Chevy truck.
Follow us on Facebook at-http://www.facebook.com/MyStarCollectorCar
Follow us on Twitter at- https://twitter.com/#!/MyStarCollecto1 
Follow us on Pinterest at- http://pinterest.com/jerrysutherland/classic-iron/