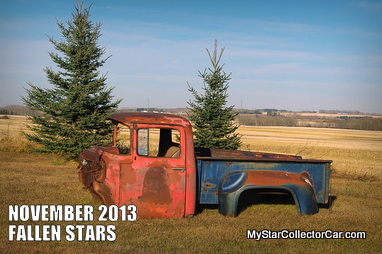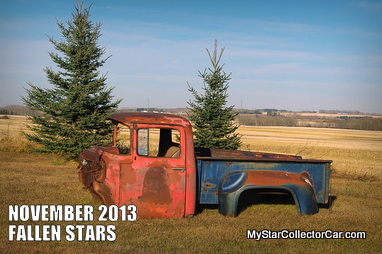 NOVEMBER 2013 FALLEN STARS: HERE'S TO THE HEROES WHO FALL ON THE GRENADE FOR OLD IRON
The world of old iron breaks down into two camps. One is the "it's just old junk" crowd.
These are the kind of people who see no magic in a '55 Pontiac that needs a little…or lot of work.
The "old junk" camp sees no magic in a project car because they have no automotive soul. The "old junk" camp is primarily female with a sprinkling of testosterone-challenged males for the equal opportunity quota.
The "old junk" crowd is far more at home behind the wheel of a new SUV than a '63 Ford Galaxie because a new SUV is "safe" and "reliable".
Fortunately there's another camp called the "fall on the grenade for old iron" guys These guys put in heroic efforts to save the discards of automotive society.
They risk a healthy marriage, visits from various enforcement agencies and a grim relationship with their neighbors to save these old classics.
That's the kind of real heroism that goes unrecognized everywhere except MyStarCollectorCar.
Here are some classic examples of what falling on the grenade for old iron really means.
For past MSCC Fallen Stars please follow this link.