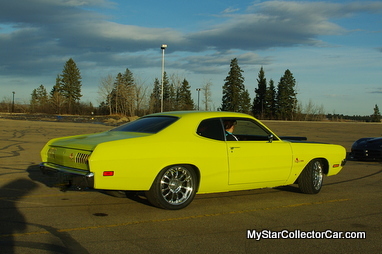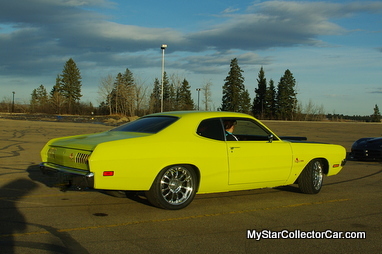 Rod Lunt has always been a big fan of the Mopar A Bodies from the early 70s.
He had his eye on a 1971 Dodge Demon owned by his buddy long before he bought it.
The long and winding road for his Demon went from his buddy to his ex-father in law and finally to Rod.
The car was a work in progress when Rod bought it and progress was pretty slow on it. It was essentially a rolling chassis with most of the work done on the underside and plenty of work left on the top side of the car.
The Demon project was at a virtual standstill two years ago when Rod discovered his ex-father in law still had the car and Rod decided to ask him whether he would sell it.
The father in law must still get along pretty well with Rod because he sold him the Demon instead of running him over with it.
Rod put a stroked-out 340 in it and now his small block beast of an engine churns out 605 horsepower and 558 foot lbs of torque.
He bolted it up to a 727 with a 3200 stall convertor and he envisions a 10.50 to 11.00 second ¼ mile rocket when he gets to the track. Rod described the pretty unrestricted exhaust system as "loud-ish".
Rod added 3:55 gears to the Demon for street use because he wants to drive the car on the road and not have his engine screaming at highway speeds.
The gears may cut down on the tire smoke shows a little bit, but they also make the car a more practical driver for street use.
Rod did the engine and interior work on the bare-bones project car and it is obvious the man has pretty good skills when you see the finished product.
Rod admits he has "a lot of money in it" and is now "afraid to crash it" from an investment point of view.
It would be tough to see all of the hard work that went into this investment disappear in an overly enthusiastic approach to the gas pedal because the car has plenty of ponies available under the hood.
We ran into Rod and his Demon early in late April before he had an opportunity to get used to the car and its generous horsepower.
He had only one opportunity to drive it before April 2013 and was still early in the learning curve for his muscled-out Demon when we interviewed him.
Rod also had two young sons with him and they were not yet converted to car guys. Rod struck us as a very responsible father and took it very easy with his kids in the Demon.
We suspect the young guys were firmly onside with the Demon by the end of the car show season because the car was nothing short of spectacular inside and out.
We were very impressed with the "Eh Body"; Rod's Canadian nickname for his Demon. The car is style and pure unbridled power wrapped up in a bright green paint job.
We like it a lot and we know it will grow on Rod's young sons the first time they see Dad take it down a ¼ mile track.
Jim Sutherland