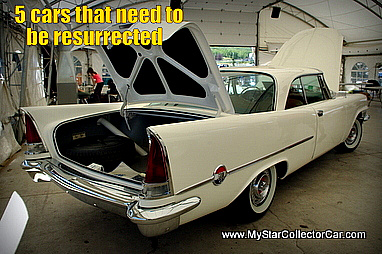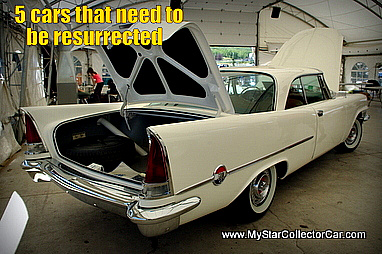 An offshoot of the ID twin experience is the myth you "have an ESP connection" with your sibling/clone.
Nothing could be further from the truth.
Jim picked five cars that he would like to see brought back in 2013 and I didn't disagree with his picks in the largest sense of the word "disagree". But I didn't feel a mental push to imitate his choices.
Sure, I liked them but I had different ideas about what five cars should be brought back in 2013.
Number five would be a large and in charge 1959 Oldsmobile Ninety Eight convertible. Convertibles have morphed into cute little squeak toys that can only be driven by 19 year old girls. Back in '59 they were driven by rich and powerful guys like high-end bankers or lawyers.
These cars had comfort and style wrapped in a massive presence. In 2013 I'd build this car with 4 wheel discs plus I'd add state of the art Camaro suspension to prepare for the sheer idiocy in today's traffic. I'd add the 6.2 liter Camaro SS 400 horse V-8 and 6-speed to keep up with traffic-you'd have a car that would loaf at 85 mph and ooze cool.
Number four would be the '63 1/2 Galaxie 500 fastback. These were cool cars and they set the pace for the fastback roof line in '63. That triggered a roof line style war at the Big Three for the rest of the decade.
The 2013 version of this classic Galaxie would have a 420 horse 5.0 Mustang engine with Select Shift six speed automatic and Mustang underpinnings. Unlike the Olds, you might be tempted to punch it a little in this big Ford so you'd want to have enough under the hood to humble a Hyundai.
Number three would have to be the '67 Chevy Impala two door hardtop. Again, this pick comes down to that very cool roof line that debuted on the '65 Impala and peaked with the '67 Impala.
Resto-mods woulld be basic-I'd put the base 2013 Vette 6.2 430 horse V-8 under the hood of this big Impala and blend it with the Vette underpinnings and 6 speed automatic. You could fly with the eagles in comfort, style and basic reliability in a very cool "Summer of Love" era ride.
Number Two would have to be the 1957 Chrysler 300C. I'll admit to a huge Virgil Exner fin car bias but history (and current auction results) proves that these big, bad finned monsters are iconic timeless cars.
The 2013 300C would have the Challenger SRT 392 cubic inch 470 horse Hemi V-8 mated up to a 6-speed pushbutton automatic with a full SRT suspension. The 392 Hemi is a nod to the original 392 and the 6-speed pushbutton is a nod to 50s cool. This baby could run with the best and still have armchair comfort…just like the original.
Number one would have to be another finned classic-the '57 Fury. Despite the built-in, Christine inspired popularity of the '58 Fury, the '57 was the real monster. You'll notice that the first four cars were left in the 400-470 horse range but this Fury would be stepped up a notch.
Consequently, I'd add the next Gen 6.4 supercharged Hellcat 600-plus horsepower Hemi engine and pair it with a Viper 6 speed and full Viper suspension. I see this new Fury as a car that breaks the will of every Porsche on the street yet it would still be welcomed at every old car show.
There you go…an unscientific look at the non-ESP side of ID twins when they're tasked with making a list.
Mine makes a lot more sense than Jim's.
Jerry Sutherland