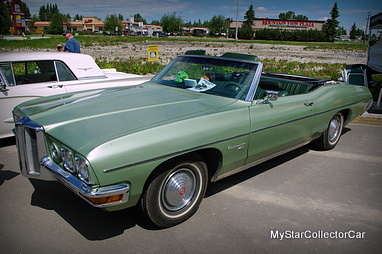 There are many reasons why people own things that coincide with momentous occasions.
Most of the time it's something pretty basic like a class ring or a photograph.
Not many people celebrate a milestone birthday with a 1970 Pontiac Catalina convertible.
Melissa Poxon is the proud owner of this classic Poncho and she loves to tell the story behind the ride so she explained the connection: "I got it for my 40th birthday because the car and I were both 40 years old".
This car is extremely well documented because the list of owners is pretty small: "The original owner was a fireman who ordered it in Edmonton-he bought it when he was 21 and he said his kids didn't want it. He drove it and told me it was a beautiful car to drive and he said it was his driver. He told me where every ding and dent was on the car after it was painted in 1987. My Dad looked at it and he said if you don't buy it, I will and he's a mechanic".
Melissa learned quickly how connected the previous owner was with this Catalina: "A guy stopped me and told me how he knew a fireman who used to have this car".
There was a clearly defined condition of sale with the Pontiac: "He looked after it so we thought we owed it to him and the car to do the same thing. Most owners know the 'join a club' route is a great way to stay on top of a classic and Melissa admitted: "We ended up becoming members of Alberta Iron Indians".
This Poncho was in great shape thanks to its extremely meticulous original owner but it did have a few minor issues: "It had a few little mechanical things like we replaced the hydraulics on the lid plus we fixed the rubber seals on the A pillar. We were worried that it had a few leaks in the rain so I decided I wanted to fix them. The antenna doesn't pick up radio very well so that's why we run with Mp3 and external speakers".
Melissa was happy to find another treasure in the trunk: "It came with a trunk full of parts just in case, extra hubcaps, NOS radio and a driver's side window because "kids were smashing windows a few years ago".
This car is definitely a driver and Melissa has enjoyed some quality time behind the wheel: "It floats down the road, I'm not afraid to drive it, we've been to Edmonton several times for club meetings and shows. It gets a lot of looks and people ask 'what's a Catalina'? It's not too bad for wind noise with the top up because it seals pretty good with the top up".
Melissa and her husband are truly enjoying their life with a classic and it's paid off at a few shows: "It's won two awards for '70-79 at a Pontiac show".
There are different ways to mark a major event like a 40th birthday but few are more outstanding than a 1970 Pontiac Catalina convertible. The answer to the question about its future is clear:
"We're definitely hanging on to it".
Jerry Sutherland
CLICK HERE to Like us on Facebook
CLICK HERE to Follow us on Twitter
CLICK HERE to Follow us on Pinterest
*Re-post if you like this MSCC article…thanks.