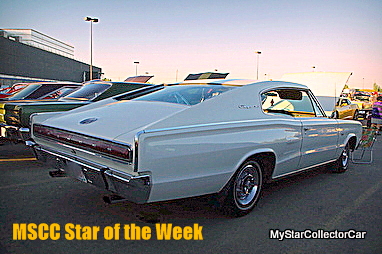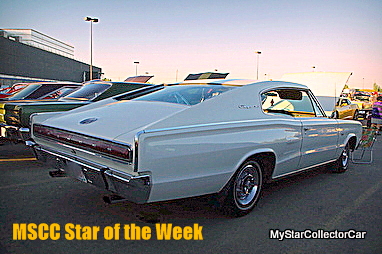 MSCC JANUARY 4 STAR OF THE WEEK: FIRST GEN CHARGER—CORONET WITH A TRACK RECORD
The first generation Dodge Charger came from humble beginnings.
Dodge needed something sportier in 1966 plus fastback rooflines were back in a big way and hideaway headlights were hotter than the Monkees.
They chose the unassuming B-body Coronet as a platform and a legend was born.
The first Chargers didn't reach the Mopar guys like the '68-70 Chargers but they lit up NASCAR tracks thanks to that spectacular roof line.
This MSCC Star of the Day 1st Gen Charger (at a Sept 2013 show) gives a good view of that legendary 60s styling.
MSCC JANUARY 3 STAR OF THE DAY: THE REAL LESSON WITH THIS HI-BOY IS IN THE MUD
The old car hobby is full of philosophers and to a person, they have strong opinions.
One of the most explosive issues is whether you expose your classic to the real world.
Do you keep your classic in bubble wrap or do you expose it to the reality of rain, mud and the occasional snow flurry if you push the season?
Fortunately, most car guys think like this MSCC Star of the Day Hi-boy owner with the mud splatter on the side.
MSCC JANUARY 2 STAR OF THE DAY: MINI-VETTE—A FEW DAYS AFTER SANTA CALLS
Did you ever wonder what happens a few days after Santa Claus makes his annual break and enter into your house?
What is the ultimate fate for those toys he leaves behind a week after the magic wears off?
This MSCC Star of the Day mini-Vette on a trailer behind a house may provide a clue.
It's the same fate as real cars when the magic is gone.
MSCC JAN 1 STAR OF THE DAY: THE LATEST NEW YEAR IS ALWAYS THE BEST YEAR FOR CAR GUYS
The old car hobby is unlike any other hobby because it's based on pure optimism.
Car guys are hard-wired to believe this will be the year they find the perfect project or finish a current project on time and within a fixed budget.
This never happens-it's like finding a unicorn: Real car guys know the odds but they never lose the faith.
This MSCC Star of New Year's Day is dedicated to blood, sweat and countless hours of dirty, greasy work because without that kind of dedication and superhuman optimism, we would never have an old car hobby.
Thank you and Happy New Year from MSCC
MSCC DEC 31 STAR OF THE DAY: VOLVO P1800-YOU DON'T NEED TO MAKE SENSE ON NEW YEAR'S EVE
MSCC Stars of the Day may be the result of the most illogical thought processes since hour 22 on a Las Vegas runaway weekend.
There is no standard procedure beyond flipping through 200,000 pictures of old iron.
It's like a technological roulette wheel where the ball stops on a picture of a very cool ride and thus you have an MSCC Star of the Day.
These Volvo P1800s are the last MSCC Star of the Day for 2014.
They weren't picked because they made sense on New Year's Eve; they were picked because the roulette wheel dropped on a very cool picture.
MSCC DEC 30 STAR OF THE DAY: A SCENE FROM A GLORIOUS AUTOMOTIVE PAST
Most car guys will agree on one basic thought.
There are very few interesting scenes in 2014 traffic.
This is an era full of vehicles that tend to blend together like a shapeless blob so any intersection looks like any other intersection.
You'll never see a scene like this MSCC Star of the Day picture from last June.
MSCC DEC 29 STAR OF THE DAY: DODGE DART—THE SWINGER HAD HUMBLE BEGINNINGS
Most Mopar guys like the 3rd Gen Dart Swinger or GTS because they delivered a lot of punch for low-end dollars.
They were street warriors with the lightweight 340 under the hood and they didn't break the bank with high insurance rates like their big block Mopar cousins
.
Darts had a less dynamic entry into the world with cars like this MSCC Star of the Day 2nd Gen Dart at a May show.
They were a clean, functional, older brother to the classic A-body muscle cars that would come later.
For past MSCC Stars of the Day please follow this link.
CLICK HERE to Like us on Facebook
CLICK HERE to Follow us on Twitter
CLICK HERE to Follow us on Pinterest
Star of the Day page sponsored by Southside Dodge
Please re-post this if you like this article.