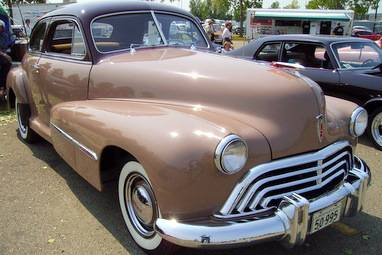 People are used to the idea of an interview for a job or promotion.
But fewer people go through the interview process to become the right candidate to purchase a car.
'The right candidate in this case had to convince the previous owners that they would preserve the car in its original condition.'
No chop, no slam, and no brand new hot rod heart- 383 STROKER or otherwise.
Doug had no intention to alter the vintage family heirloom that was such a big part of the original owner's family legacy. He wanted to give it an original unaltered home in his life, and he convinced the sellers of his genuine intentions.
Then he kept his word and now the car enjoys a semi-retired life in the hands of a new owner with a great deal of respect for its previous owners' wishes.
His 1947 Oldsmobile is a very loaded version with a few dealer-added accessories like a fancy tailpipe and a locking gas cap.
A locking gas cap in the cheap gas era of the late 40s might have been overkill, but it is a unique feature on this post-war classic.
The Olds is equipped with a flathead six and a hydramatic transmission to power the car down the highway in then high-tech comfort. The hangover of a long world war had stifled the engineering edge of automotive manufacturing, but Doug's Olds came with most of the available whistles and buzzers of the era.
The two-tone paint job was something that Doug had to grow to love over his six years of ownership, but he made the promise, so the Olds will remain in its original shades of glory.
However, Doug has toyed with the idea of a factory style visor that was an option offered for his Oldsmobile.The concept is currently under discussion with his wife.
Either way, this beautiful 1947 classic is definitely in good hands.
Jim Sutherland