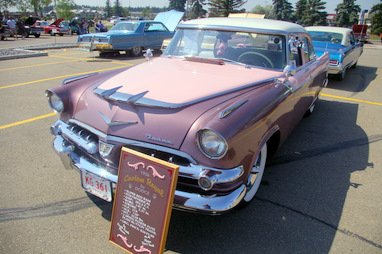 John and Marilyn Kehoe are definitely a car couple.
They enjoy time on the road together in the company of their 1956 Dodge Custom Royal as a car show threesome and the vintage Dodge always gets them to the shows in comfort and style.
His current ride is a reminder of his younger days as a footloose and fancy-free kid behind the wheel of an Exner Forward Look classic.
Their Dodge has a Red Ram Hemi backed up by a 2-speed push button PowerFlite automatic transmission. They have owned their Custom Royal since 1992 after John did a little soul-searching about his favorite car from his youth.
The right answer is, of course, a 1956 Dodge from his days as an 18-year-old.
His car comes equipped with a Passing Eye mirror that allows a safe view of passing lanes for a driver. You can see around traffic with the mirror and pick a safe time to push the Red Ram Hemi into performance mode.
This feature was a period correct add-on option from outside suppliers that is very rare on any car from the era.
These days John and Marilyn don't push their Hemi too hard on the road because the journey is part of the charm for them.
A steady 55 mph down the road ensures that the car doesn't have to work too hard and acknowledges that the transmission/ rear end combination is a little too low a ratio for higher speeds.
The real issue for the Kehoes is the fun factor, and they get plenty of that from the summer car season when they pull the Custom Royal out of winter hibernation and hit the  road together again.
Jim Sutherland
CLICK HERE to Like us on Facebook
CLICK HERE to Follow us on Twitter
CLICK HERE to Follow us on Pinterest
Please re-post this if you like this article.