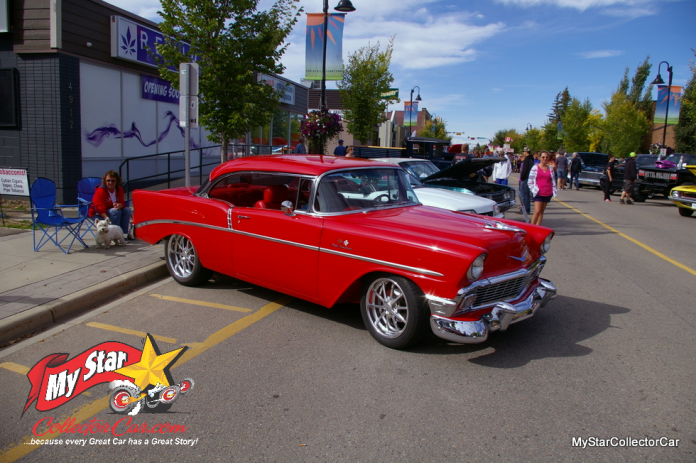 The mid-1950s marked a radical switch in style direction for the Chevrolet models at General Motors with the debut of their first Tri-Five Chevys.
The Tri-Five Chevys were built by GM from 1955-57 and quickly became a legend in the car hobby because of their overall style.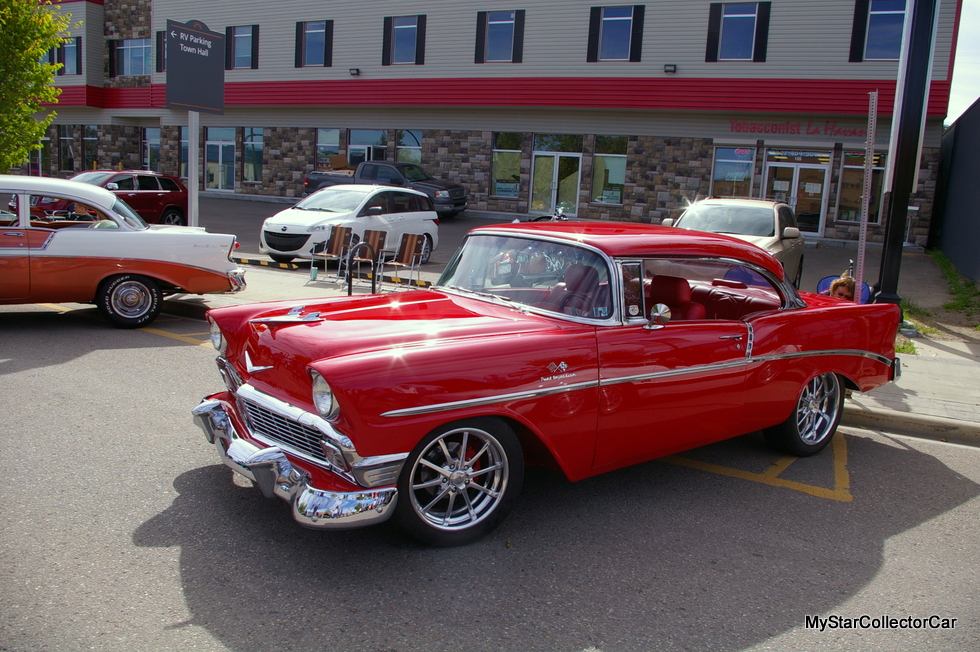 The 1956 Chevy was built during the middle year of the Tri-Five production run and offered its own reasons that made it different from the '55 and '57 Chevys.
Gary Brownlee owns a 1956 Chevy 210 two-door hardtop that is even different from other '56 Chevys because his car is an amazing example of what happens when 1950s automotive style successfully meets 21st century automotive technology.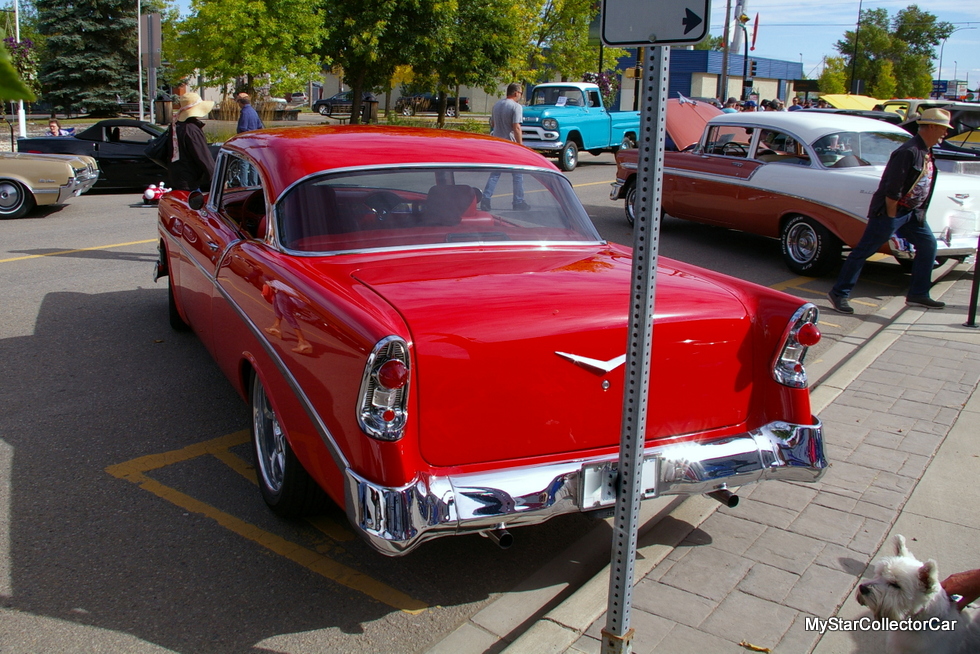 Gary purchased the car in August, 2019 after he and his wife took a 4-day road trip from their western Canadian home to Erie, Pennsylvania so they could see the Chevy resto mod. Their journey took them through Minnesota during a tornado so Gary and his wife will always remember that particular road trip.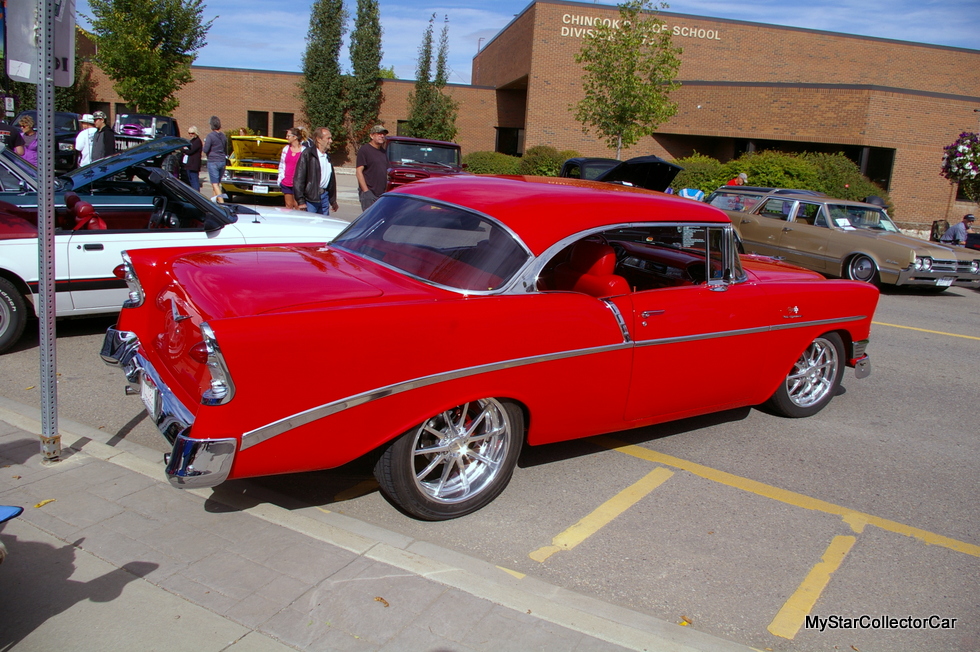 The '56 Chevy was built to show-winning levels when Gary purchased it from its previous owner so the car was already elevated to its current level of resto mod excellence when the former owner purchased the car.
Gary mentioned the previous owner's wife wanted a 5th wheel trailer so they could visit their daughter and was happy to replace their '56 Chevy with a trailer. The net result was a sale and Gary became the proud owner of a beautiful 1956 Chevy 210 resto mod.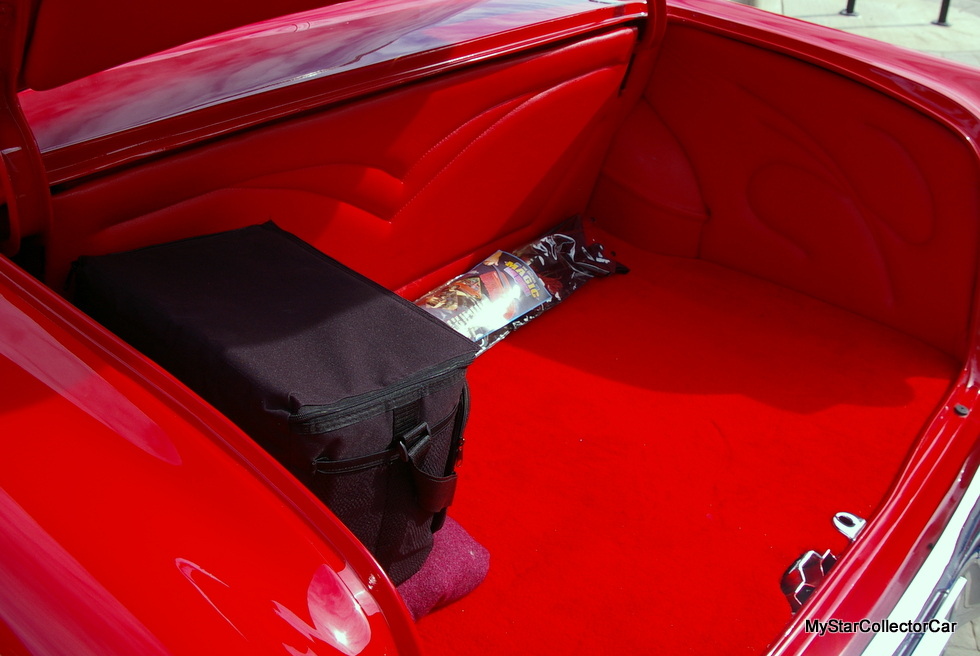 Gary also mentioned he owned a 1956 Pontiac at one point in his life and "maybe that's why I bought it", in his words. Or maybe because his '56 Chevy is one of the nicest Tri-Five resto mods we at MyStarCollectorCar have ever seen over the past 11 years.
This '56 Chevy is now powered by GM's famous LT1 engine that is hooked up to a modern overdrive automatic transmission. The car also has aftermarket air conditioning custom fitted to blend in with the center console built into the Chevy.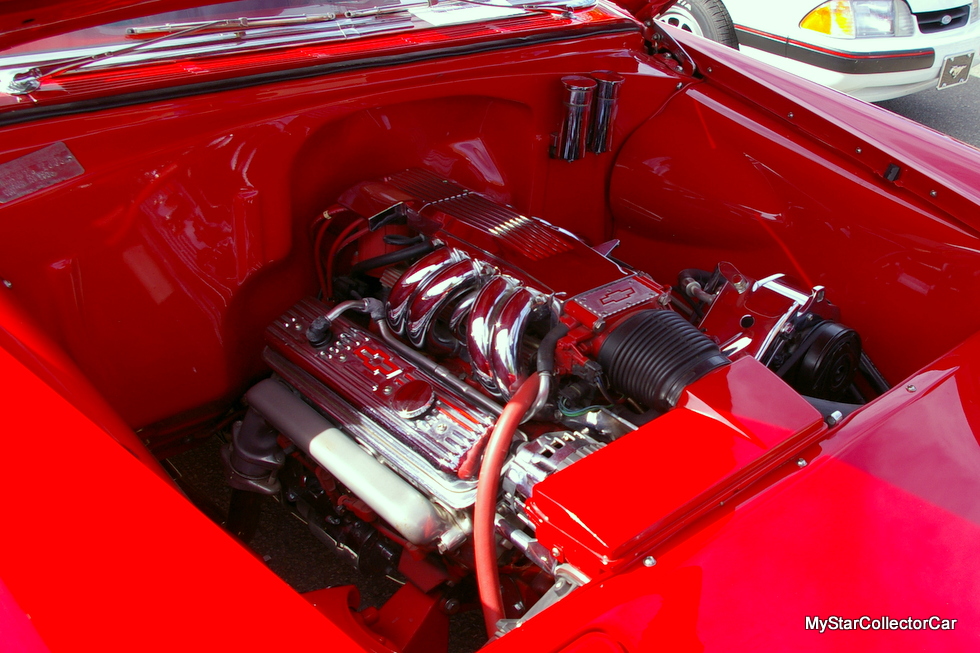 Creature comforts added into the mix include power steering, power brakes, cruise and tilt steering, along with a very stylish leather interior and comfortable seats that offer arm chair comfort to Gary and his passengers.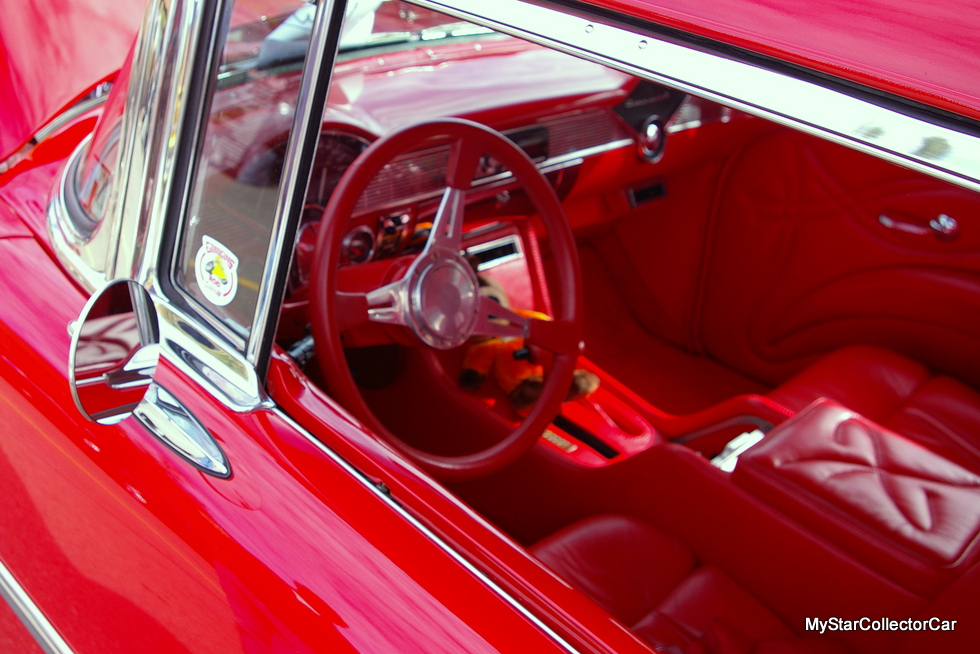 This beauty now sports four-wheel disc brakes that will help slow down the Chevy's massive horsepower boost whenever things get a little hairy on the road.
One of the more creative features on Gary's Chevy is its electric lock system because he is able to lock both the doors and the hood. The hood is closed at the front end and the electric lock system takes the rear part of the hood into the lock position for the final few inches.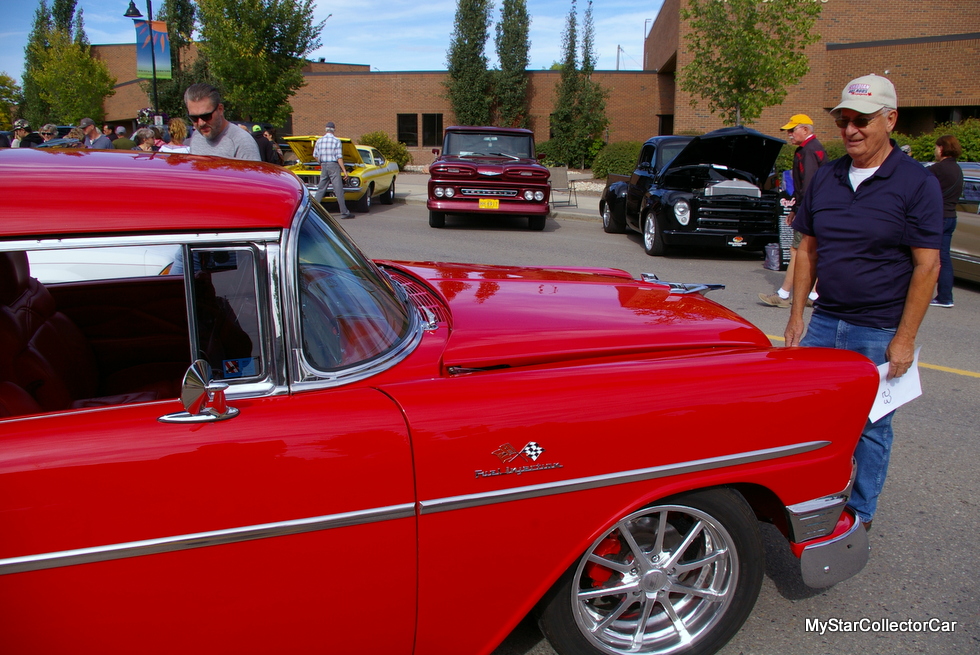 The car is close to its original ride height but now it rests on four custom wheels and tires that add both cool style and hot performance to the '56 Chevy. It is also close to its original solid red color, but Gary's Chevy now has a modern Audi red paint scheme.
Some resto mod projects go way over the top when the owners attempt to blend old school automotive with a new age game plan.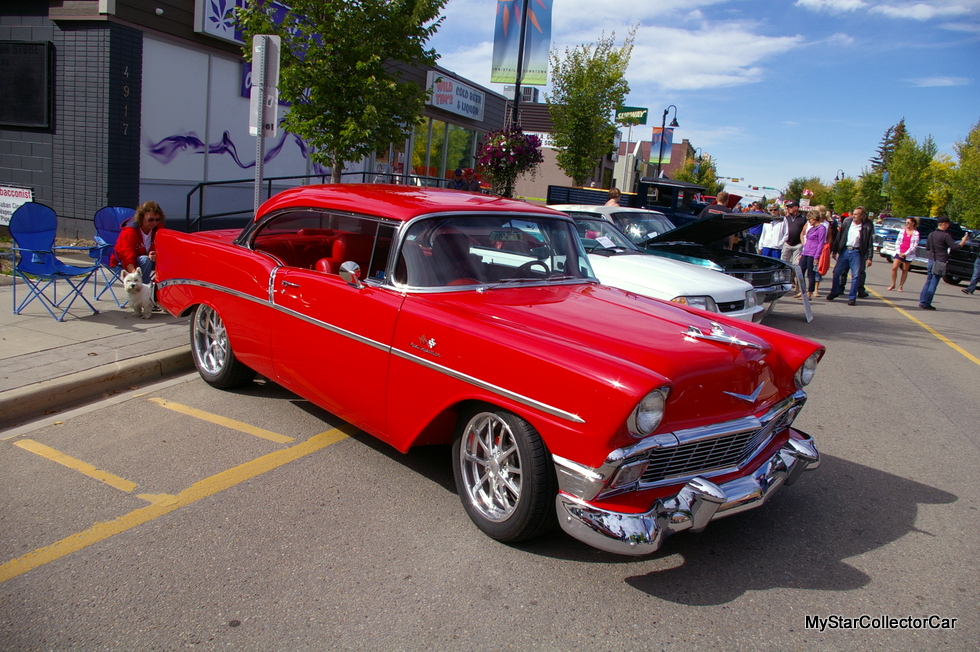 This 1956 Chevy manages to avoid the perils and pitfalls of this complicated resto mod approach because it is an excellent example of what happens when things go perfectly in this kind of build.
BY: Jim Sutherland
Jim Sutherland is a veteran automotive writer whose work has been published by many major print and online publications. The list includes Calgary Herald, The Truth About Cars, Red Deer Advocate, RPM Magazine, Edmonton Journal, Montreal Gazette, Windsor Star, Vancouver Province, and Post Media Wheels Section.