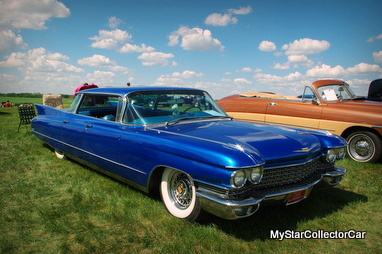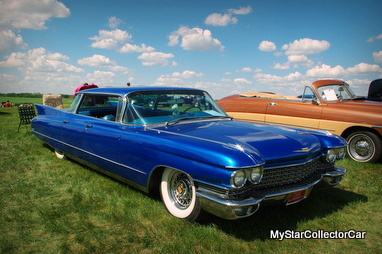 '60 Cadillacs are often seen as the point where the 1950s started to ebb.
Fins kept getting bigger and bigger in the 50s until Caddy set the high water mark in 1959.
Those fins also spiked the price up to the point where a typical '60 Caddy is worth the price of an average home in the 21st century.
Jack Bishop is a hardcore old school gearhead so the prospect of an insanely high priced '60 Caddy didn't intimidate him. He's been around long enough to know the right place at the right time scenario is always a possibility and this car was no exception.
Most car guys have some link to a particular type of car via a family member and Jack is no exception as he explained: "My folks liked Cadillacs and I was into 49-51 Mercs when I was younger but when I found this one I said I just gotta do it". Jack's parents obviously had a long term influence on him.
]
Jack explained how he bought the Caddy: "This is a Montana car and it was an 800 dollar barn find. The old man who owned it lost his license and when he died his nephew blew out the low gear. The paint was bad because the kid just let it go. He needed money so I bought it".
This was one of those barn finds that every car guy dreams about: "The kid didn't know what he had because it only had one dent and the stainless and chrome was in great shape".
This '60 Cadillac was definitely a project in the works so Jack mapped out the game plan for it: "The engine was rebuilt so it could use unleaded plus I dropped her a bit and put disc brakes on it. Once we got that engine rebuilt-it only had 57,000 miles and then I lowered the coils by three inches".
Jack took the exterior to another level with a new paint job: "It's new intense blue Viper done in two stage so it earned a nickname—Aurora Borealis. It's got new wire wheels too".
Jack's an old hot-rodder so the real test came when he hit the road in his '60 Caddy and he definitely had some observations: "I wish I'd only lowered it 2″ instead of 3″ but other than that no problems. It's great on the highway, it had air ride but that's pretty tricky".
Some of Jack's modifications were purely cosmetic but one of them was literally a lifesaver as he explained: "The disc brakes saved my life because a gal crossed four lanes because she had a pin hole in her tire and I needed the brakes to get through it". There is literally no better argument for a retro-fit like disc brakes than a real life emergency situation.
Jack is an old school hot-rodder but that's what's old school hot rodders did from Day 1—they made their cars perform better. He is highly impressed with his 800-dollar '60 Caddy but he's "still looking for ways to customize it without changing it".
That's his inner car guy voice.
The final piece is the long term game plan for this classic Caddy and Jack has that mapped out too:
"This is my family heirloom when I die".
Jerry Sutherland
CLICK HERE to Like us on Facebook
CLICK HERE to Follow us on Twitter
CLICK HERE to Follow us on Pinterest
Please re-post this if you like this article.