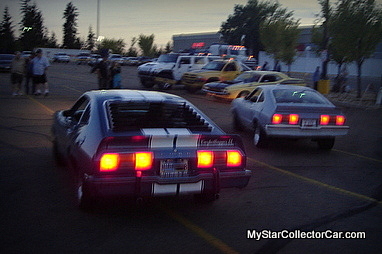 Dave Hoffman was a young man who loved to build and run fast cars on quarter mile drag strips back in the early 60s.
He was also eligible for the US draft as a young guy and eventually he was drafted into service during the Viet Nam war.
Dave chose to serve in the US Army as a member of the 101st Airborne Division, a storied branch of the military whose roots were found in World War II when they launch ground assaults from above with parachutes and soldiers.
The Airborne Division was not for the faint of heart because soldiers found themselves in the heat of battle the minute they launched from a plane.
Their mission was to engage the enemy as soon as they set up operations on the ground and established a position.
The experience of active combat is something that will forever be a part of Dave's life because he knows exactly what happens during a life and death struggle once a paratrooper hits the ground.
He also knows why soldiers have a brotherhood with their fellow soldiers during and after their service.Dave left the United States and ended up in western Canada following the end of his military service.
Dave wanted to find a new life away from the world he left behind where he served in a war that literally divided his country.
Viet Nam war veterans were probably the first soldiers in American foreign war history to return as both heroes and villains in their homeland, judged by the views of other US citizens during that war.
For soldiers like Dave, it was a tough way to return home after his military career in service of his country.
Dave returned to his hot rod roots once he relocated to Canada and has been responsible for some of the fastest Fords found on the street in his area.
He has become well known in his local car guy circles as a guy who builds and runs very fast cars.
Dave met a neighbor in the past few years who was also a military veteran and even had the same post-military career as a pipe fitter.
Don Morrow had served in the Gulf War with the Canadian Army and he formed an instant bond with Dave, his American neighbor and fellow vet.
They both understood the sense of brotherhood found by military service in active war zones and their common interests also included cars.
Dave has a fondness for the '77 Ford Mustang II, plus he has always been able to search out some good purchases over many decades as a car guy.
Dave had given a project Mustang II to his son in law, but he had not taken on the restoration while he had it, so Dave decided to give it to Don.
The car was very similar to Dave's restored Mustang II and both cars were built between 3 and 5 days apart in June 1977.
The two Mustangs were built very late in the production run for the '77s and delivered to dealerships in central Alberta (Dave's was Festival Ford,now Cam Clark Ford) probably even on the same transport carrier.
Dave wanted to help a fellow soldier and veteran get into the old car game and the second Mustang II was the right car.
Dave also wants to help Don get the car back to its original look after all of these years and will be a big part of the process along the way.
Dave has a well-developed sense of humor and told us "He's (Don) young and good-looking-I'm old, fat and tired."
However, this was never a beauty contest. It is about two soldiers from two different wars who have found the brotherhood of the car guy long after their wars have ended.
Simply stated-it does not get any better than that in car world.
Jim Sutherland
Jim Sutherland