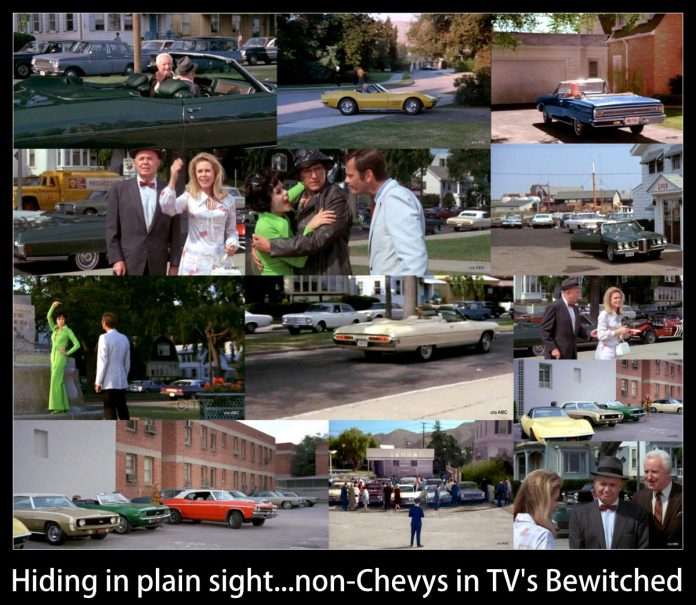 Bewitched was one of the top TV sitcoms in the 1960s thanks to its unique premise (incredibly hot witch marries unsuspecting mortal) but it also had another trademark–Chevys.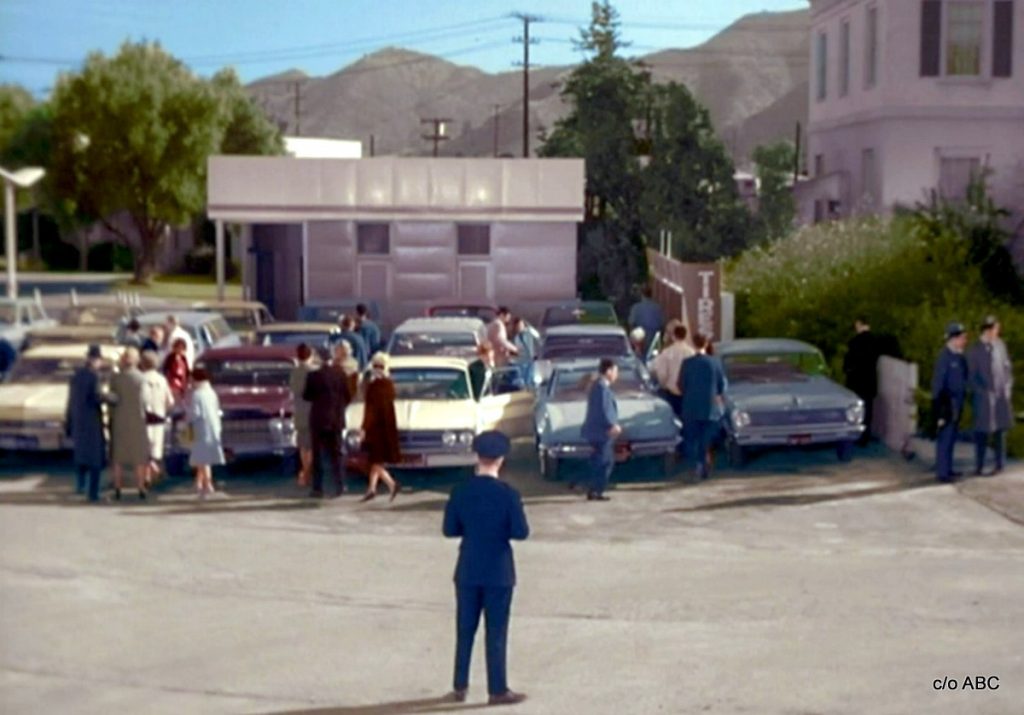 Fans of the show know Darren and Samantha Stevens drove a Malibu convertible in the first few seasons of the show, so that car became Durwood's (his mother-in-law's nickname) signature ride.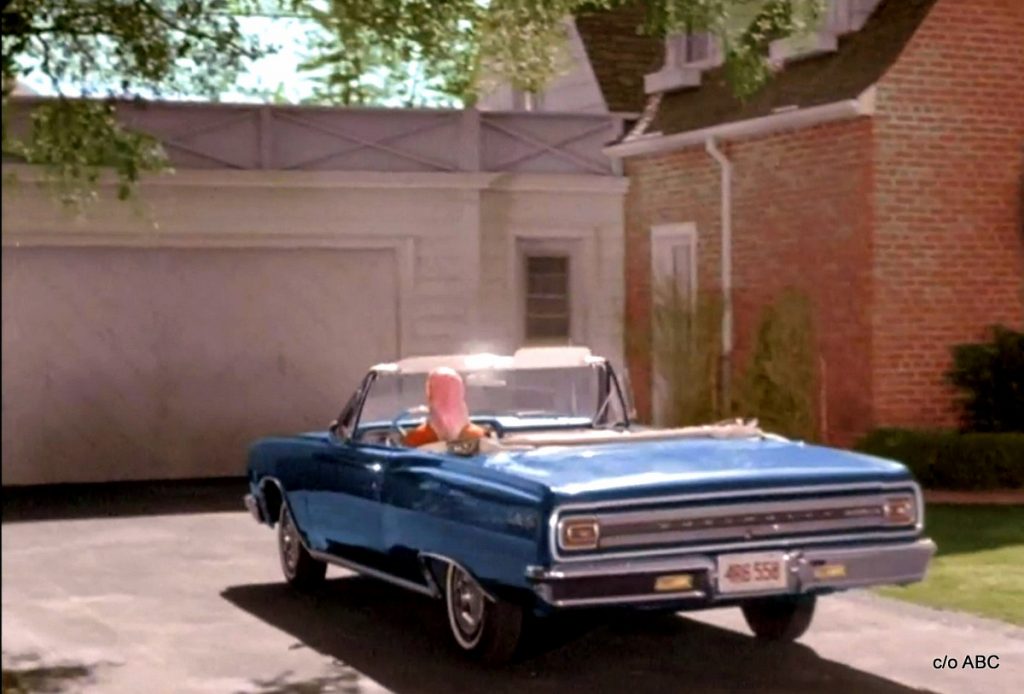 Later on, Durwood drove everything from Impala convertibles to Chevy wagons, but his other signature classic was an array of '67 to '69 Camaro SS convertibles. Those were also Durwood's most well-known daily drivers.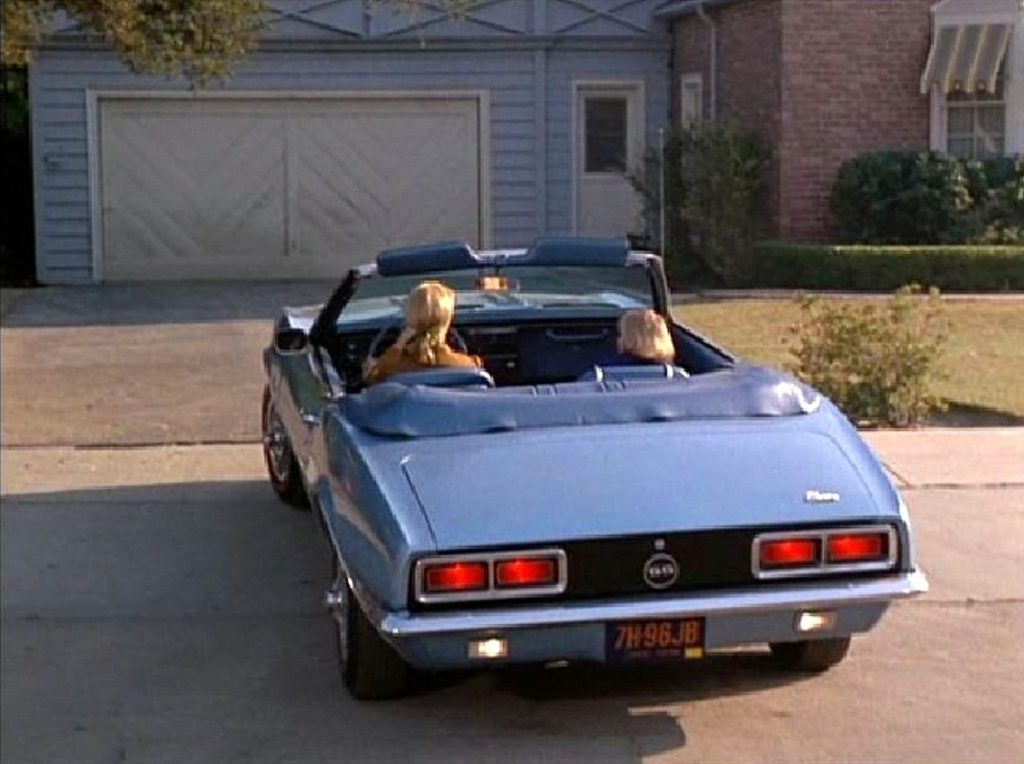 His boss Larry Tate was an older dude, but he was a Corvette guy in spite of his age. Call it a mid-life crisis– 60s style.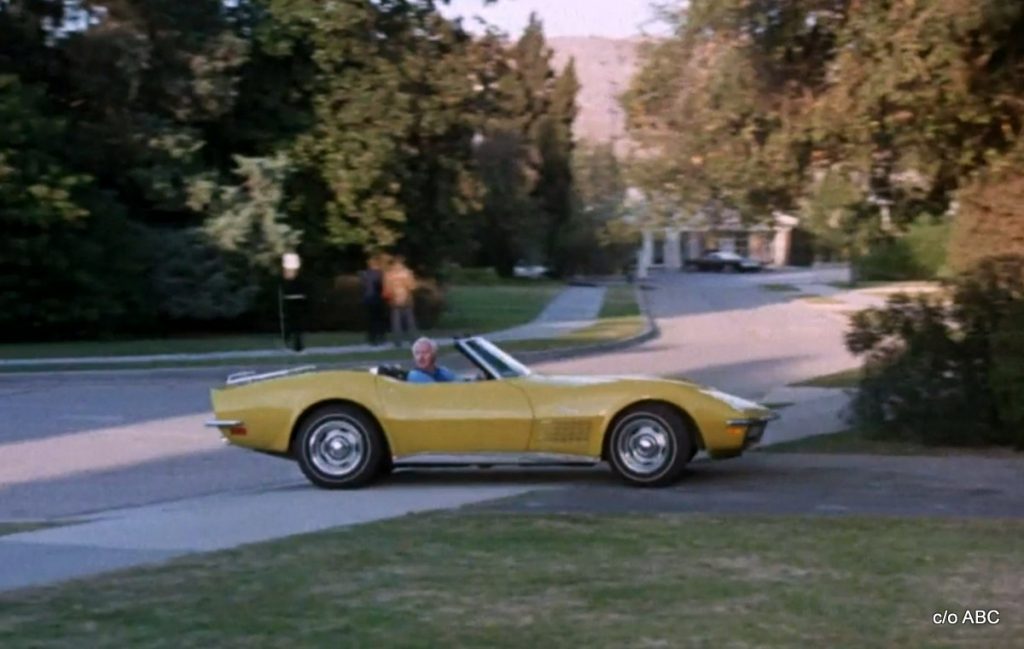 The Chevys got the spotlight on Bewitched thanks to the advertising deal with GM. Larry and Durwood were both in Madison Avenue advertising, so they would have been proud of the high-profile, heavy exposure GM products received on Bewitched.

That's why it's so easy to list classic Chevys on Bewitched–but what about the other non-Chevys hiding in plain sight?
You can find them–you just have to look for them, but MyStar is going to save you a lot of work. There's a scene where a bunch of women are driving some classic Chevys when they were brand new. Apparently, wives in the 60s loved Chevy muscle because there were two '69 SS Camaros, a '69 SS Chevelle and a Vette in the mix for these women to drive home.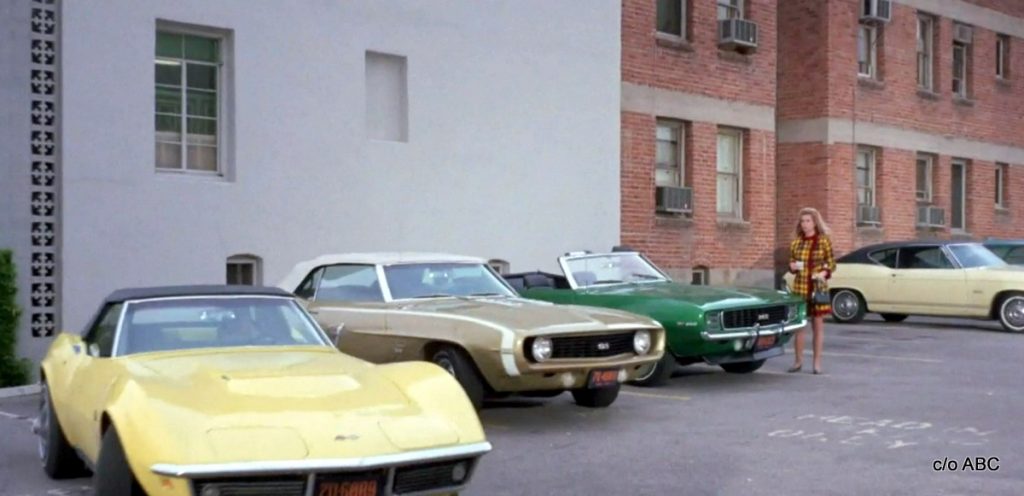 There are two other cars at the far end of the parking lot–one's a Cadillac Eldorado and the other one is a Mustang. It's not easy to find a Ford in a parking lot full of Chevys, but there it is.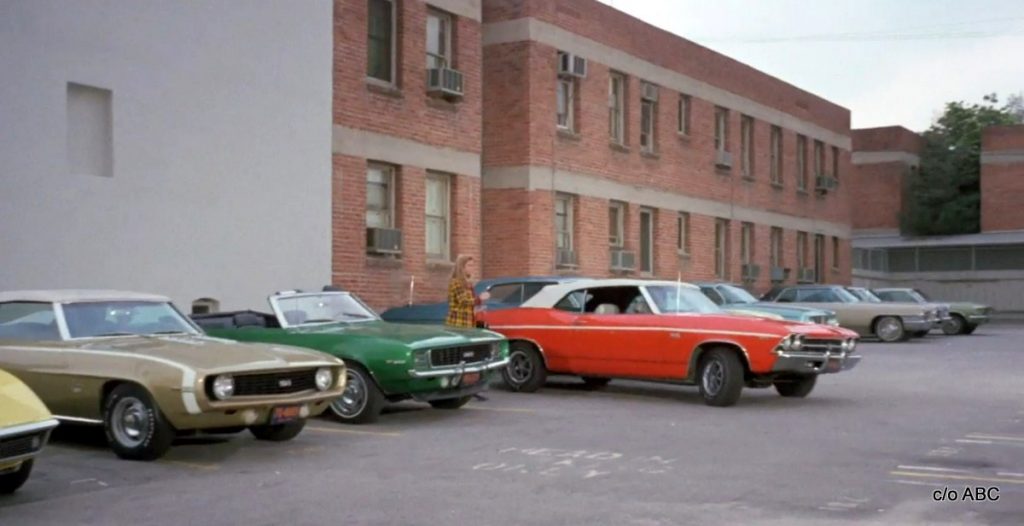 Bewitched did an on-location shoot in Salem, Massachusetts in 1970 and GM couldn't control the local traffic, so there was goldmine of non-GM iron on the streets. Durwood drove a 1970 Pontiac Bonneville convertible–departure from his typical bowtie ride–and he was surrounded by hordes of non-GM products.
The actors cover up a lot of the traffic shots, but you can spot cars like a '69 Dart in a drive by cameo appearance.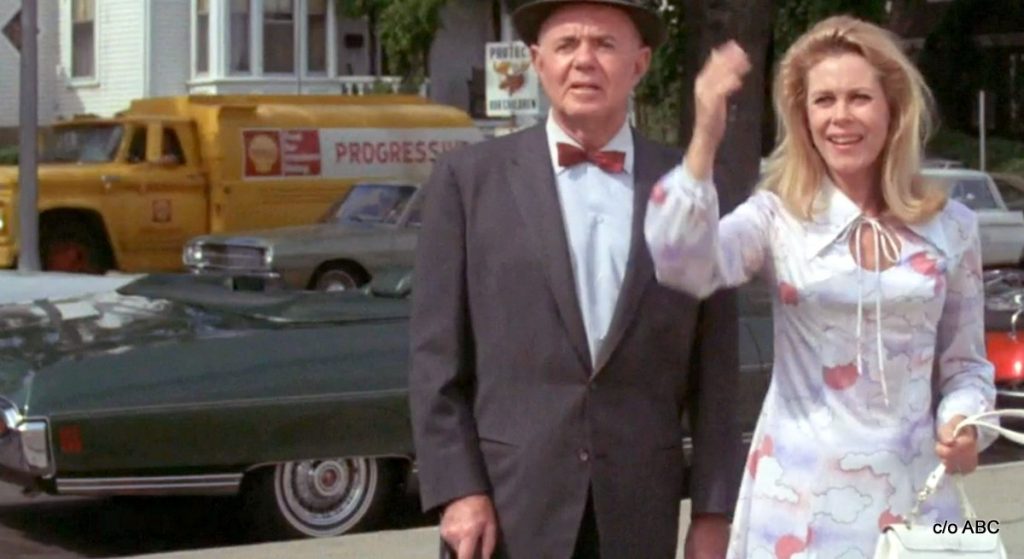 There's a Duster and what looks like a '68 Merc behind the characters in another scene.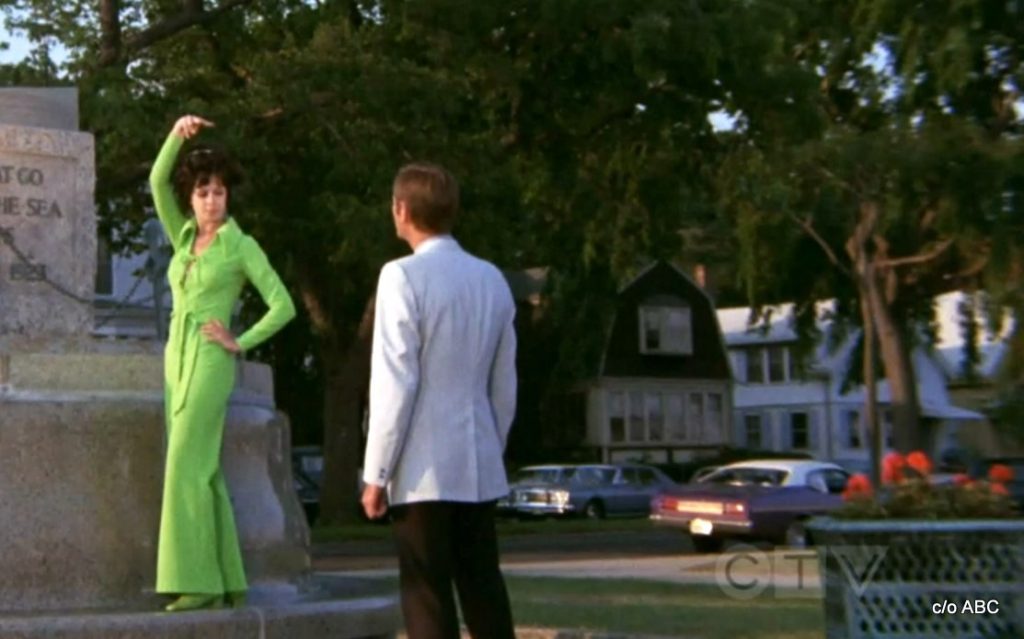 A Checker cab also makes a brief appearance on Bewitched during the Salem location shoot.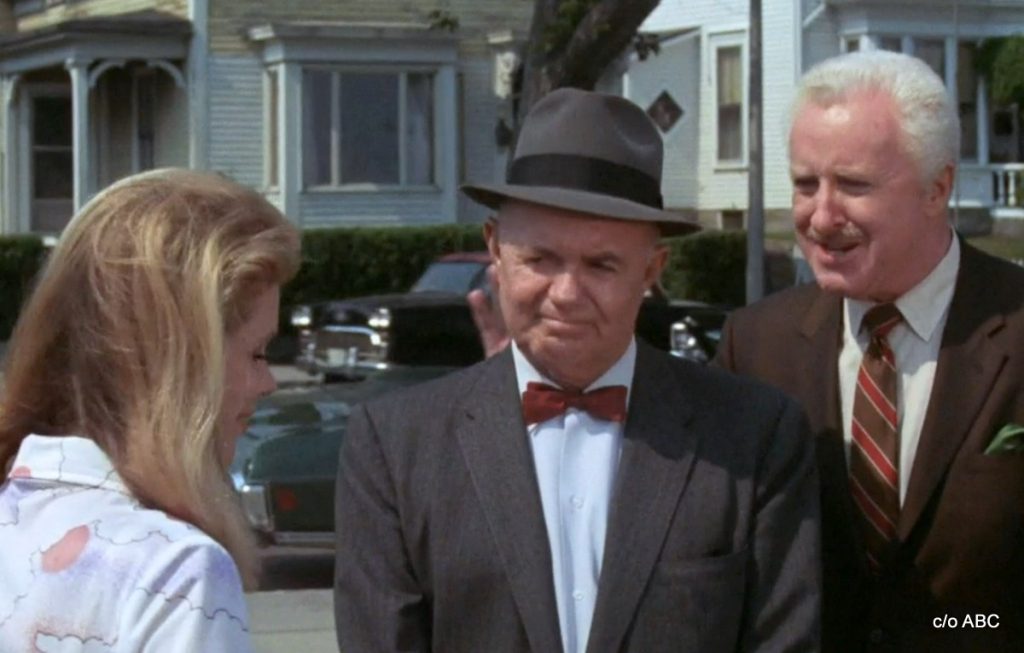 Another scene reveals a long row of non-Chevy stuff–including a '67 Falcon; a '67 Mustang; a '69 Coronet wagon and a '65 Dodge.
There's another shot where you'll see a Studebaker wagon and a Rambler American, plus you'll see a '65 Ford and a guy standing beside his Falcon staring directly at the actors. There was a lot of staring at the camera in the traffic scenes because the Bewitched filming was the biggest thing to happen in Salem since the days they were drowning witches.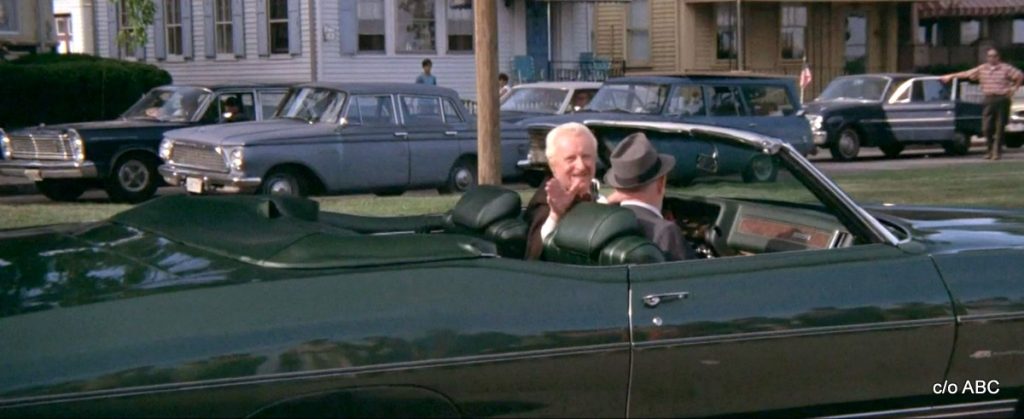 The final shot speaks volumes about how many Fords were in Salem over 50 years ago because the Pontiac is parked in front of a restaurant where every other car is a Ford.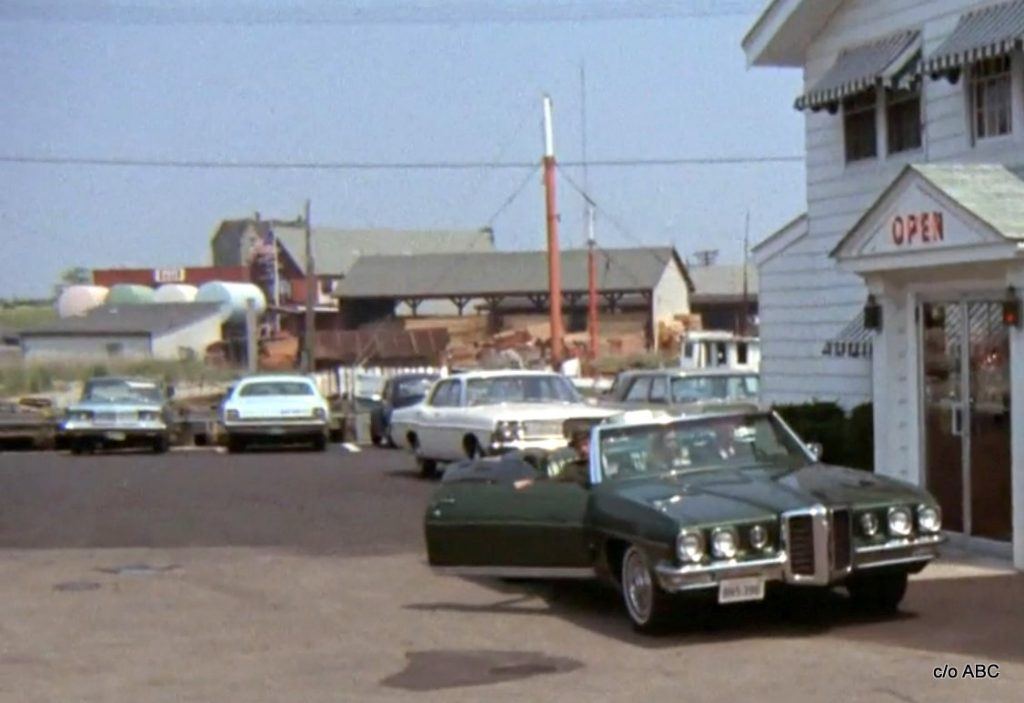 By: Jerry Sutherland
Jerry Sutherland is a veteran automotive writer with a primary focus on the collector car hobby. His work has been published in many outlets and publications, including the National Post, Calgary Herald, Edmonton Journal, Ottawa Citizen, Montreal Gazette, Saskatoon StarPhoenix, Regina Leader-Post, Vancouver Sun and The Truth About Cars. He is also a regular contributor to Auto Roundup Publications.
Please re-post this if you like this article.