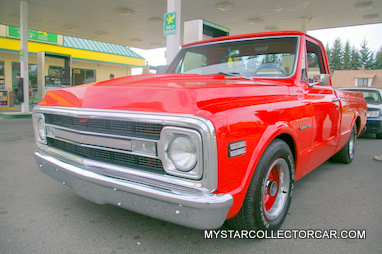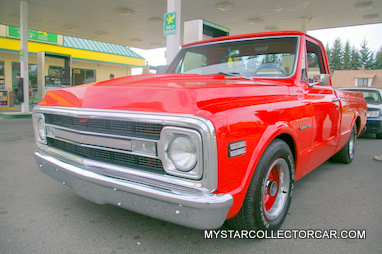 'Jeff Kohut and his dad had a mission in life-they both wanted to do a truck project together and they both wanted to learn on the job.'
This 1969 Chevy C-10 was found and purchased in Portland, Oregon because, as Jeff says, "when they saw this truck, they had to have it".
The learning curve would take care of itself-plus Jeff needed a graduation vehicle.
Like most car or truck projects once you own them, suddenly the sins you ignored before the purchase become reality after the sale. In this case the 40-year-old C-10 looked pretty rough from the start-the truck had a caved in roof, lots of rust and an overall "severely beaten up look".
The Kohuts started in typical fashion for a real restoration-they separated the frame and the body. That gave the Kohuts an opportunity to replace the quarters, fenders-any metal casualties from a not so charmed life as a working truck.'
Jeff's uncle was a big source of help during the reconstruction phase because he know his way around good panel work and the C-10 needed lots of cosmetic surgery.
They upgraded the mechanicals in the truck by adding a cammed-out 350 Chevy, some chrome detailing and disc brakes up front.
The truck looks great, drives great and a member of the next generation was added to the ranks of hands-on car guys. There's a simple conclusion to this story-it was a complete success.
Father and son pulled off a fantastic project as a team, they both learned in the process, the truck will stay in the family forever and Jeff had a ride for his high school graduation.
That's a grand slam home run in car world.
Jerry Sutherland
For more truck and owner stories please follow this link- https://www.mystarcollectorcar.com/