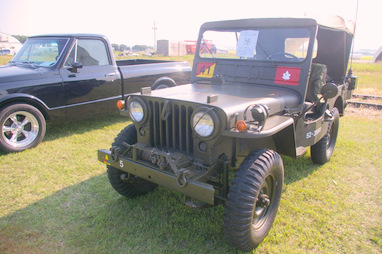 Lee Stronach has two hobbies-he's a military history buff and he's a vintage vehicle guy.
This particular Jeep was built under contract by Ford for the Canadian military-that makes it an incredibly rare piece of military history.
The Canadian Jeep came with the 65 horsepower Willys engine as part of the manufacturing agreement.
It served from 1952-72 and was looked after in the motor pool as a "town" car-this means it wasn't thrashed to death in a severe combat environment so Lee had a great starting point.
Lee has it outfitted as a radio Jeep so it's bristling with period correct electronic equipment in addition to standard military options. The winch is actually a rare item and future plans include some period correct firepower.
Lee likes to drive this military mule to local shows-the "screaming engine at 45 miles per hour" thing limits his enthusiasm for 2000 mile excursions across the country. He loves to let kids sit in this rolling museum piece because he hopes they'll be encouraged to take an interest in the old car hobby.
He likes to think about the future so the old Jeep is destined to stay in the family on a permanent basis-his sons are penciled in as heirs to the classic.
But for now Lee is doing the stereotypical old car thing-having fun with an old classic…
At 45 miles per hour.
Jerry Sutherland