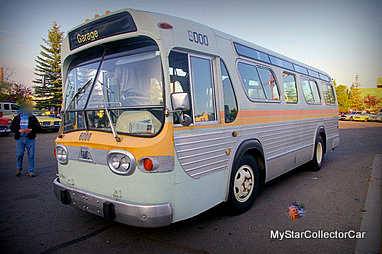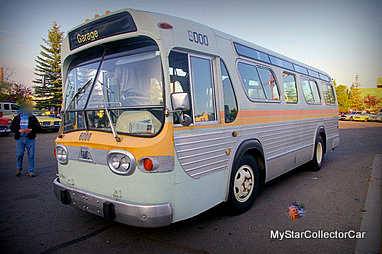 Steve Parkin had a childhood fascination with buses.
'He loved these large, noisy, mass people haulers long before he could drive but his career choice was easy when he grew older.'
Steve became a bus driver for a small city transit system.
Then he started getting into the historical side of transit vehicles and the last piece of the puzzle-this rare 1971 30-foot GMC bus came up for sale.
Steve jumped on the opportunity to buy this old warhorse and as a hobbyist he knew that there were very few of these units (113 in total in this model) made-their size dictated a specific use that most bus routes didn't have.
Most of these old buses were put in a lineup for scrap metal and the ones that did survive were often used as makeshift motor homes or hauling stuff for businesses.
Steve's is probably the only 30-foot 1971 GMC bus that's going to stay intact as a rolling museum for 1970s mass transit. It looks like he could wheel it into service at his job and weary riders wouldn't notice the difference.
But for now this brute is a huge attention-getter at any show Steve makes- parking and crowds inside the bus are his biggest issues…
The 4-speed Allison automatic and the GMC D-478 Toro-Flow diesel are geared low so this behemoth struggles to push 50 miles per hour so Steve has ruled out cross-country tours. He had it trucked out from where he bought it-a 660-mile trip through the Rockies but he doesn't mind the short trips in city traffic.
In fact you might say he's used to it.
Jerry Sutherland
CLICK HERE to Like us on Facebook
CLICK HERE to Follow us on Twitter
CLICK HERE to Follow us on Pinterest
*Re-post if you like this MSCC article…thanks.