The Mopar E-bodies are at the top of the heap in the world of collector cars.
'They are so hot most guys would transfer the title to their first born child in exchange for the title to a Challenger 440 RT.'
Most guys would cut that deal but some guys go in a different direction.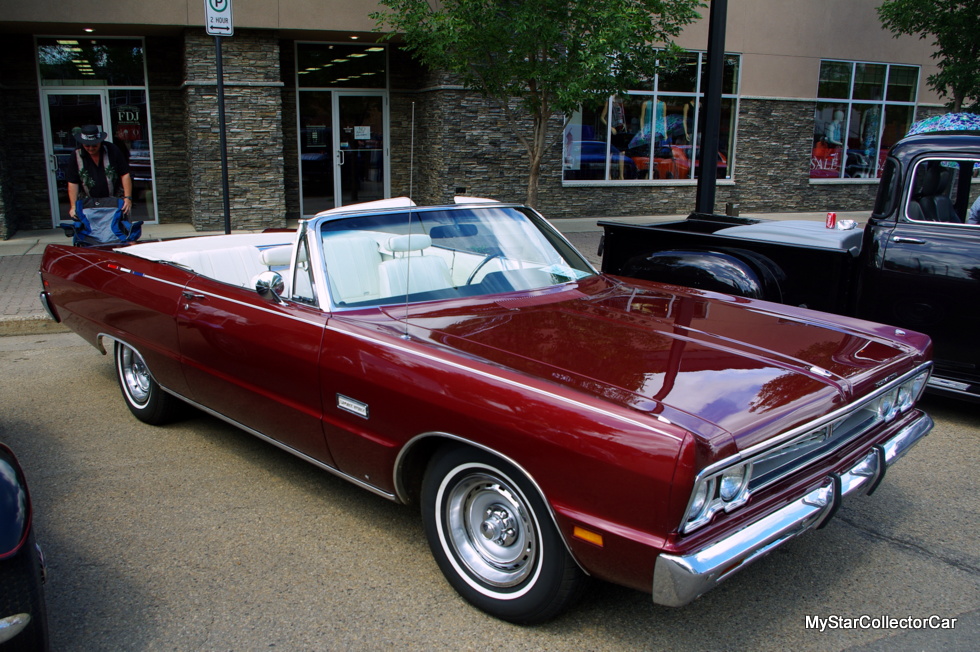 Marlow Bonk had a Challenger RT with a big block 440 when he was young and bulletproof and he had a lot of fun with it until he found the motor wasn't bulletproof.
Marlow explained how he was racing it one day and he "blew it up drag racing" so the Challenger became a sad part of his high school biography.
He decided to go in a different, more sedate direction so he found a car he "could pick up chicks with" and a '69 Plymouth Sport Fury convertible made the grade.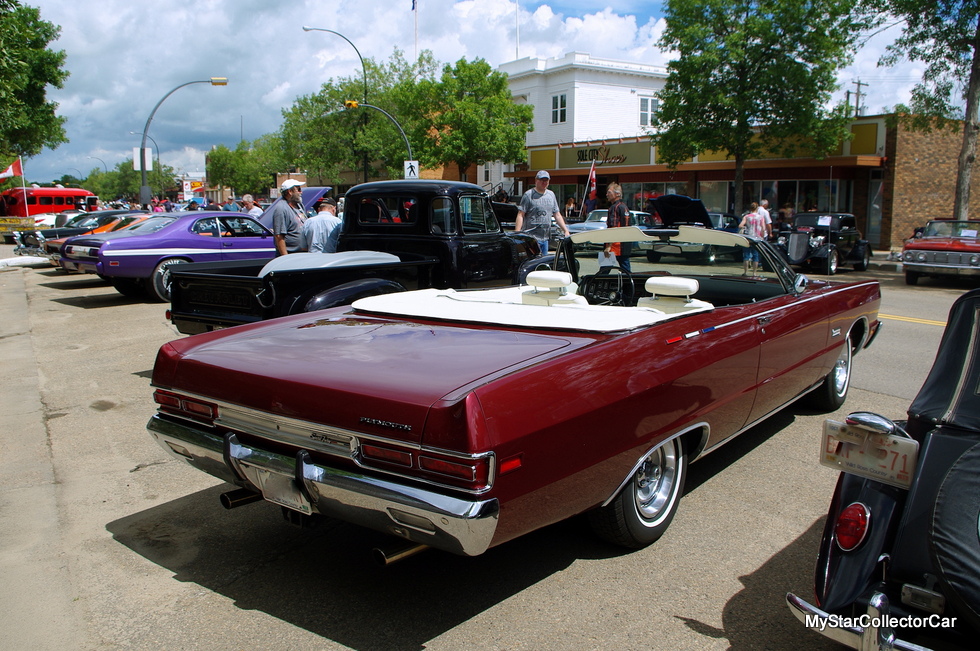 That was many years ago. Marlow explained the history of the big Fury: "It was nine years old when I bought it so it had a lot of wear and tear". He drove it like kid just out of high school would—he hauled his buddies around, they hit a lot of parties and they chased women.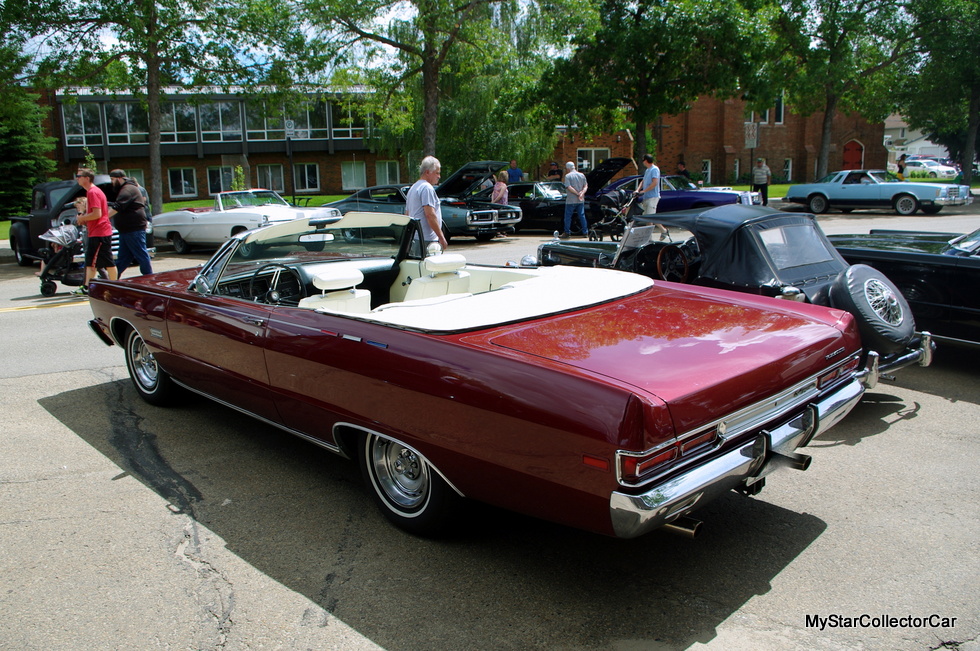 Marlow drove the car for years and it now has 575,000 miles on it so it's been rebuilt or refurbished many times. He painted the Fury in 1999 and the finish has held up remarkably well over the past 17 years.
The Fury still has its original 383 but Marlow has improved on the factory specs in a big way. This is the second time he's done the engine and now it's "pushing 360 horses on the ground" so the big Fury has some serious punch.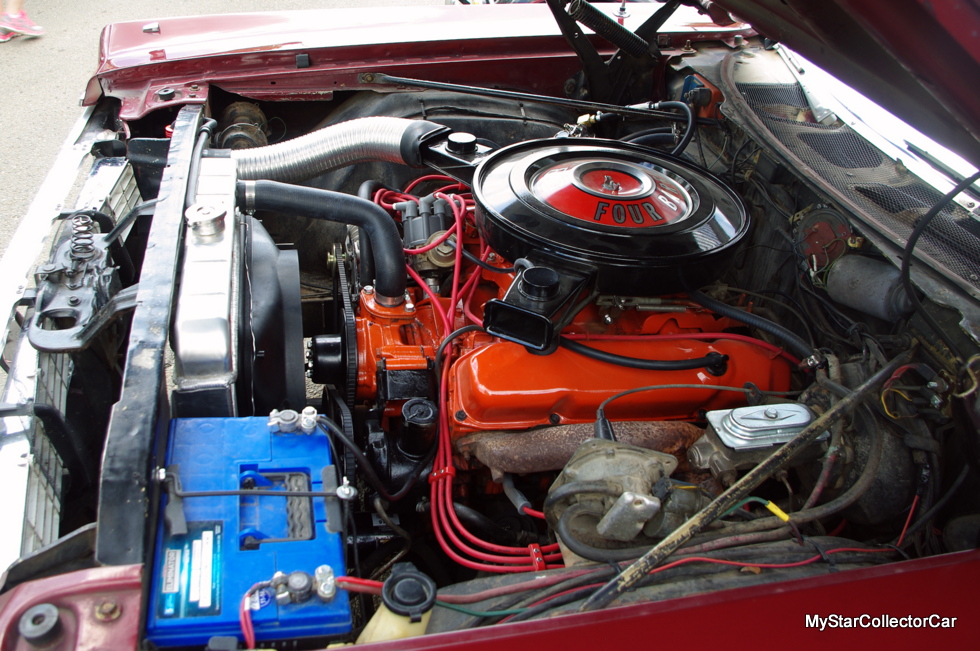 Marlow has done everything "a few times". He's done the roof three times and the interior twice. He had the side panels redone because they were yellowing a bit and he's added a few custom touches to the Fury.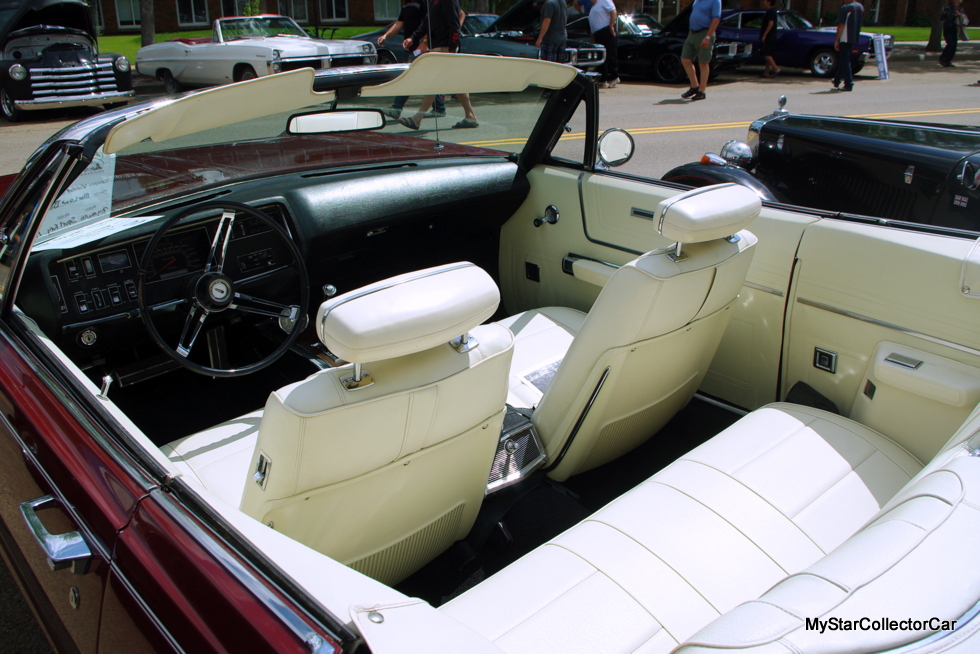 The steering wheel is the ultra-rare "recall wheel". Marlow picked it up from a guy who had no idea what he had and he believes it came from a Charger. He liked the look and he proudly added it to his '69 Sport Fury plus he added 70s era Chrysler wheels to add another custom touch.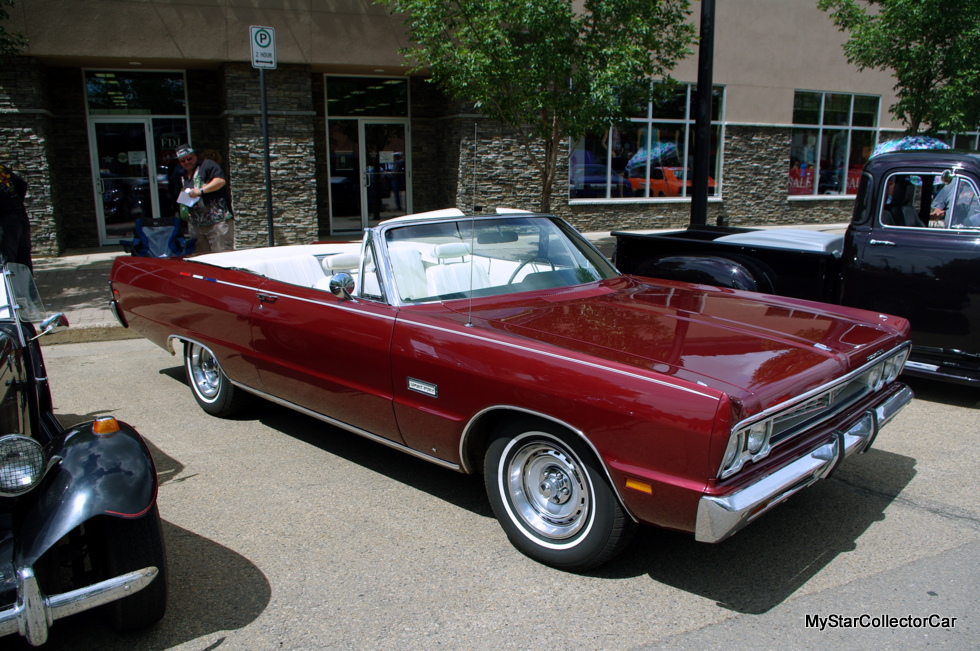 Marlow had a few heat issues with the 383 so he custom fit a cold air intake to the air cleaner and blocked off the other snorkel.  He retro-fitted an aluminum radiator and added an electric fuel pump so this big Fury handles hot weather like a brand new Acura in 2016. He also adds octane boost because it runs better and he believes new gas is "the scourge of old cars".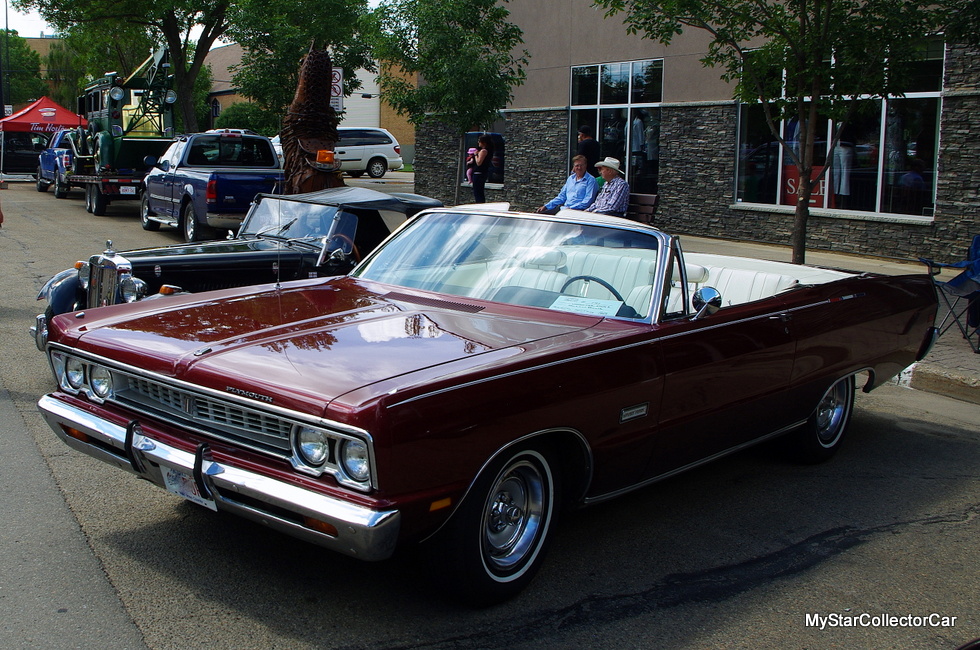 The only thing he'd like to add is air conditioning because Marlow says he's "at an age where he can't handle the heat" in the summer so hot summer days affect him.
This Fury never stops being a daily driver when the season is compatible. Marlow drives it any time he can and that includes an occasional lengthy drive to a job site several hundred miles away. He's driven it through the Rocky Mountains in British Columbia, Canada many times and he's never had a problem—he calls it a "beautiful experience".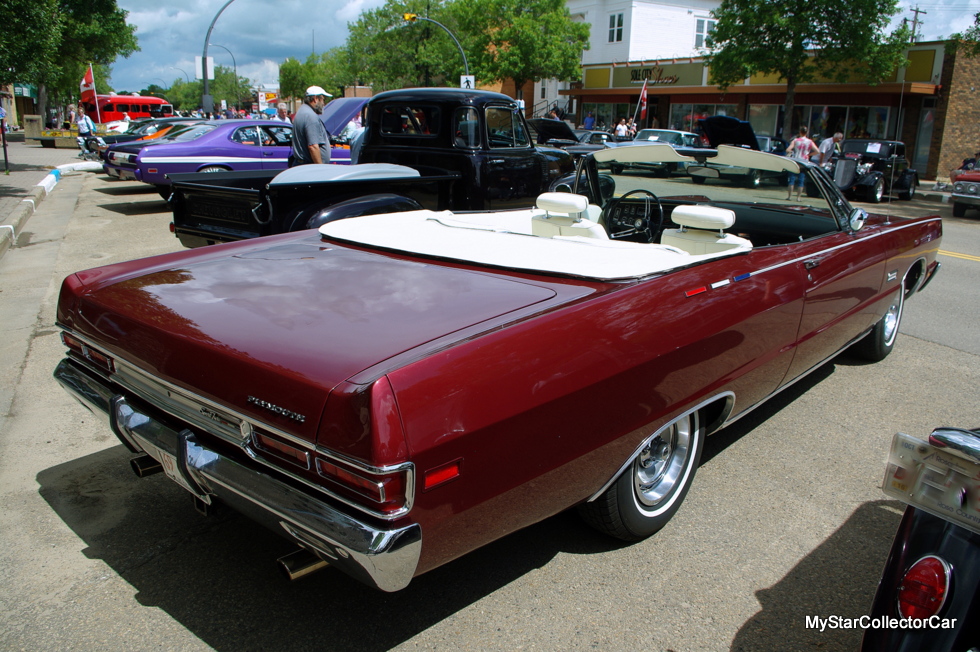 This Sport Fury has 2:76 highway gears so Marlow literally runs out of room before he runs out of top end so suffice to say it's a big number he's never hit. He does admit to passing a lot of cars because this brute kicks down at over 65 miles per hour.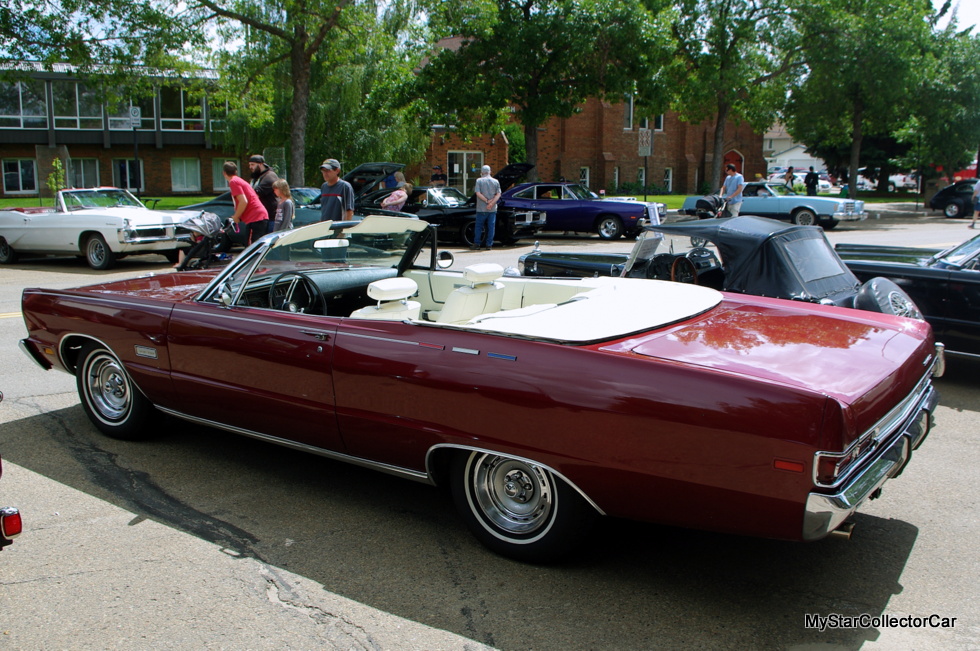 The Challenger is long gone but the Fury is still with Marlow many years later because it's a piece of his life now and he believes it's the little things like regular grease jobs that kept it around. He turned down 35K for it because true car guys never part with their ride without cause. Marlow summed it up this way.
"It would be like selling your dog".
Jerry Sutherland.
CLICK HERE to Like us on Facebook
CLICK HERE to Follow us on Twitter
CLICK HERE to Follow us on Pinterest
Do us a favor–if you like this article re-post it.