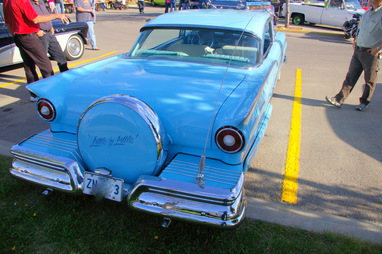 Ike Martens is a guy with a very specific taste in older cars-they have to remind him of a very specific era in his life.
It's a pretty small window ranging from roughly 1955 to 1965.
'This light blue 1957 Meteor falls at the early end of the Ike car scale but it sums up perfectly what he looks for in nostalgia.;
The car is a rolling tribute to the light custom styles of the mid fifties. Things like lakeside pipes, fender skirts, Continental kits, whip antennas and custom wheels. It has the typical custom interior of that era and the light blue paint has that "look at me" appeal of the fifties car style.
Ike drives this '57 Meteor to a few shows every year and so far the original 292 has performed flawlessly. The '57 Ford Fairlanes and Meteors are quite a bit rarer than the '57 Chevy even though they outsold them in North America so Ike enjoys the interest that the car generates due to the scarcity of survivors.
One of the true pleasures that old car owners derive from their cars is the feeling of "going back in time" every time that they drive them.
Thanks to owners such as Ike and cars like this at shows we get to take that same trip with them...
Jerry Sutherland