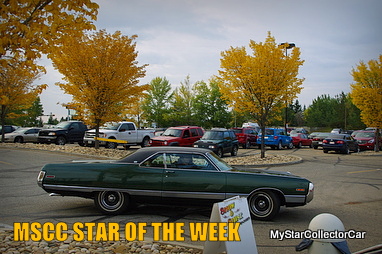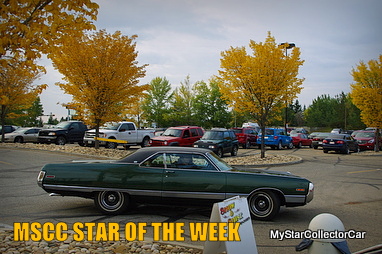 MSCC NOV 23 STAR OF THE WEEK: A C-BODY CHRYSLER 2 DOOR HARDTOP-SO IMPRACTICAL YET SO IMPRESSIVE
The 1969-72 C-body Chrysler era wasn't the most dramatically successful one for these big Mopars but it was arguably one of the most interesting periods at the company.
These fuselage cars looked faster and more in tune with the 70s than their more boxy predecessors and they definitely had their fans back in the day.
Loyalty or not, C-bodies will never enjoy the cult following of its B or E-Body Mopar cousins but they are definitely a presence car at every show or on the street.
This MSCC Star of the Week C-body Chrysler 2-door hardtop may not make sense from a practical point of view but it sure makes sense from a car guy point of view.
MSCC NOV 22 STAR OF THE DAY: WILLYS COUPE—YOU CAN GRAFT ON COOL WITH A CLASSIC
Willys were built for budget-minded customers back in the late 30s and early 40s.
The coupe version was a salesman's car because it was built for cargo, not families and the 4-banger under the hood was cost efficient for guys who made money by the mile.
Willys coupes would be a footnote in automotive history but drag racers wrote another chapter at the track when they stuffed big blocks in them and took on all challenges.
They became the definition of a gasser and hot rodders took to them like a kid takes to Santa Claus.
This MSCC Star of the Day Willys coupe is so cool it could turn your accountant into a reincarnation of Steve McQueen.
MSCC NOV 21 STAR OF THE DAY: TWO CORVAIRS ADD SOME MAGIC TO A SUMMER DAY
Corvairs are cool…with all due respect to Ralph Nader.
He may have labeled them unsafe at any speed but history was much kinder to the Corvairs.
They were a state of the art concept in early 60s Detroit because rear engines were confined to European cars but over the years Corvairs gained momentum in the hearts and minds of car guys.
The reasons are simple—Corvairs were good looking, sporty cars and they were more fun than a day at the amusement park.
This MSCC Star of the Day is a perfect scene from an August 2013 car show because it had two Corvairs to add some magic to a summer day.
MSCC NOV 20 STAR OF THE DAY: THREE TRUCKS—THREE SHADES OF CUSTOM
There is little doubt pickup trucks are the hottest canvas for custom guys in 2014.
They've always been players in the world of resto-mods but trucks are the new high water mark for all things cool and custom.
There really isn't a bad decade for trucks so the biggest problem is finding one at a decent price.
This MSCC Star of the Day picture was taken at a show last June and it defined how a pickup from any one of three eras can be a king of the street.
MSCC NOV 19 STAR OF THE DAY: '62 MERCURY—FULL SIZED EARLY 60S ERA STYLE
1962 was a turning point for Detroit style because the last traces of the 1950s vanished and the 60s brought a more subtle look to cars.
They lost the fins and chrome look by 1962 and replaced it with more function and less form but there was still individuality within the ranks at the Big Three.
This MSCC Star of the Day 1962 Mercury was a study in the shift from 50s style to 60s function but it still represented the brand in a distinctively Merc way.
Different era…same results.
MSCC NOV 18 STAR OF THE DAY: '56 CHEVY IN HAVANA—COULD YOU FIND A COOLER TAXI?
Taxis are a necessary evil because you're at the mercy of a stranger who charges you a fee to drive you around in a city you may not know very well.
There are many examples of 3-figure big city cab rides for a trip that should be about ten bucks in taxis driven by guys who may or may not be boy scouts in the honor department.
In fact, if you've been in a big city cab you've probably met that guy.
Nevertheless, there are some extremely cool cabs in big cities like this MSCC Star of the Day '56 Chevy taxi in Havana.
The ride in this classic is worth it even if get stuck with a big fare.
MSCC NOV 17 STAR OF THE DAY: DODGE MIRADA–NOT YOUR TYPICAL STREET BRAWLER
The Dodge Mirada had a fairly short run in the 1980s because Chysler was reinventing itself.
Two-door rear wheel drive coupes were on the chopping block because the minivan was poised to be the next big thing at Detroit.
These J-body Mopars were a dying breed but they were an interesting design despite bad timing.
Miradas were never known as street brawlers in any way, shape or form but this MSCC Star of the Day at a show 3 years ago was clearly in fighting form.
For past MSCC Stars of the Day please follow this link.
CLICK HERE to Like us on Facebook
CLICK HERE to Follow us on Twitter
CLICK HERE to Follow us on Pinterest
Star of the Day page sponsored by Southside Dodge
Please re-post this if you like this article.