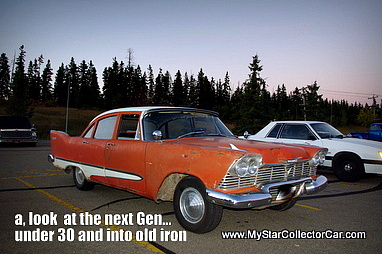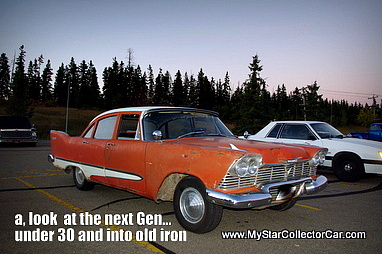 The 2013 car show season has proven to be a pleasant surprise for us at MSCC.
The shows are well-attended by a younger generation of young car guys and girls who are enthusiastic supporters of the car hobby.
There has been a youth movement afoot and we could not be happier to see the next generation embrace something as positive as the car culture.
Many of the vehicles at shows were built in an era long before the newer car guys and girls' parents were even old enough to date, let alone procreate and produce the new generation of car enthusiasts.
We have already encountered numerous examples of the next-gen car crowd and will feature their connections to the hobby in future MSCC stories. One of the more interesting examples was a young guy who will graduate from high school this year.
We will discuss his unique graduation transportation which happens to be a fully-restored Model A pickup truck for the biggest event of his young life. He plans to pick up his date in the stylish old truck and arrive in style for the graduation ceremony.
We also ran into a young guy who was the proud owner of a giant 1962 Chrysler Imperial that he will maintain in all of its original full load glory. This Impy will not be slammed, chopped, or painted flat black under his watch; instead it will enjoy a pampered life of privilege because the young guy is a licensed mechanic who loves giant Mopars from a time long before his own birth.
True confession here: we almost asked the young Imperial owner where we could find the car's owner so that we could interview that person. It did not occur to us that he would be the actual owner and assumed that he was along for the ride with his father or grandfather.
We will run a future story about a 1958 Plymouth four-door sedan that has been in one family since Day One. The Plymouth was used as a farm vehicle by the grandfather of the current owner, including doubling as a pickup truck in some tasks.
Right now the grandson, who is the proud current owner of the family heirloom, has begun to formulate his future game plan for the Plymouth. His restoration story will include his young daughter who is an enthusiastic car girl, even though she is not even old enough to drive the car.
The father and daughter have already begun to work on the car and she is not afraid to get climb under the car and get up to her elbows in grease while wrenching on the Plymouth. She loves the car and so do her friends from junior high when Dad gives her an occasional ride to school in the car. She will also be the next generation in that family to own the car in the future.
We will also feature a future story about a young guy who traded his 2012 Subaru for a 1965 Buick Riviera because he loved the classic style of the Riv.
We at MSCC are very happy to see the torch of the car culture being passed to a new generation of enthusiasts who will keep the car hobby alive for many years to come and know that it will be in good hands.
Jim Sutherland