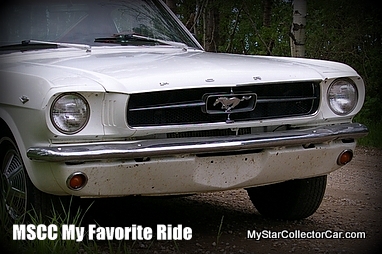 Russ Neufeld didn't hesitate when he was asked "what is your favorite car?".
He zeroed in on a 1965 Mustang that had huge family connections.
1965 was a year when Beatlemania went full scale, the British Invasion turned into an onslaught and Mustangs were in their second year of production.
'65 was long before Russ was born but the year had a huge impact on him via one particular Mustang.
Despite the fact the pony car is now part of the Neufeld history, Russ still misses his first car.
The story began many years ago as Ross recalled, "It had been in the family for years and it had always been a family car".
The notchback Mustang sat on the back forty acres for a long time but it never left the Neufelds.
Cars are like people in many ways because the ending is far from predictable and this Mustang was no exception as Russ admitted, "One of my uncles wrecked it so it was parked out there for years. It was pretty rough".
Russ's father took over the car and the project became a father and son effort, "We worked on it for five years, it was a pretty big project. It was something we built over time".
The process was a learning curve for Russ,"As I got older I learned to do a little more work on it once we got into it I could do more so as I got older, I found out I could help more on the car".
Typically,there's a happy ending to these family car projects because they are, by definition…family.
The Mustang had a different ending, "My dad sold it by the time I was just out of high school so I never did drive it. This was a 289 automatic car and there wasn't much left to do on it".
Despite the loss of this family icon Russ is still a huge fan of the 1965 Mustang notchback, "I love the design. I've seen a lot of cars come and go but the '65 Mustang has always stuck out in my head. I've always had a keen eye for these cars because it just didn't get any better for me".
Russ was permanently imprinted by this iconic pony car and he is definitely goal-oriented, "I'd love to own another one, the feel of the car-it's incredible".
There's an inevitable "would you buy it back?" question when a car guys loses an important ride from his past. Russ didn't hesitate.
"If I knew who had it now I'd buy it back in a heartbeat"
Jerry Sutherland