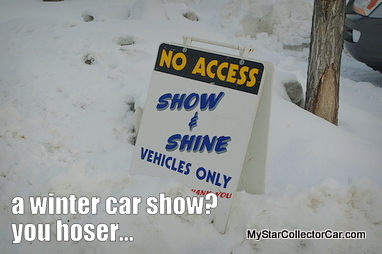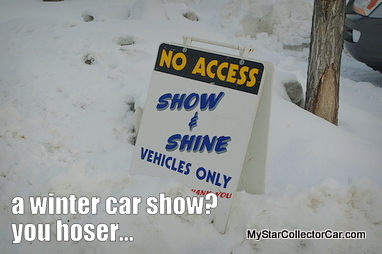 There's a beginning, middle and end to the car show season in Canada with all due respect to global warming.
The snow flies and the old rides disappear into the safe confines of winter storage because that's how it works when winter arrives.
Red Deer, Alberta, Canada is gear-head heaven because it has a massive old ride per capita index.
This is a city stuffed full of extremely interesting old cars and trucks and the streets of Red Deer reflect the force of the hobby because on any given day you will get a spontaneous car show in the form of classic old iron.
Most of these vintage rides are the product of hard work because Red Deer is a blue collar area based on the oil industry, farming and a strong work ethic.
Last week some car guys came out to answer the question, "why not have a winter car show?".
Astute car guys know the first thing car guys do is throw a wing over their car at the slightest hint of bad weather.
Red Deer at the end of November can definitely embody some incredibly bad weather, especially this year when the city is choked with snow and there's no effective game plan for snow removal.
That lack of attention to snow removal leaves brutally rutted streets so even the most adventurous owners were intimidated by these brutal conditions.
Nevertheless, there are some committed free spirits in the car hobby and this past weekend proved how hardcore some of these gear-heads are when there's a chance to hang with fellow car guys.
This wasn't a massive car show by any means and only a couple of the entries would be in the running for best of show at a summer meet but that's not important.
The important thing is these guys really get what the hobby is all about.
They may be hosers with vintage snowmobiles in the back of their trucks but this little winter show was one of the best of the 2013 car show season because it summed up the hobby itself.
There was even a rainbow near the end of the show after a little sprinkle of rain to remind us of summer.
Jerry Sutherland