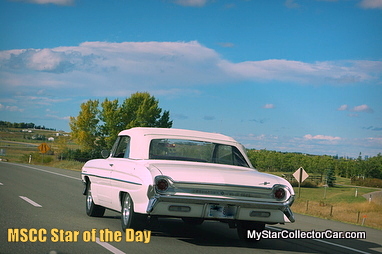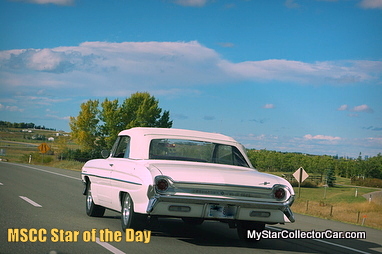 MSCC DECEMBER 8 STAR OF THE WEEK: '61 OLDS 88 CONVERTIBLE-ANOTHER COOL CAR ON THE HIGHWAY SEASON BEHIND US

Winter has an icy grip over a lot of northern surface area so that means a lot of old iron is in hibernation mode.
The result is a catastrophic loss of the most interesting cars you'll see on the highway.
The only thing you can do in winter is bank memories like this MSCC Star of the Day '61 Olds 88 on the road a few months ago.
…and pay attention to the road-after all, this is winter driving.
MSCC DEC 7 STAR OF THE DAY: CADILLAC'S FIRST GEN PICKUP TRUCK-STYLE AND COOL FACTOR
Cadillac didn't just start building pickup trucks in the 21st century.
Caddy pickups have been around for decades but they had a specific purpose in life.
They were called flower cars and they weren't built for comfort on the job site.
Flower cars were built to transport flowers and occasionally, flower-enclosed coffins at funerals.
A flower car at a funeral meant one or both of two things-the guest of honor had Rockefeller money or he or she was so popular they needed a fancy pickup truck to pack all the flowers to the service.
This MSCC Star of the Day Cadillac flower car was at a show last summer and there was no word if it was hauling sheets of plywood or bags of cement in its post-retirement career.
But it sure would be a cool way to do it.
MSCC DEC 6 STAR OF THE DAY: MORE DOOR '55 CHEVY-TRY AND SAY THIS BABY ISN'T COOL
There's a term a few car guys use regularly for 4-door sedans…they call them parts cars.
Whether that is fair depends on whether you like old iron or only certain versions of old iron.
That's why fleets of "more-door" sedans have been offered to the car gods to save the life of a convertible or hardtop.
The scorn for 4-door sedans is based on sheer economics because they hold a fraction of the value in post-restoration form when you compare them to their glamorous cousins with fewer doors.
This MSCC Star of the Day '55 Chevy 4-door sedan is a classic example of why more doors should get more respect.
This one sure did at a show back in 2010.
DECEMBER 5 MSCC STAR OF THE DAY: TIMELESS AND CLASSIC MERC STYLE
Most old cars readily lend themselves to mild or wild custom because they represent a bygone era when style was meant something.
Today's cars are definitely based on function over form but earlier iron was defined by a much more unique look.
The '49-51 Mercury was a classic example.
They were long, low and wide so car guys had them in the early planning stages of customizing before they left the dealer's lot.
This MSCC Star of the Day Merc at a show back in 2012 demonstrates how easy that was…
MSCC DEC 4 STAR OF THE DAY: ANONYMOUS SOVIET UNION IRON IS ALIVE AND WELL IN CUBA
Cuba is well known as a time capsule for old American iron but there's some pretty odd Soviet Union iron on the streets of Havana in the 21st century.
This MSCC Star of the Day was photographed back in 2011 and it is probably a leftover classic from the Nikita Khrushchev era.
No amount of research could come up with the answer to the question, "what the hell is that?".
Maybe an astute MSCC reader can help.
MSCC DEC 3 STAR OF THE DAY: IHC SHRINER CAR-A BLAST FROM THE PAST
Shriners are well known for their community involvement because they do so much for a great cause-the Shriners Hospitals for Children.
Their contributions have been enormous.
The Shriners are equally well known for their little clown cars, mini semi-trailers and gaudy multi-colored cars and trucks because these are natural marketing tools for kids-their biggest clients.
This MSCC Star of the Day IHC Shriner car was at a show back in May 2012 and it was a classic example of how cool these old Shriners cars were then and now.
MSCC STAR OF THE DAY: A TRIO OF MOPAR B-BODIES FROM "WHERE WERE YOU IN '62?"
The B-body Mopars weren't the prettiest cars ever built but they had one huge advantage over the other guys.
They were feared and respected at the track.
They'd stuff a 413 wedge into these lightweight Mopars and wreak havoc in the 1/4 mile.
The year 1962 was the setting for American Graffiti-the movie what pitted John Milner's spanky yellow rod against a big, bad '55 Chevy.
Milner wasn't willing to put his reputation on the line against the Chevy so a '62 wedge Mopar would have had him raising a white flag.
This MSCC Star of the Day trio of Mopar B-bodies from the American Graffiti era was at a show back in 2012
Star of the Day page sponsored by Southside Dodge.