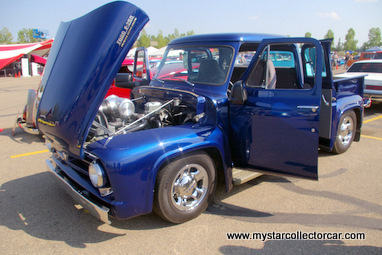 David Wight was excited all those years ago when he bought his first vehicle:
A 1953 Ford ½ ton that needed a lot of work.
The fifteen dollar purchase price was not a serious barrier for a then teenaged David.
But the broken engine and front end was a serious blockade to the project. The disappointment meant that David was unable to put his first truck on the road by the time he hit 16.
The truck became a "buyer beware" lesson rather than a set of wheels for a disappointed young teenager.
David comes from farm stock, but allergies meant that he pursued a career as a heavy duty mechanic. Much later in life, he and his wife Kathy were the owners of a family heirloom- a 1966 Mercury pickup purchased new by David's father.
David passed his driver's license in the truck so he had a great deal of sentimental attachment to the '66. The truck was used for holiday trips by the Wights, but it lacked some of the creature comforts (like recliner seats) of newer trucks, in Kathy's opinion.
That problem gave David an idea and an opportunity to undo a wrong with the old 1953 Ford rusting away on the family farm. He decided to upgrade the old '53 into something that would be a one of a kind truck: a fully rigged out diesel powered monster with every option that you could find in a brand new Ford.
The result was spectacular. David started with a 1972 Ford ¾ ton chassis, added a 5.9 Cummins diesel power-train and extended the cab into a quad cab with recliner front seats for Kathy.
The truck is rigged out for a fifth wheel as well as a conventional hitch with a custom tailgate designed and built by David. In fact, the whole truck was designed and built by David over a ten year period. The level of excellence in this truck makes ten years seems like a reasonable time frame for completion. David found that the first six years dragged on, but the final four years were quicker, because the truck was starting to take shape for him.
This '53 Ford truck is a driver for David and Kathy. They have put on tens of thousands of miles on it as they pull their holiday trailer to as many shows as possible in northwestern North America.
The end result is a show winning quality stunner with only one minor problem- too much attention for its owners.
 Jim Sutherland @mystarcollectorcar.com
COMMENTS
DENNIS:"That's a sweetheart."