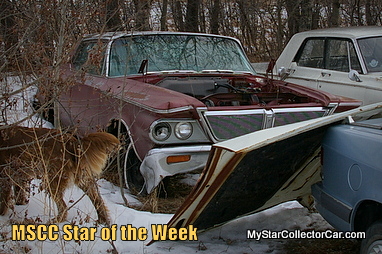 MSCC DECEMBER 29 STAR OF THE WEEK: '64 CHRYSLER NEW YORKER-EASY TO BE HARD
The easiest car project in the world is one that's extremely catalog friendly and has millions of dedicated fans.
The 1ST Gen Camaros and Mustangs are classic examples of relatively easy car projects because many help options and a boat load of parts are a computer click away.
Easy is indeed an extremely relative term because no car project is "easy" in the strictest sense of the word.
Cars like this MSCC Star of the Week '64 Chrysler New Yorker two-door hardtop are at the other end of the spectrum because nothing is remotely easy about restoring one.
Parts are non-existent, experts are few and far between, forum support is sketchy at best and when you're done, you'll know less than five people who will really love your car.
You're really fighting an uphill battle with a '64 Chrysler car project, so the best way to defend it is to quote President John F Kennedy with these famous words:
"We choose to go to the moon in this decade and do the other things. Not because they are easy, but because they are hard."
MSCC DECEMBER 28 STAR OF THE DAY: GMC TRUCK-365 DAYS OF THE YEAR
There was a GMC truck ad in the late 90s based on the slogan "365 days of the year".
They showed a GMC truck on a sling high in the air; then they dropped it into the middle of a big job site.
They wanted to show how GMC was built to work 24-7 and it turned out to be a very effective ad.
These made for TV ads are more colorful fiction than fact most of the time.
This MSCC Star of the Day GMC on a winter road in late December proved that truth is stranger than fiction because this old truck is over 40 years old and it's still working 365 days a year.
MSCC DECEMBER 27 STAR OF THE DAY: 1939 LINCOLN ZEPHYR-A DIFFERENT FORD ROD
Most car guys think Ford when the year 1939 comes up in a conversation about potential hot rod platforms.
The name Lincoln Zephyr rarely comes up.
They were sleek, large and in charge cars that looked at home on Wall Street but hot-rodders saw the inner beauty in these big Ford products.
This MSCC Star of the Day Lincoln Zephyr is clearly far from stock but it was a show stealer back in September.
1939 was never cooler.
MSCC DECEMBER 26 STAR OF THE DAY: '54 DESOTO-THE BIRTH OF THE ROCK AND ROLL ERA
1954 was a seminal year for the rock and roll era because Bill Haley and the Comets recorded 'Rock Around the Clock' in April and that set off a chain of events that continues to this day.
There were other big events like hydrogen bomb tests on the Bikini Atoll, France stepped into a war with Viet Minh forces in a place called Viet Nam, the Boeing 707 set off the passenger jet era, the first Burger King opened, Godzilla attacked Tokyo and the first transistor radio was sold.
Despite all those events, April 11 1954 was voted the most boring day in the history of the 20th century.
This MSCC Star of the Day 1954 DeSoto clearly wasn't part of that day.
MSCC DECEMBER 25 STAR OF THE DAY: '66 CADILLAC-SNOOPY'S NEW CHRISTMAS RIDE
Every kid from eight to 80 knows the Snoopy versus the Red Baron Christmas song.
That's the one where Snoopy ends up in the Red Baron's gun sights during a World War I battle over the fields of France.
Fortunately Snoopy lives to fly another day when the Baron lets him go because it's Christmas Day.
The song became a staple of 60s Christmas music and endures to this day.
This year Snoopy traded in his flying dog house for an earthbound MSCC Star of the Day 1966 Cadillac-maybe he liked the comfortable ride.
Merry Christmas from MyStarCollectorCar.
*Caddy courtesy of Trevor Comfort
MSCC DECEMBER 24 STAR OF THE DAY: A CLASSIC ROD CHRISTMAS EVE – 'TIS THE SEASON
Christmas Eve is typically reserved for a fat guy in a red suit driving a sleigh pulled by flying reindeer.
Traditionally speaking, that's probably what today's ride should be but occasionally you have to break with tradition.
This MSCC Star of the Day is traditional in a classic hot rod sense
Despite the lack of flying reindeer, it was a great way to ring in Christmas Eve 2013.
DECEMBER 23 MSCC STAR OF THE DAY: FARGO-BUILT RAM TOUGH UNDER A DIFFERENT BANNER
Fargo trucks are a curiosity piece south of the Canadian border because they look so familiar but the badges are slightly askew.
Canadian Plymouth dealers were most likely to carry the Fargos so they were a very common sight on the job site or farm.
In fact, you still see a fair number (per capita) of these Canuck trucks at Mopar shows across Canada.
This MSCC Star of the Day Fargo was at a major show last summer where it was surrounded by other Fargos.
They weren't hard to find in the True North Strong and Free.
For past MSCC Stars of the Day please follow this link.
Star of the Day page sponsored by Southside Dodge.