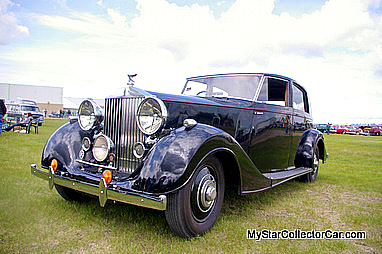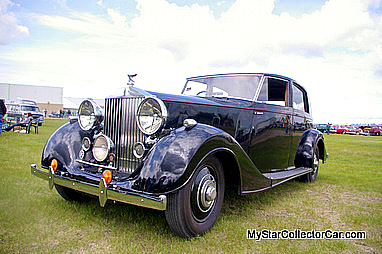 Most car guys are well aware of the extraordinary sales pitch required to sell a spouse on a car project.
The term "eternal enemies" has been used many times on MSCC to define the battle between wives with no sense of humor on one side and guys with old cars on the other side.
This incredibly rare 1939 Rolls Royce Wraith was one of those rare cases where the bride wanted a car built-not blown up.
MyStarCollectorCar is defined by its average car guy philosophy. Typical stories are about Camaros and Cudas, not Bentleys and Aston Martins but unlike the Pebble Beach crowd, real car guys love everything on 4 or more wheels. That's something you learn in the trenches at car shows, so when this '39 Rolls appeared at an all makes and models event, it was a magnet for viewers.
This car has an unusual history because Mullinders of Birmingham built it exclusively for one customer. Apparently the owner had Royal ties and he definitely had deep pockets to buy this hand-built car. There is no doubt that it met with his wife's approval because she insisted on a 2nd build so her chauffeur could drive her to British high-society events.
Howard Legert is the current owner of this classic Rolls and he is an expert on these legendary cars. He explained that his car is built on the pre-WWII 491 chassis and ultimately that's all Rolls Royce supplied to the various coachbuilders. The Wraith came to the United States several years ago and Howard tracked it down in Vancouver, B.C. after one of the Canadian RR members imported it to Canada.
Several years went by before Howard was able to pry the car away from the last owner.
He took great pains to explain that details such as the whole half-sawn walnut trim found on the sills and seat backs not only had to be finished to exacting detail; it also had to have a symmetrically matching wood grain. Most Rolls Royces are done to exacting detail, but this one was done to please a guy's high society wife. Pressure on this job had to be off the charts.
Oddly enough the chauffeur's area is the only place where leather is found but, in this pre-seat warmer era, only the hired hands sat on cold leather and Her Highness sat on warm cloth seats because you can bet that Jeeves warmed this Rolls up for at least an hour in the winter.
One other note-the driver's side window drops so Jeeves could talk to the other lower class working guys like gas station attendants, parking lot jockeys and Buckingham Palace employees. As Howard explained, "he can talk to somebody really fast if he has to".
Howard was drawn to the rare "razor's edge" styling on this Rolls and it did stand out at the show for that reason. In other words, it didn't quite have that Rolls Royce flow to the lines-this looked more like something that George Barris may have tweaked a little back in the 50s.
The best part about this car is its current owner because Howard doesn't trailer queen this classic-he drives it. He does this in spite of the crowds that it draws and the impatience of some freeway drivers. He's very comfortable at 50 mph on the highway thanks to the then- just-introduced independent front suspension and power brakes.
The 6-cylinder engine is "quite smooth" but Howard admits that it runs smoother on 91 or better octane. He did find that ethanol blended gas has a profoundly bad effect on the legendary Rolls Royce motor, but that's the cost of 21st Century movements towards green technology. Howard balances that with the knowledge that in 1939 Britain they were lucky to get 'petrol' thanks to a guy named Adolph Hitler.
Howard is never going to sell this car-as he points out, "it took me ten years to get it". Instead, he's just going to enjoy this rare Rolls Royce.
Any doubt that he's a real car guy vanishes when you look at this car-it's got dirt on the floor, stuff in the trunk and water bottles on the seat. In short, it's got that lived-in look that real car guys who actually drive their cars can appreciate.
That's why you can't be a Pebble Beach elitist and judge a guy by his car- you judge him by his attitude.
Jerry Sutherland
For more real car guy stories please follow this link-https://www.mystarcollectorcar.com/2-features/stories.html